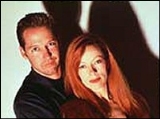 Strange Luck
Strange Luck
is an
American
United States
The United States of America is a federal constitutional republic comprising fifty states and a federal district...
television series that aired on
FOX
Fox Broadcasting Company
Fox Broadcasting Company, commonly referred to as Fox Network or simply Fox , is an American commercial broadcasting television network owned by Fox Entertainment Group, part of Rupert Murdoch's News Corporation. Launched on October 9, 1986, Fox was the highest-rated broadcast network in the...
, created by Karl Schaefer and starring
D. B. Sweeney
D. B. Sweeney
Daniel Bernard "D. B." Sweeney is an American actor.-Early life:Sweeney was born on Long Island, New York and raised in Shoreham by an educator father and a municipal government employee mother. He attended Shoreham-Wading River High School and both Tulane and New York University...
in the role of Chance Harper, a freelance
photographer
Photography
Photography is the art, science and practice of creating durable images by recording light or other electromagnetic radiation, either electronically by means of an image sensor or chemically by means of a light-sensitive material such as photographic film...
afflicted with a bizarre tendency to always be in the wrong place at the right time. As Chance himself says, "If I go to a restaurant, somebody chokes. If I walk into a bank, it gets robbed." Harper's strange luck began when, as a small child, he was the sole survivor of a plane crash that killed everyone else aboard, including both of his parents.
The series aired on Fox from 1995 to 1996. A total of seventeen episodes were produced before the show was canceled due to low ratings. Reruns were shown briefly on the
Sci Fi Channel
Syfy
Syfy , formerly known as the Sci-Fi Channel and SCI FI, is an American cable television channel featuring science fiction, supernatural, fantasy, reality, paranormal, wrestling, and horror programming. Launched on September 24, 1992, it is part of the entertainment conglomerate NBCUniversal, a...
in 1997.
Cast
Episode list
09/15/95 "Soul Survivor"
09/22/95 "Over Exposure"
09/29/95 "Last Chance"
10/06/95 "She Was"
10/13/95 "Blind Man's Bluff"
10/20/95 "Angie's Turn"
11/03/95 "Hat Trick"
11/10/95 "The Liver Wild"
11/17/95 "Walk Away"
12/01/95 "The Box"
12/08/95 "Brothers Grim"
12/15/95 "Trial Period"
12/22/95 "Last Chance"
12/29/95 "Soul Survivor"
01/05/96 "Healing Hands"
01/12/96 "Angie's Turn"
01/19/96 "Wrong Number"
02/02/96 "In Sickness and in Wealth"
02/09/96 "Blinded by the Son"
02/23/96 "Struck by Lightning"
Popular Culture Reference
Episode 11, "Brothers Grim," featured a reference to the character
Fox Mulder
Fox Mulder
FBI Special Agent Fox William Mulder is a fictional character and protagonist in the American Fox television shows The X-Files and The Lone Gunmen, two science fiction shows about a government conspiracy to hide or deny the truth of Alien existence. Mulder's peers consider his theories on...
from the Fox television series
The X-Files
The X-Files
The X-Files is an American science fiction television series and a part of The X-Files franchise, created by screenwriter Chris Carter. The program originally aired from to . The show was a hit for the Fox network, and its characters and slogans became popular culture touchstones in the 1990s...
, establishing that the two shows may have been set in the same fictional "universe". Chance's brother makes the reference in a letter wherein he asks Chance to contact an FBI agent by the name of "Muldur" in the event of anything suspicious happening to him.
X-Files
producers, however, claimed to be unaware of any connection, and it may also have been an homage to a successful show by the producers of
Strange Luck
, after the series' own cancellation.
External links