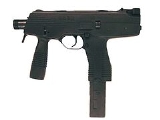 Steyr TMP
The
Steyr TMP
is a select-fire 9x19mm Parabellum caliber
machine pistol
Machine pistol
A machine pistol is a handgun-style, often magazine-fed and self-loading firearm, capable of fully automatic or burst fire, and normally chambered for pistol cartridges. The term is a literal translation of Maschinenpistole, the German term for a hand-held automatic weapon...
manufactured by
Steyr Mannlicher
Steyr Mannlicher
Steyr Mannlicher is a firearms manufacturer based in the city of Steyr, Austria. Originally a part of the Steyr-Daimler-Puch manufacturing conglomerate, it became independent when the conglomerate was broken in 1990.-History:...
of
Austria
Austria
Austria , officially the Republic of Austria , is a landlocked country of roughly 8.4 million people in Central Europe. It is bordered by the Czech Republic and Germany to the north, Slovakia and Hungary to the east, Slovenia and Italy to the south, and Switzerland and Liechtenstein to the...
. The Magazines come in 15, 20, or 30 round detachable box types. A
suppressor
Suppressor
A suppressor, sound suppressor, sound moderator, or silencer, is a device attached to or part of the barrel of a firearm which reduces the amount of noise and flash generated by firing the weapon....
can also be fitted. The
Steyr SPP
is the civilian variant of the TMP which has no foregrip and is capable of semi-automatic fire only.
In 2001, Steyr sold the design to
Brügger & Thomet
Brügger & Thomet
Brügger & Thomet AG is a licensed Swiss defense supplier specializing in the design and manufacturing of firearms and tactical components such as sound suppressors and rail systems. The company is located in Thun, Switzerland. B&T consists of a trading and manufacturing division...
who developed it into the
Brügger & Thomet MP9
Brügger & Thomet MP9
The Brügger & Thomet MP9 is a machine pistol designed and manufactured by Brügger & Thomet of Switzerland. The MP9 is a selective-fire 9x19mm Parabellum caliber machine pistol. It uses 15, 20, 25, 30 round transparent polymer detachable box magazines...
.
SPP
The Steyr SPP (Special Purpose Pistol) is a semi-automatic variant of the TMP. The TMP's barrel and barrel jacket lengths were increased slightly so there is a greater length of protruding jacket and barrel. The forward tactical handle was removed and a small
Picatinny rail
Picatinny rail
The Picatinny rail or MIL-STD-1913 rail or STANAG 2324 rail or a "Tactical Rail" is a bracket used on some firearms in order to provide a standardized mounting platform. A similar system is the Weaver rail mount.-Description:...
installed on the forward handguard instead. It is somewhat large for a pistol and is constructed mainly from synthetic materials.
See also