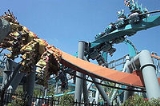 Steel roller coaster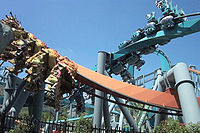 A
steel roller coaster
is a
roller coaster
Roller coaster
The roller coaster is a popular amusement ride developed for amusement parks and modern theme parks. LaMarcus Adna Thompson patented the first coasters on January 20, 1885...
that is defined by having a track made of
steel
Steel
Steel is an alloy that consists mostly of iron and has a carbon content between 0.2% and 2.1% by weight, depending on the grade. Carbon is the most common alloying material for iron, but various other alloying elements are used, such as manganese, chromium, vanadium, and tungsten...
. Steel coasters have earned immense popularity in the past 50 years throughout the world. Incorporating tubular steel track and
polyurethane
Polyurethane
A polyurethane is any polymer composed of a chain of organic units joined by carbamate links. Polyurethane polymers are formed through step-growth polymerization, by reacting a monomer with another monomer in the presence of a catalyst.Polyurethanes are...
-coated wheels, the steel roller coasters can provide a taller, smoother, and faster ride with more inversions than a traditional
wooden roller coaster
Wooden roller coaster
A wooden roller coaster is most often classified as a roller coaster with laminated steel running rails overlaid upon a wooden track. Occasionally, the structure may be made out of a steel lattice or truss, but the ride remains classified as a wooden roller coaster due to the track design...
.
Arrow Dynamics
Arrow Dynamics
Arrow Dynamics was a roller coaster and amusement ride design company based in Clearfield, Utah, United States. In 2002, the company went bankrupt but was quickly bought by fellow amusement ride manufacturer S&S Power to form S&S Arrow. During its peak, Arrow Dynamics was responsible for some of...
first introduced the steel roller coaster to feature tubular track to the thrill industry with their creations of the Matterhorn (Disneyland) and the Runaway Mine Train (
Six Flags Over Texas
Six Flags Over Texas
Six Flags Over Texas is a major amusement park located in Arlington, Texas , east of Fort Worth and about west of Dallas. It is the oldest park of the Six Flags chain. The park opened on August 5, 1961 following just a year of construction and an initial investment of US$10 million by real estate...
).
As of 2006, the oldest operating steel roller coaster in North America is Little Dipper at
Memphis Kiddie Park
Memphis Kiddie Park
Memphis Kiddie Park is an 11-ride amusement park located in Brooklyn, Ohio, designed specifically for children and families.Memphis Kiddie Park opened on May 28, 1952. The park was one of several designed and opened by Stuart Winter, who eventually closed all but the Memphis Kiddie Park to focus...
in
Brooklyn, Ohio
Brooklyn, Ohio
Brooklyn is a city in Cuyahoga County, Ohio, United States. The population was 11,169 at the 2010 census.-Geography:Brooklyn is located at ....
and has been operating since April 1952. The oldest operating steel rollercoaster in the world is rodelbaan at de Waarbeek (Netherlands). It has been operating since 1930.
Characteristics
Steel coasters have a generally smoother ride than their wooden counterparts, although it is sometimes argued that wooden roller coasters provide a bigger feeling of "threat" due to their rougher ride and can be more intense than steel roller coasters.
Almost all world records for tallest, fastest, and longest coasters are currently held by steel roller coasters.
The fact that fewer supports are needed means steel roller coasters have made a large variety of features possible, such as Loops, Barrel Rolls, Corkscrews, Zero-G Rolls and Beyond 90° Drops
There are different types of steel coasters, such as
flying
Flying roller coaster
A flying roller coaster is a variation of roller coaster meant to simulate the sensations of flight by harnessing riders in a prone position during the duration of the ride. The roller coaster cars are suspended below the track, with riders secured such that their backs are parallel to the track...
,
inverted
Inverted roller coaster
An inverted roller coaster is a roller coaster in which the train runs under the track with the seats directly attached to the wheel carriage. This latter attribute is what sets it apart from the older suspended coaster, which runs under the track, but "swings" via a pivoting bar attached to the...
,
floorless
Floorless roller coaster
A floorless roller coaster is a roller coaster with trains that ride above the track and allow the passenger's legs to dangle. It is a fairly new concept in roller coaster design brought forth by manufacturers Bolliger & Mabillard. The first ever floorless coaster debuted in 1999 at Six Flags Great...
, and suspended swinging.
Notable steel roller coasters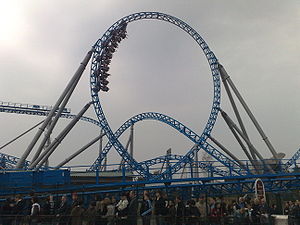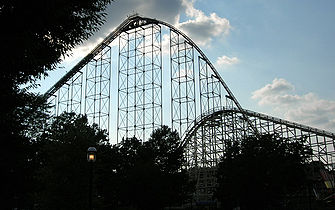 (NOTE: Dive and Vertical Drop coasters are the same)
Blue Fire

Blue Fire

Blue Fire is a launched roller coaster at Europa-Park. The coaster opened in 2009 as part of a new Iceland-themed expansion to Europa-Park. As the first launched coaster built by MACK Rides, Blue Fire will serve as the park's tenth roller coaster and their first roller coaster with inversions...


at Europa-Park

Europa-Park

Europa-Park is the largest theme park in Germany and third most popular theme park resort in Europe. Having over 4.2 million visitors in 2009, it is the second most popular seasonal theme park in the world and is only behind the Tivoli Gardens and Disneyland Paris. Europa-Park is located in Rust,...


- Europe's first coaster with a twisted horseshoe roll
Carolina Cyclone

Carolina Cyclone

The Carolina Cyclone is a roller coaster located at Carowinds in Charlotte, North Carolina and Fort Mill, South Carolina. The Carolina Cyclone, built in 1980 by world renowned coaster builders Arrow Dynamics, was the first ride featuring 4 inversions, two loops and two corkscrews.The Carolina...


at Carowinds - first roller coaster to feature a record breaking 4 inversions
Corkscrew

Corkscrew (Silverwood)

Corkscrew is the name of an Arrow Dynamics roller coaster formerly located at Knott's Berry Farm and currently located at Silverwood. Developed by Ron Toomer of Arrow Dynamics, a Utah based design firm, the "Corkscrew" was the first steel inverting roller coaster open to the public.Many identical...


at Knott's Berry Farm

Knott's Berry Farm

Knott's Berry Farm is a theme park in Buena Park, California, now owned by Cedar Fair Entertainment Company, and a line of jams, jellies, preserves, and other specialty food, now part of The J. M. Smucker Company based in Placentia, California....


(now at Silverwood

Silverwood

Silverwood Theme Park is an amusement park located in northern Idaho, United States, near the town of Coeur d'Alene, and just 47 miles from Spokane, Washington on U.S. Route 95...


) - first modern roller coaster ever to send riders upside down
Déjà Vu

Déjà Vu (roller coaster)

A Giant Inverted Boomerang is a type of steel shuttle roller coaster manufactured by Vekoma. The ride is a larger, inverted version of Vekoma's popular Boomerang sit down roller coasters...


at Six Flags Magic Mountain

Six Flags Magic Mountain

Six Flags Magic Mountain is a theme park located in Valencia, California north of Los Angeles. It opened on Memorial Day weekend on May 30, 1971 as Magic Mountain, by the Newhall Land and Farming Company. In 1979, Six Flags purchased the park and added the name Six Flags to the park's title. In...


- world's largest boomerang roller coaster
Furius Baco

Furius Baco

Furius Baco is a hydraulically-launched steel Wing Rider roller coaster located at PortAventura in Salou, Catalonia. Manufactured by Intamin, the ride opened on June 5, 2007 as the 2nd fastest roller coaster in Europe at 83.9 mph, which the ride reaches in 3.5 seconds...


at Port Aventura - world's first Wing-Rider roller coaster
Magnum XL-200

Magnum XL-200

Magnum XL-200 is an Arrow Dynamics steel hypercoaster located at Cedar Point in Sandusky, Ohio. Built in 1989, it was the first complete circuit roller coaster to break the barrier...


- first full circuit roller coaster to top 200 ft
Maverick

Maverick (roller coaster)

Maverick is a Intamin-made linear synchronous motor-launched blitz steel complete-circuit roller coaster at Cedar Point in Sandusky, Ohio. It was manufactured by IntaRide LLC, the United States division of Intamin, and was the five-hundredth roller coaster designed by German engineer Werner Stengel...


at Cedar Point

Cedar Point

Cedar Point is a 364 acre amusement park located in Sandusky, Ohio, United States on a narrow peninsula jutting into Lake Erie. Cedar Point is the only amusement park with four roller coasters that are taller than...


- first Terra Coaster, with Dual LSM launch (launch hill and flat launch) with a 95-degree drop and a terrain hugging layout
Phantom's Revenge

Phantom's Revenge

The Phantom's Revenge is a steel roller coaster at Kennywood Park, in West Mifflin, Pennsylvania, a suburb of Pittsburgh.-Ride layout:Although the first hill is only 160 feet high, the second hill drops riders 232 feet into a ravine and through the support structure for Thunderbolt...


at Kennywood

Kennywood

Kennywood is an amusement park located in West Mifflin, Pennsylvania, a suburb of Pittsburgh. The park first opened in 1898 as a "trolley park" at the end of the Monongahela Street Railway. The park was purchased in 1906 by F. W. Henninger and Andrew McSwigan and thus began the Kennywood...


- first roller coaster to top 80 mph
Revolution

Revolution

A revolution is a fundamental change in power or organizational structures that takes place in a relatively short period of time.Aristotle described two types of political revolution:...


at Six Flags Magic Mountain

Six Flags Magic Mountain

Six Flags Magic Mountain is a theme park located in Valencia, California north of Los Angeles. It opened on Memorial Day weekend on May 30, 1971 as Magic Mountain, by the Newhall Land and Farming Company. In 1979, Six Flags purchased the park and added the name Six Flags to the park's title. In...


- world's first looping roller coaster
Space Shuttle at Enchanted Kingdom - world's tallest,longest, and fastest non-inverted Boomerang roller coaster
Storm Runner

Storm Runner

Storm Runner is an Intamin steel launched roller coaster at Hersheypark. It was constructed in 2004 and was the third Intamin Accelerator Coaster. It reaches a height of 150 ft and catapults riders from 0 to 72 mph in 2 seconds. It features a top hat and three inversions, a dual...


at Hershey Park - world's first rocket coaster to feature inversions
Thirteen at Alton Towers

Alton Towers

Alton Towers is a theme park and resort located in Staffordshire, England. It attracts around 2.7 million visitors per year making it the most visited theme park in the United Kingdom. Alton Towers is also the 9th most visited theme park in Europe...


- world's first vertical free fall drop coaster
Vampire

Vampire (roller coaster)

Vampire is an Arrow suspended swinging roller coaster at Chessington World of Adventures theme park in London, England. It opened in 1990 in the new Transylvania area, and was designed by John Wardley. It originally featured bat-themed trains, which were later replaced with floor less models. The...


at Chessington World of Adventures

Chessington World of Adventures

Chessington World of Adventures Resort is a theme park and zoo in South West London, England. It lies south of Central London. Historically opened as Chessington Zoo in 1931, a theme park was developed alongside it, opening in 1987...


- world's first suspended swinging coaster with floorless trains