 Statfjord oil field
The
Statfjord oil field
is an enormous oil and gas field in the Norwegian sector of the
North Sea
North Sea
In the southwest, beyond the Straits of Dover, the North Sea becomes the English Channel connecting to the Atlantic Ocean. In the east, it connects to the Baltic Sea via the Skagerrak and Kattegat, narrow straits that separate Denmark from Norway and Sweden respectively...
operated by
Statoil
Statoil
Statoil ASA is a Norwegian petroleum company established in 1972. It merged with Norsk Hydro in 2007 and was known as StatoilHydro until 2009, when the name was changed back to Statoil ASA. The brand Statoil was retained as a chain of fuel stations owned by StatoilHydro...
.
It is a trans-median field crossing the Norwegian and UK North Sea Boundary with approximately 15% being in the UK Continental Shelf waters. At peak production it produced over 700000 barrels (111,291,106.5 l) of oil per day. Oil is loaded offshore and taken directly to refineries; gas is transported via the
Statpipe
Statpipe
The Statpipe pipeline is a natural gas system, which links northern North Sea gas fields with the Norway's gas export system. It transports gas from Statfjord, Gullfaks, Heimdal, Veslefrikk, Snorre, Brage, Tordis and Statfjord gas fields.-History:...
pipeline to mainland
Norway
Norway
Norway , officially the Kingdom of Norway, is a Nordic unitary constitutional monarchy whose territory comprises the western portion of the Scandinavian Peninsula, Jan Mayen, and the Arctic archipelago of Svalbard and Bouvet Island. Norway has a total area of and a population of about 4.9 million...
.
The Statfjord field has three
condeep
Condeep
Condeep refers to a make of gravity base structure for oil platforms developed and fabricated by Norwegian Contractors in Stavanger, Norway. A Condeep usually consists of a base of concrete oil storage tanks from which one, three or four concrete shafts rise...
concrete
production platforms
Oil platform
An oil platform, also referred to as an offshore platform or, somewhat incorrectly, oil rig, is a lаrge structure with facilities to drill wells, to extract and process oil and natural gas, and to temporarily store product until it can be brought to shore for refining and marketing...
, A, B and C. Each platform is made up of approximately 250,000 tonnes of concrete with 40,000 tonnes of top-side processing and accommodation facilities.
Statfjord holds the record for the highest daily production ever recorded for a European oil field (outside Russia) : 850204 barrels (135,171,634.2 l) (crude oil plus natural gas liquids) were produced on January 16, 1987. Current production is less than 70000 oilbbl/d, and no European field exceeds 250000 oilbbl/d.
Statoil has planned the "late life" of the field expects to ultimately recover 68% of
Oil in Place
Oil In Place
Oil in place is the total hydrocarbon content of an oil reservoir and is often abbreviated STOOIP, which stands for Stock Tank Original Oil In Place, or STOIIP for Stock Tank Oil Initially In Place, referring to the oil in place before the commencement of production...
. but more than 60% have been produced already, leaving modest oil reserves in the order of 300000000 barrels (47,696,188,500 l), so the focus will now be placed on extracting the associated natural gas that had been re-injected into the field all over its life. As a mainly natural gas producer, Statfjord is scheduled to remain active until 2019.
Statfjord Oil spill
In December 2007, thousands of tonnes of oil were spilled into the North Sea during the loading of a tanker at the Statfjord oil field. The spill, estimated at 21,750 barrels (approx 3,000 metric tons), was the country's second largest ever, according to Norway's oil safety authority. The accident happened in rough weather while the tanker
Navion Britannica
was loading oil from a storage buoy, according to the operator Statoil.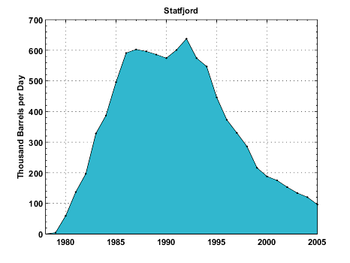 External links