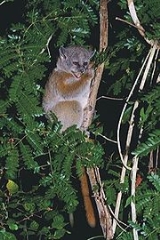 Sportive lemur
The
sportive lemurs
are the medium sized
primate
Primate
A primate is a mammal of the order Primates , which contains prosimians and simians. Primates arose from ancestors that lived in the trees of tropical forests; many primate characteristics represent adaptations to life in this challenging three-dimensional environment...
s that make up the
Lepilemuridae
family. The family consists of only one extant genus,
Lepilemur
, as well as the extinct genus
Megaladapis
Megaladapis
Koala lemurs, genus Megaladapis, belong to the family Megaladapidae, consisting of three extinct species of lemurs that once inhabited the island of Madagascar. The largest measured between in length.-Appearance and habits:...
. They are closely related to the other
lemur
Lemur
Lemurs are a clade of strepsirrhine primates endemic to the island of Madagascar. They are named after the lemures of Roman mythology due to the ghostly vocalizations, reflective eyes, and the nocturnal habits of some species...
s and exclusively live on the island of
Madagascar
Madagascar
The Republic of Madagascar is an island country located in the Indian Ocean off the southeastern coast of Africa...
. For a time, this family was named
Megaladapidae
, but the current name was given precedence.
Physical characteristics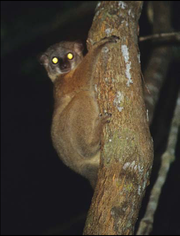 Their fur is grey brown or reddish colored on the top and whitish yellow underneath. They typically have a short head with large, round ears. They grow to a length of 30 to 35 cm (with a tail just about as long as their body) and weigh up to 0.9 kg. Their eyes have a
tapetum lucidum
Tapetum lucidum
The tapetum lucidum is a layer of tissue in the eye of many vertebrate animals....
behind the retina, hence they have eyeshine.
Behaviour and mating
Sportive lemurs are strictly nocturnal and predominantly arboreal, moving among the trees with long jumps powered by their strong hind legs. On the ground, they hop similarly as the
kangaroo
Kangaroo
A kangaroo is a marsupial from the family Macropodidae . In common use the term is used to describe the largest species from this family, especially those of the genus Macropus, Red Kangaroo, Antilopine Kangaroo, Eastern Grey Kangaroo and Western Grey Kangaroo. Kangaroos are endemic to the country...
s. During the day they hide in the leafy covering or
tree hollow
Tree hollow
A tree hollow or tree hole is a semi-enclosed cavity which has naturally formed in the trunk or branch of a tree. These are predominantly found in old trees, whether living or not...
s. Sportive lemurs are solitary but defend their territory vehemently against same sex intruders. The territories of males and females can overlap.
Reproduction and lifespan
Birthing happens between September and December after a gestation of 120 to 150 days, and is usually of a single young which is often reared in a nest in a tree hollow. At about four months the juveniles are weaned but remain with their mother up to an age of one year. At about 18 months they are fully mature, and live to be about eight years old.
Classification
Order Primate

Primate

A primate is a mammal of the order Primates , which contains prosimians and simians. Primates arose from ancestors that lived in the trees of tropical forests; many primate characteristics represent adaptations to life in this challenging three-dimensional environment...


s

Suborder Strepsirrhini

Strepsirrhini

The clade Strepsirrhini is one of the two suborders of primates. Madagascar's only non-human primates are strepsirrhines, and others can be found in southeast Asia and Africa...


: non-tarsier prosimians

Infraorder Lemuriformes

Family †Archaeolemuridae
Family Cheirogaleidae

Cheirogaleidae

Cheirogaleidae is the family of strepsirrhine primates that contains the various dwarf and mouse lemurs. Like all other lemurs, cheirogaleids live exclusively on the island of Madagascar.-Characteristics:...


: dwarf and mouse lemurs
Family Daubentoniidae: Aye-aye
Family Indriidae

Indriidae

The Indriidae are a family of strepsirrhine primates. They are medium to large sized lemurs with only four teeth in the toothcomb instead of the usual six...


: woolly lemurs and allies
Family Lemuridae

Lemuridae

Lemuridae is a family of prosimian primates native to Madagascar, and one of five families commonly known as lemurs. These animals were thought to be the evolutionary predecessors of monkeys and apes, but this is no longer considered correct...


: lemurs
Family Lepilemuridae: sportive lemurs Genus Lepilemur

AEECL's Sportive Lemur

Aeecl's Sportive Lemur

AEECL's sportive lemur, Antafia sportive lemur or red-shouldered sportive lemur is a sportive lemur endemic to Madagascar. It has a total length of about 52 to 59 centimeters, of which 24-26 centimeters are tail...


(Lepilemur aeeclis) *
Ahmanson's Sportive Lemur

Ahmanson's Sportive Lemur

Ahmanson's sportive lemur , or Tsiombikibo sportive lemur, is a sportive lemur endemic to Madagascar. It is a relatively small sportive lemur with a total length of about 47 to 54 centimeters, of which 23-25 centimeters are tail. Wright's sportive lemur is found in western Madagascar, living in...


(Lepilemur ahmansonorum) **
Ankarana Sportive Lemur

Ankarana Sportive Lemur

The Ankarana sportive lemur , or Ankarana weasel lemur, is a sportive lemur endemic to Madagascar. It is one of the smaller sportive lemurs with a total length of about 53 centimeters, including 25 centimeters of tail. Average body weight is approximately 750 grams...


, (Lepilemur ankaranensis)
Betsileo Sportive Lemur

Betsileo Sportive Lemur

The Betsileo sportive lemur is a sportive lemur endemic to Madagascar. It is a relatively large sportive lemur with a total length of about 58 to 27 centimeters, of which 32 to 33 centimeters are tail. The Betsileo Sportive Lemur is found in eastern Madagascar, living in primary and secondary...


(Lepilemur betsileo) **
Gray-backed Sportive Lemur

Gray-backed Sportive Lemur

The gray-backed sportive lemur , also known as gray's sportive lemur or back-striped sportive lemur, is a species of lemur in the Lepilemuridae family. It is endemic to Madagascar. It is threatened by habitat loss....


, (Lepilemur dorsalis)
Milne-Edwards' Sportive Lemur

Milne-Edwards' Sportive Lemur

The Milne-Edwards' sportive lemur , or Milne-Edwards' weasel lemur, is a species of lemur in the Lepilemuridae family. It is endemic to Madagascar. Its natural habitat is subtropical or tropical dry forests. It is threatened by habitat loss....


, (Lepilemur edwardsi)
Fleurete's Sportive Lemur

Fleurete's Sportive Lemur

Fleurete's sportive lemur , or Andohahela sportive lemur, is a sportive lemur endemic to Madagascar. It is a medium sized sportive lemur with a total length of about 58 to 67 centimeters, of which about 30 centimeters are tail Fleurete's sportive lemur is found in southeastern Madagascar, living...


(Lepilemur fleuretae) **
Grewcock's Sportive Lemur

Grewcock's Sportive Lemur

Grewcock's sportive lemur , or Anjiamangirana sportive lemur, is a sportive lemur endemic to Madagascar. It is a medium-sized sportive lemurs with a total length of about 55 to 63 centimeters, of which 26-30 centimeters are tail. Grewcock's sportive lemur is found in northwesetrn Madagascar,...


(Lepilemur grewcockorum) **
Holland's Sportive Lemur

Holland's Sportive Lemur

Holland's sportive lemur , or Mananara-Nord sportive lemur, is a sportive lemur that is endemic to Madagascar. This lemur is found specifically in the Mananara-Nord Biosphere Reserve, but the limits of its habitat have yet to be determined. It lives in primary and secondary rainforests...


(Lepilemur hollandorum) *****
Hubbard's Sportive Lemur

Hubbard's Sportive Lemur

Hubbard's sportive lemur , or Zombitse sportive lemur, is a sportive lemur endemic to Madagascar. It has total length of about 51 to 59 centimeters, of which 23-25 centimeters are tail. Hubbard's sportive lemur is found in southwestern Madagascar, living in dry transitional forests.Originally...


(Lepilemur hubbardorum) **
James' Sportive Lemur

James' Sportive Lemur

James' sportive lemur , or Manombo sportive lemur, is a sportive lemur endemic to Madagascar. It is one of the larger sportive lemurs with a total length of about 60 to 67 centimeters, of which 28 to 32 centimeters are tail...


(Lepilemur jamesorum) **
White-footed Sportive Lemur

White-footed Sportive Lemur

The white-footed sportive lemur , or white-footed weasel lemur, is a species of lemur in the Lepilemuridae family. It is endemic to Madagascar. Its natural habitat is subtropical or tropical dry shrubland. It is threatened by habitat loss....


, (Lepilemur leucopus)
Manasamody Sportive Lemur (Lepilemur manasamody) ***
Small-toothed Sportive Lemur

Small-toothed Sportive Lemur

The small-toothed sportive lemur , or small-toothed weasel lemur, is a primate species in the family Lepilemuridae that—like all lemurs—is endemic to Madagascar. The species lives in dense rainforest in southeastern Madagascar, and can be found in Ranomafana and Andringitra National Parks...


, (Lepilemur microdon)
Daraina Sportive Lemur (Lepilemur milanoii) **
Weasel Sportive Lemur, (Lepilemur mustelinus)
Otto's Sportive Lemur

Otto's Sportive Lemur

Otto's sportive lemur , or Ambodimahabibo sportive lemur, is a sportive lemur endemic to Madagascar. Its coloration is primarily grey-brown. It is known only from Ambodimahabibo, between the Mahajamba River in the west and the Sofia River in the north....


(Lepilemur otto) ***
Petter's Sportive Lemur

Petter's Sportive Lemur

Petter's sportive lemur is a sportive lemur endemic to Madagascar. It is one of the smaller sportive lemurs with a total length of about 49 to 54 centimeters, of which 22-25 centimeters are tail. Petter's sportive lemur is found in southwestern Madagascar, living in dry spiny forests and some...


(Lepilemur petteri) **
Randrianasolo's Sportive Lemur (Lepilemur randrianasoloi) *
Red-tailed Sportive Lemur

Red-tailed Sportive Lemur

The red-tailed sportive lemur , or red-tailed weasel lemur, is native to Madagascar like all lemurs. It is a nocturnal species feeding largely on leaves, though they also eat some fruit. Individuals weigh around 800 grams, and there is little sexual dimorphism...


, (Lepilemur ruficaudatus)
Sahamalaza's Sportive Lemur

Sahamalaza's Sportive Lemur

The Sahamalaza sportive lemur is a sportive lemur endemic to Madagascar. It has a total length of about 51 to 54 centimeters, of which 26-27 centimeters are tail. Sahamalaza's sportive lemur is found in northwestern Madagascar, living in subhumid forest and some secondary forests....


(Lepilemur sahamalazensis) *
Scott's Sportive Lemur

Scott's Sportive Lemur

Scott's sportive lemur , or Masoala sportive lemur, is a sportive lemur endemic to Madagascar. It has greyish brown fur and a black-tipped tail. It is named in honor of the Suzanne and Walter Scott Jr. Foundation....


(Lepilemur scottorum)****
Seal's Sportive Lemur

Seal's Sportive Lemur

Seal's sportive lemur , or Anjanaharibe-Sud sportive lemur, is a sportive lemur endemic to Madagascar. It is a large sportive lemur with a total length of about 57 to 64 centimeters, of which 25 to 28 centimeters are tail. Seal's sportive lemur is found in northeastern Madagascar, living in...


(Lepilemur seali) **
Northern Sportive Lemur

Northern Sportive Lemur

The northern sportive lemur , also known as the Sahafary sportive lemur or northern weasel lemur, is a species of lemur in the Lepilemuridae family. It is endemic to Madagascar. It is threatened by habitat loss and has been named one of "The World's 25 Most Endangered Primates."-References:...


, (Lepilemur septentrionalis)
Hawk's Sportive Lemur

Hawk's Sportive Lemur

Hawks' sportive lemur , also known as Nosy Be sportive lemur or Nosy Be weasel lemur, is a sportive lemur endemic to Madagascar. It is a moderately large sportive lemur, with a total length of about 50 to 68 centimeters, of which 22 to 27 centimeters are tail.Originally named L...


(Lepilemur tymerlachsonorum) **
Wright's Sportive Lemur

Wright's Sportive Lemur

Wright's sportive lemur , or Kalambatritra sportive lemur, is a sportive lemur endemic to Madagascar. It is one of the larger sportive lemurs with a total length of about 52 to 64 centimeters, of which 24-27 centimeters are tail...


(Lepilemur wrightae) **

Family †Megaladapidae
Family †Palaeopropithecidae

Infraorder Lorisiformes

Lorisiformes

Lorisiformes are a group of primates found throughout Africa and Asia. Members of this infraorder include the galagos and the lorises. As strepsirrhines, they are related to the lemurs.* Order Primates** Suborder Strepsirrhini: non-tarsier prosimians...


: lorises, pottos, galagos and allies

Suborder Haplorrhini

Haplorrhini

The haplorhines, the "dry-nosed" primates , are members of the Haplorhini clade: the prosimian tarsiers and the anthropoids...


: tarsiers, monkeys and apes
* New species according to molecular analysis
** New species according to molecular analysis
*** New species according to molecular analysis
**** New species according to molecular analysis
***** New species according to molecular analysis
External links