Soyuz TM-20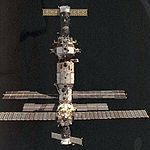 Crew
Mission highlights
20th expedition to
Mir
Mir
Mir was a space station operated in low Earth orbit from 1986 to 2001, at first by the Soviet Union and then by Russia. Assembled in orbit from 1986 to 1996, Mir was the first modular space station and had a greater mass than that of any previous spacecraft, holding the record for the...
.
Carried 10 kg of equipment for use by Merbold in ESA's month-long Euromir
94 experiment program. During automatic approach to Mir's front port, the
spacecraft yawed unexpectedly. Viktorenko completed a manual docking
without additional incident.
External links