 Southwest China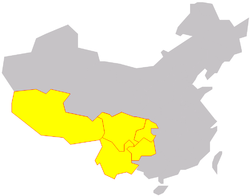 Southwest China
is a region of the
People's Republic of China
People's Republic of China
China , officially the People's Republic of China , is the most populous country in the world, with over 1.3 billion citizens. Located in East Asia, the country covers approximately 9.6 million square kilometres...
defined by governmental bureaus that includes the municipality of
Chongqing
Chongqing
Chongqing is a major city in Southwest China and one of the five national central cities of China. Administratively, it is one of the PRC's four direct-controlled municipalities , and the only such municipality in inland China.The municipality was created on 14 March 1997, succeeding the...
, the provinces of
Sichuan
Sichuan
' , known formerly in the West by its postal map spellings of Szechwan or Szechuan is a province in Southwest China with its capital in Chengdu...
,
Yunnan
Yunnan
Yunnan is a province of the People's Republic of China, located in the far southwest of the country spanning approximately and with a population of 45.7 million . The capital of the province is Kunming. The province borders Burma, Laos, and Vietnam.Yunnan is situated in a mountainous area, with...
and
Guizhou
Guizhou
' is a province of the People's Republic of China located in the southwestern part of the country. Its provincial capital city is Guiyang.- History :...
, and the
Tibet Autonomous Region
Tibet Autonomous Region
The Tibet Autonomous Region , Tibet or Xizang for short, also called the Xizang Autonomous Region is a province-level autonomous region of the People's Republic of China , created in 1965....
.
Provinces
Name
Chinese (S)
pinyin

Pinyin

Pinyin is the official system to transcribe Chinese characters into the Roman alphabet in China, Malaysia, Singapore and Taiwan. It is also often used to teach Mandarin Chinese and spell Chinese names in foreign publications and used as an input method to enter Chinese characters into...



Abbreviation
Provincial capital
Chinese
pinyin
List of county-level divisions
Guizhou

Guizhou

' is a province of the People's Republic of China located in the southwestern part of the country. Its provincial capital city is Guiyang.- History :...



贵州
Guìzhōu
黔 qián or 贵 guì
Guiyang

Guiyang

Guiyang is the capital of Guizhou province of Southwest China. It is located in the centre of the province, situated on the east of the Yunnan–Guizhou Plateau, and on the north bank of the Nanming River, a branch of the Wu River. The city has an elevation of about 1,100 meters...



贵阳
Guìyáng
List of county-level divisions
Sichuan

Sichuan

' , known formerly in the West by its postal map spellings of Szechwan or Szechuan is a province in Southwest China with its capital in Chengdu...



四川
Sìchuān
川 chuān or 蜀 shǔ
Chengdu

Chengdu

Chengdu , formerly transliterated Chengtu, is the capital of Sichuan province in Southwest China. It holds sub-provincial administrative status...



成都
Chéngdū
List of county-level divisions
Yunnan

Yunnan

Yunnan is a province of the People's Republic of China, located in the far southwest of the country spanning approximately and with a population of 45.7 million . The capital of the province is Kunming. The province borders Burma, Laos, and Vietnam.Yunnan is situated in a mountainous area, with...



云南
Yúnnán
滇 diān or 云 yún
Kunming

Kunming

' is the capital and largest city of Yunnan Province in Southwest China. It was known as Yunnan-Fou until the 1920s. A prefecture-level city, it is the political, economic, communications and cultural centre of Yunnan, and is the seat of the provincial government...



昆明
Kūnmíng
List of county-level divisions
Municipalities
Name
Chinese (S)
pinyin

Pinyin

Pinyin is the official system to transcribe Chinese characters into the Roman alphabet in China, Malaysia, Singapore and Taiwan. It is also often used to teach Mandarin Chinese and spell Chinese names in foreign publications and used as an input method to enter Chinese characters into...



Abbreviation
List of county-level divisions
Chongqing

Chongqing

Chongqing is a major city in Southwest China and one of the five national central cities of China. Administratively, it is one of the PRC's four direct-controlled municipalities , and the only such municipality in inland China.The municipality was created on 14 March 1997, succeeding the...



重庆
Chóngqìng
渝 yú
List of administrative divisions
Autonomous Region
Name
Chinese (S)
pinyin

Pinyin

Pinyin is the official system to transcribe Chinese characters into the Roman alphabet in China, Malaysia, Singapore and Taiwan. It is also often used to teach Mandarin Chinese and spell Chinese names in foreign publications and used as an input method to enter Chinese characters into...



Local name
Abbreviation
Provincial capital
Chinese
pinyin
Local name
List of county-level divisions
Tibet

Tibet Autonomous Region

The Tibet Autonomous Region , Tibet or Xizang for short, also called the Xizang Autonomous Region is a province-level autonomous region of the People's Republic of China , created in 1965....



西藏
Xīzàng
བོད་རང་སྐྱོང་ལྗོངས
藏 zàng
Lhasa

Lhasa

Lhasa is the administrative capital of the Tibet Autonomous Region in the People's Republic of China and the second most populous city on the Tibetan Plateau, after Xining. At an altitude of , Lhasa is one of the highest cities in the world...



拉萨
Lāsà
ལྷ་ས་
List of county-level divisions
Southwest China is populated, but not as heavily as north China. It is fertile and rich in soil.
estern China/li>