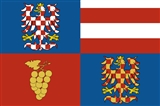 South Moravian Region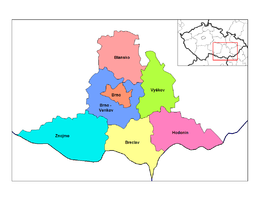 South Moravian Region
is an administrative unit of the
Czech Republic
Czech Republic
The Czech Republic is a landlocked country in Central Europe. The country is bordered by Poland to the northeast, Slovakia to the east, Austria to the south, and Germany to the west and northwest....
, located in the south-western part of its historical region of
Moravia
Moravia
Moravia is a historical region in Central Europe in the east of the Czech Republic, and one of the former Czech lands, together with Bohemia and Silesia. It takes its name from the Morava River which rises in the northwest of the region...
, with exception of Jobova Lhota, that belongs to
Bohemia
Bohemia
Bohemia is a historical region in central Europe, occupying the western two-thirds of the traditional Czech Lands. It is located in the contemporary Czech Republic with its capital in Prague...
. Its capital is
Brno
Brno
Brno by population and area is the second largest city in the Czech Republic, the largest Moravian city, and the historical capital city of the Margraviate of Moravia. Brno is the administrative centre of the South Moravian Region where it forms a separate district Brno-City District...
the 2nd largest city of the Czech Republic. The region is famous for its
wine production
Czech wine
Wine in the Czech Republic is produced mainly in southern Moravia, although a few vineyards are located in Bohemia. However, Moravia accounts for around 96% of the country's vineyards, which is why Czech wine is more often referred to as Moravian wine ...
. The area around the towns of
Mikulov
Mikulov
Mikulov is a town in the South Moravian Region of the Czech Republic with a population of 7,608 . It is located directly on the border with Lower Austria. Mikulov is located at the edge of a hilly area and the three Nové Mlýny reservoirs...
,
Znojmo
Znojmo
Znojmo is a city in the South Moravian Region of the Czech Republic, near the border with Lower Austria, connected to Vienna by railway and road . The royal city of Znojmo was founded shortly before 1226 by King Ottokar I on the plains in front of Znojmo Castle...
,
Velké Pavlovice
Velké Pavlovice
Velké Pavlovice is a town in Břeclav District, South Moravian Region, Czech Republic. It has a population of 3,087 . The region of Velké Pavlovice is famous for its vineyards.- External links :...
along with the Slovácko region provide 94% of the Czech Republic's vineyards.
Cities and towns
External links
Official website
South Moravian Region