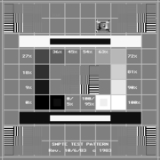 Society of Motion Picture and Television Engineers
The
Society of Motion Picture and Television Engineers
(
SMPTE
(icon, rarely ˈ), founded in 1916 as the Society of Motion Picture Engineers or SMPE, is an international professional association, based in the United States of America, of engineers working in the motion imaging industries. An internationally-recognized standards organizations, SMPTE has over 400 standards, Recommended Practices and Engineering Guidelines for television production,
filmmaking
Filmmaking
Filmmaking is the process of making a film, from an initial story, idea, or commission, through scriptwriting, casting, shooting, directing, editing, and screening the finished product before an audience that may result in a theatrical release or television program...
,
digital cinema
Digital cinema
Digital cinema refers to the use of digital technology to distribute and project motion pictures. A movie can be distributed via hard drives, optical disks or satellite and projected using a digital projector instead of a conventional film projector...
, audio recording and medical imaging. In addition to development and publication of technical standard documents, SMPTE publishes a journal, provides networking opportunities for its members, produces
academic conference
Academic conference
An academic conference or symposium is a conference for researchers to present and discuss their work. Together with academic or scientific journals, conferences provide an important channel for exchange of information between researchers.-Overview:Conferences are usually composed of various...
s and exhibitions, and performs other industry-related functions.
Membership is open to any individual or organization with interest in the subject matter.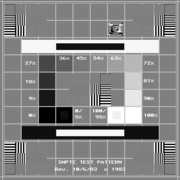 SMPTE standards documents are copyrighted and may be purchased from the SMPTE website, or other distributors of technical standards. Standard documents may be purchased by the general public. Significant standards promulgated by SMPTE include:
All film and television transmission formats and media, including digital.
Physical interfaces for transmission of television signals and related data (such as SMPTE time code

SMPTE time code

SMPTE timecode is a set of cooperating standards to label individual frames of video or film with a time code defined by the Society of Motion Picture and Television Engineers in the SMPTE 12M specification...


and the Serial Digital Interface

Serial Digital Interface

Serial digital interface is a family of video interfaces standardized by SMPTE. For example, ITU-R BT.656 and SMPTE 259M define digital video interfaces used for broadcast-grade video...


) (SDI)
SMPTE color bars

SMPTE color bars

The SMPTE color bars are a type of television test pattern, and is most commonly used in countries where the NTSC video standard is dominant, such as those in North America. The Society of Motion Picture and Television Engineers refers to this test pattern as Engineering Guideline EG 1-1990...



Test card

Test card

A test card, also known as a test pattern in North America and Australia, is a television test signal, typically broadcast at times when the transmitter is active but no program is being broadcast...


patterns and other diagnostic tools
The Material eXchange Format, or MXF

MXF

Material eXchange Format is a container format for professional digital video and audio media defined by a set of SMPTE standards.- A brief summary of MXF :...



SMPTE's educational and professional development activities include technical presentations at regular meetings of its local Sections, annual and biennial conferences in the US and Australia and the SMPTE Journal. SMPTE also has a number of student Sections and sponsors scholarships for college students in the motion imaging disciplines.
Related organizations include
3D television
SMPTE's Task Force on 3D to the Home produced a report on the issues, challenges and suggested minimum standards for the 3D Home Master that would be distributed after post production to the ingest points of distribution channels for 3D video content. A group within the standards committees has begun to work on the formal definition of the SMPTE 3D Home Master.
Awards program
The SMPTE presents awards to individuals for outstanding contributions in fields of the society.
Progress Medal
The Progress Medal instituted in 1935, is SMPTE's oldest and most prestigious medal, and awarded annually for technical contributions to the progress of engineering phases of the motion picture and/or television industries.
Birney Dayton (2008)
Clyde D. Smith (2007)
Roderick Snell

Roderick Snell

Roderick Snell is a British electronics engineer, who co-founded Snell & Wilcox in 1973.Snell is a visiting professor at the Business School of the University of Kingston, Surrey, a fellow of the Royal Television Society, and a governor of the Society of Motion Picture and Television Engineers .He...


(2006)
Dr. Kees Immink (2004)
Stanley N. Baron (2003)
William C. Miller (2002)
Bernard J. Lechner

Bernard J. Lechner

Bernard J. Lechner is an electronics engineer and formerly Vice President, RCA Laboratories, where he worked for more than 30 years covering various aspects of television and display....


(2001)
Ray Dolby

Ray Dolby

Ray Dolby is the American engineer and inventor of the noise reduction system known as Dolby NR. He was also a co-inventor of video tape recording while at Ampex. He is the founder of Dolby Laboratories.-Biography:...


(1983)
John G. Frayne

John G. Frayne

John G. Frayne was a physicist and sound engineer.-Career:Frayne received his Ph.D...


(1947)
Eastman Kodak Gold Medal
The Eastman Kodak Gold Medal, instituted in 1967, recognizes outstanding contributions which lead to new or unique educational programs utilizing motion pictures, television, high-speed and instrumentation photography or other photography sciences. Recent recipients are
Andrew Laszlo

Andrew Laszlo

Andrew Laszlo A.S.C. was a Hungarian-American cinematographer. He earned Emmy nominations for The Man Without a Country in 1973 and Shōgun in 1980.-Life:...


(2006)
Dr. Roderick T. Ryan (2004)
George Spiro Dibie (2003)
Jean-Pierre Beauviala (2002)
See also
List of film topics (Extensive alphabetical listing)
SMPTE D10

SMPTE D10

SMPTE 356M Television specification for a professional video format, it is composed of MPEG-2 Video 4:2:2 I-frame only and 8 channel AES3 audio streams. These AES3 audio usually contain 24 bit PCM audio samples...



SMPTE D11

SMPTE D11

SMPTE 367M, also known as SMPTE D-11 and HDCAM, is a standard for the compression of high-definition digital video. D11 source picture rates can be 24, 24/1.001, 25 or 30/1.001 frames per second progressive scan, or 50 or 60/1.001 fields per second interlaced; compression yields output bit rates...



SMPTE 259M

SMPTE 259M

SMPTE 259M is a standard published by SMPTE which "... describes a 10-bit serial digital interface operating at 143/270/360 Mb/s." The goal of SMPTE 259M is to define a Serial Digital Interface , called SDI or SD-SDI....


: the Serial Digital Interface (SD-SDI)
SMPTE 344M

SMPTE 344M

"SMPTE 344M" is a standard published by SMPTE which expands upon SMPTE 259M allowing for bit-rates of 540 Mbit/s, allowing EDTV resolutions of 480p and 576p.This standard is part of a family of standards that define a Serial Digital Interface....


: Enhanced Serial Digital Interface (ED-SDI)
SMPTE 292M

SMPTE 292M

SMPTE 292M is a standard published by SMPTE which expands upon SMPTE 259M and SMPTE 344M allowing for bit-rates of 1.485 Gbit/s, and 1.485/1.001 Gbit/s...


: High Definition Serial Digital Interface (HD-SDI)
SMPTE 372M

SMPTE 372M

SMPTE 372M is a standard published by SMPTE which expands upon SMPTE 259M, SMPTE 344M, and SMPTE 292M allowing for bit-rates of 2.970 Gbit/s, and 2.970/1.001 Gbit/s over two wires. These bit-rates are sufficient for 1080p video....


: High Definition Serial Digital Interface HD-SDI (DL HD-SDI)
SMPTE 421M: VC-1

VC-1

VC-1 is the informal name of the SMPTE 421M video codec standard, which was initially developed as a proprietary video format by Microsoft before it was released as a formal SMPTE standard video format on April 3, 2006...


video codec
SMPTE 424M

SMPTE 424M

"SMPTE 424M" is a standard published by SMPTE which expands upon SMPTE 259M, SMPTE 344M, and SMPTE 292M allowing for bit-rates of 2.970 Gbit/s and 2.970/1.001 Gbit/s over a single-link coaxial cable. These bit-rates are sufficient for 1080p video at 50 or 60 frames per second...


: 3 Gbit/s Serial Digital Interface (3G-SDI)
SMPTE 291M: Ancillary Data

Ancillary data

Ancillary data , in the context of television systems, refers to a means which by non-video information may be embedded within the serial digital interface...


Packet and Space Formatting
Digital Picture Exchange
General Exchange Format

General Exchange Format

General eXchange Format , is a file exchange format for thetransfer of simple and compound clips between television program storage systems...


(GXF)
Material Exchange Format (MXF)
Media dispatch protocol

Media dispatch protocol

The Media Dispatch Protocol was developed by the Pro-MPEG Media Dispatch Group to provide an open standard for secure, automated, and tapeless delivery of audio, video and associated data files...


SMPTE 2032 parts 1, 2 and 3
SMPTE defines the standard for many VTR standards
External links