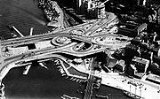 Slussen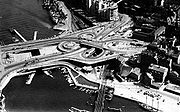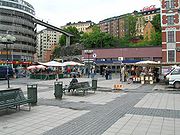 Slussen
is an area of central
Stockholm
Stockholm
Stockholm is the capital and the largest city of Sweden and constitutes the most populated urban area in Scandinavia. Stockholm is the most populous city in Sweden, with a population of 851,155 in the municipality , 1.37 million in the urban area , and around 2.1 million in the metropolitan area...
, connecting
Södermalm
Södermalm
Södermalm, often shortened to "Söder", is a district in central Stockholm. It covers the large island formerly called "Åsön". With a population of 99,685, it is one of the most densely populated districts of Scandinavia...
and
Gamla stan
Gamla stan
Gamla stan , until 1980 officially Staden mellan broarna , is the old town of Stockholm, Sweden. Gamla stan consists primarily of the island Stadsholmen. The surrounding islets Riddarholmen, Helgeandsholmen, and Strömsborg are officially part of, but not colloquially included in, Gamla stan...
. The area is named after the locks between Lake
Mälaren
Mälaren
Lake Mälaren is the third-largest lake in Sweden, after Lakes Vänern and Vättern. Its area is 1,140 km² and its greatest depth is 64 m. Mälaren spans 120 kilometers from east to west...
and the
Baltic Sea
Baltic Sea
The Baltic Sea is a brackish mediterranean sea located in Northern Europe, from 53°N to 66°N latitude and from 20°E to 26°E longitude. It is bounded by the Scandinavian Peninsula, the mainland of Europe, and the Danish islands. It drains into the Kattegat by way of the Øresund, the Great Belt and...
. The locks themselves allow passage between these two bodies of water (of different levels). Slussen also refers to the traffic-node created in 1935.
The
Slussen metro station
Slussen metro station
Slussen is a station of the Stockholm Metro, located in the district of Södermalm. The station is served by the red and green lines. Originally opened in 1933 as an underground tram stop, in 1950 it became the terminal of the first metro line running south to Hökarängen, it was again rebuilt in...
is a hub of
public transport in Stockholm
Public transport in Stockholm
Public transport in Stockholm consists of bus, metro, regional/suburban rail, light rail, tram and archipelago boat operation in Stockholm County, Sweden. The bus and rail is organized by Storstockholms Lokaltrafik , SL, which is owned by the Stockholm County Council...
, serving the red and green lines of the
Stockholm Metro
Stockholm Metro
The Stockholm Metro is a metro system in Stockholm, Sweden. The first line opened in 1950, and today the system has 100 stations in use, of which 47 are underground and 53 above ground. There are seven lines numbered from 10 to 19, in three groups identified by a color: the Green, Red and Blue lines...
, with an adjoining bus terminal and
Saltsjöbanan
Saltsjöbanan
Saltsjöbanan is a suburban rail system between Stockholm and Saltsjöbaden in Nacka, Sweden. It is in length and has eighteen stations in use. An average of 19,600 journeys are made on an ordinary workday. The line is mainly single track, and is isolated from Sweden's national railway network,...
commuter rail station serving the eastern parts of Stockholm and its surroundings.
Djurgårdsfärjan
Djurgårdsfärjan
Djurgårdsfärjan is an inner city boat line in Stockholm. It is operated by Waxholmsbolaget and is integrated into Stockholms public transport system. The ferry line runs from Slussen to "Allmänna gränd" near Gröna Lund on Djurgården, with an optional stop at Skeppsholmen....
departs adjacently.
In recent years, plans for a major redevelopment of Slussen were proposed as many of the original design features were considered either redundant or unusable due to physical deterioration of the structure. Political plans for reshaping the area have existed since the 1970s. A vigorous discussion in Swedish media has followed.
After conducting a competition, in May 2009 the city of Stockholm announced that the firm of Norman Foster had been selected to create a new master plan of the Slussen area. The design of Foster and Partners features two linked pedestrian bridges and one for traffic. It removes many of the existing roads and creates several new blocks of buildings in proximity to the waterfront.
See also