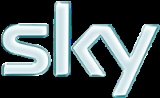 Sky Digital (UK & Ireland)
Sky
is the brand name for
British Sky Broadcasting
British Sky Broadcasting
British Sky Broadcasting Group plc is a satellite broadcasting, broadband and telephony services company headquartered in London, United Kingdom, with operations in the United Kingdom and the Ireland....
's digital
satellite television
Satellite television
Satellite television is television programming delivered by the means of communications satellite and received by an outdoor antenna, usually a parabolic mirror generally referred to as a satellite dish, and as far as household usage is concerned, a satellite receiver either in the form of an...
and
radio
Satellite radio
Satellite radio is an analogue or digital radio signal that is relayed through one or more satellites and thus can be received in a much wider geographical area than terrestrial FM radio stations...
service, transmitted from
SES Astra
SES Astra
Astra is the name for the geostationary communication satellites, both individually and as a group, which are owned and operated by SES S.A., a global satellite operator based in Betzdorf, in eastern Luxembourg. The name is sometimes also used to describe the channels broadcasting from these...
satellites located at
28.2° east
Astra 28.2°E
Astra 28.2°E is the name for the group of Astra communications satellites co-located at the 28.2° East position in the Clarke Belt that are owned and operated by SES based in Betzdorf, Luxembourg...
(
Astra 2A
Astra 2A
Astra 2A is a communications satellite owned by SES Astra. Launched in 1998, half its expected end-of-life capacity of 28 transponders were pre-booked by BSkyB, who utilised it to launch their new Sky Digital service...
/
2B
Astra 2B
Astra 2B is a communications satellite owned and operated by SES Astra, launched in 2000 to join Astra 2A at the Astra 28.2°E orbital slot providing digital television and radio broadcast services to the UK and Republic of Ireland....
/
2C
Astra 2C
Astra 2C is a communications satellite owned and operated by SES Astra. Designed to join Astra 2A and Astra 2B at the Astra 28.2°E orbital slot providing digital television and radio broadcast services to the UK and Republic of Ireland, the satellite was first used at 19.2°E for pan-European...
/
2D
Astra 2D
Astra 2D is one of a group of Astra communications satellites operated by SES, located at 28.2° east in the Clarke Belt. It is a Hughes HS-376 craft, and was launched from the Guiana Space Centre in December 2000....
) and
Eutelsat
Eutelsat
Eutelsat S.A. is a French-based satellite provider. Providing coverage over the entire European continent, as well as the Middle East, Africa, India and significant parts of Asia and the Americas, it is one of the world's three leading satellite operators in terms of revenues.Eutelsat's satellites...
's
Eurobird 1
Eurobird 1
Eurobird 1 is a Eutelsat operated Eurobird satellite, used primarily for digital television. It is located at 28.5° east in the Clarke Belt, just within the range of most satellite dishes pointed at SES Astra's Astra 2A, 2B and 2D at 28.2° east...
satellite at 28.5°E. The service was originally launched as
Sky Digital
, distinguishing it from the original analogue service. However, as BSkyB's analogue service ended in 2001, the service is now more commonly marketed as just 'Sky'.
History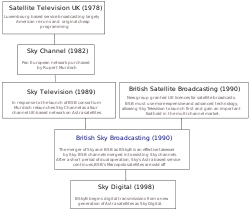 Sky's digital service was officially launched on 1 October 1998 under the name Sky Digital, although small-scale tests were carried out before then. For the first time, BSkyB used the newly-launched
Astra 2A
Astra 2A
Astra 2A is a communications satellite owned by SES Astra. Launched in 1998, half its expected end-of-life capacity of 28 transponders were pre-booked by BSkyB, who utilised it to launch their new Sky Digital service...
satellite, which has since come to broadcast exclusively to the
United Kingdom
United Kingdom
The United Kingdom of Great Britain and Northern IrelandIn the United Kingdom and Dependencies, other languages have been officially recognised as legitimate autochthonous languages under the European Charter for Regional or Minority Languages...
and
Ireland
Republic of Ireland
Ireland , described as the Republic of Ireland , is a sovereign state in Europe occupying approximately five-sixths of the island of the same name. Its capital is Dublin. Ireland, which had a population of 4.58 million in 2011, is a constitutional republic governed as a parliamentary democracy,...
. At this time the use of the Sky brand made an important distinction between the new service and Sky's analogue services. Key selling points were the improvement in picture and sound quality, increased number of channels and an interactive service branded Open.... now called
Sky Active
Sky Active
Sky Active is the brand name for interactive features on Sky Digital and is available in the UK and the Republic of Ireland. It enables a viewer to interact with TV content, respond to an advertisement or access internet-based services....
, Sky competed with the
ONdigital
ITV Digital
ITV Digital was a British digital terrestrial television broadcaster, which launched a pay-TV service on the world's first digital terrestrial television network as ONdigital in 1998 and briefly re-branded as ITV Digital in July 2001, before the service ceased in May 2002. Its main shareholders...
(later
ITV Digital
) terrestrial offering.
New Astra satellites joined the position in 2000 and 2001, and the number of channels available to customers increased accordingly. This trend continued with the launch of Eurobird 1 in 2001.
Originally Sky launched with a set top box known as the
Sky digibox
Digibox
The Digibox is a device marketed by British Sky Broadcasting in the UK and Republic of Ireland to enable home users to receive digital satellite television broadcasts from the Astra satellites at 28.2° east. An internet service is also available through the device, similar in some ways to the...
, however, in more recent years the
Sky+
Sky+
Sky+, or Sky Plus, is a personal video recorder service for Sky in the UK. Launched in September 2001, it allows the user to record, pause and instantly rewind live TV. The system performs these functions using an internal hard drive inside the Sky+ set top box...
and Sky+ HD boxes have launched alongside the original box. Sky+ is a
digital video recorder
Digital video recorder
A digital video recorder , sometimes referred to by the merchandising term personal video recorder , is a consumer electronics device or application software that records video in a digital format to a disk drive, USB flash drive, SD memory card or other local or networked mass storage device...
with an internal hard drive which allows viewers to 'pause live television' (by switching from a live feed to a paused real-time recording that can be restarted at any point) and schedule programs to record in the future. Sky launched
HDTV
High-definition television
High-definition television is video that has resolution substantially higher than that of traditional television systems . HDTV has one or two million pixels per frame, roughly five times that of SD...
services in May 2006. The first photos of a prototype Sky HD receiver began appearing in magazines in August 2005. All Sky+ HD receivers incorporate a version of Sky+ using a 300GB hard drive (of which 160GB is available to the user) to accommodate the necessary extra data. The rest of the hard drive is now used by Sky set top boxes to store up to 30 hours of Anytime TV from the previous week.
Additionally, some channels occasionally receive new numbering — However, in early 2006, the majority of channels received new numbering, with some receiving single digit changes, whilst others received new numbers entirely.
Slogans Sky have used for marketing include
"What do you want to watch?", "Entertainment your way"
and the current slogan
"Believe in Better"
.
Technical information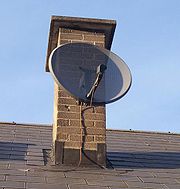 Sky's standard definition broadcasts are in DVB-compliant
MPEG-2
MPEG-2
MPEG-2 is a standard for "the generic coding of moving pictures and associated audio information". It describes a combination of lossy video compression and lossy audio data compression methods which permit storage and transmission of movies using currently available storage media and transmission...
, with the
Sky Movies
Sky Movies
Sky Movies is the collective name for the premium subscription television movie channels operated by Sky Television, and later British Sky Broadcasting. It has around 5 million subscribers, via satellite, cable and IPTV in the UK and Ireland...
and Sky Box Office channels including optional
Dolby Digital
Dolby Digital
Dolby Digital is the name for audio compression technologies developed by Dolby Laboratories. It was originally called Dolby Stereo Digital until 1994. Except for Dolby TrueHD, the audio compression is lossy. The first use of Dolby Digital was to provide digital sound in cinemas from 35mm film prints...
soundtracks for recent films, although these are only accessible with a Sky+ box. Sky+ HD material is broadcast using
MPEG-4
MPEG-4
MPEG-4 is a method of defining compression of audio and visual digital data. It was introduced in late 1998 and designated a standard for a group of audio and video coding formats and related technology agreed upon by the ISO/IEC Moving Picture Experts Group under the formal standard ISO/IEC...
and most of the HD material uses the
DVB-S2
DVB-S2
Digital Video Broadcasting - Satellite - Second Generation is a digital television broadcast standard that has been designed as a successor for the popular DVB-S system. It was developed in 2003 by the , an international industry consortium, and ratified by ETSI in March 2005...
standard. Interactive services and 7-day EPG use the proprietary
OpenTV
OpenTV
OpenTV is an interactive television company founded in 1994. Its main business involves the sale of set-top-box operating systems and software. On March 28, 2010 OpenTV became a fully owned subsidiary of the NAGRA Kudelski Group and officially delisted from the NASDAQ, where it was previously...
system, with set-top boxes including
modem
Modem
A modem is a device that modulates an analog carrier signal to encode digital information, and also demodulates such a carrier signal to decode the transmitted information. The goal is to produce a signal that can be transmitted easily and decoded to reproduce the original digital data...
s for a return path.
Sky News
Sky News
Sky News is a 24-hour British and international satellite television news broadcaster with an emphasis on UK and international news stories.The service places emphasis on rolling news, including the latest breaking news. Sky News also hosts localised versions of the channel in Australia and in New...
, amongst other channels, provides a pseudo-
video on demand
Video on demand
Video on Demand or Audio and Video On Demand are systems which allow users to select and watch/listen to video or audio content on demand...
interactive service by broadcasting looping video streams.
Provided a universal
Ku band
Ku band
The Kμ band is a portion of the electromagnetic spectrum in the microwave range of frequencies. This symbol refers to —in other words, the band directly below the K-band...
LNB
Low-noise block converter
A low-noise block downconverter is the receiving device of a parabolic satellite dish antenna of the type commonly used for satellite TV reception...
(9.75/10.600 GHz) is fitted at the end of the dish and pointed at the correct satellite constellation, most digital receivers will receive the free to air channels. Some broadcasts are free-to-air and unencrypted, some are encrypted but do not require a monthly subscription (known as free-to-view), some are encrypted and require a monthly subscription, and some are pay-per-view services. To view the encrypted content a
VideoGuard
VideoGuard
VideoGuard , produced by NDS, is a digital encryption system for use with conditional access television broadcasting. It is used on digital satellite television systems - some of which are operated by News Corporation, which owns about half of NDS...
UK equipped receiver (all of which are dedicated to the Sky service, and cannot be used to decrypt other services) needs to be used. Unofficial
CAMs
Conditional access module
A conditional access module is an electronic device, usually incorporating a slot for a smart card, which equips an Integrated Digital Television or set-top box with the appropriate hardware facility to view conditional access content that has been encrypted using a conditional access system...
are now available to view the service, although use of them breaks the user's contract with Sky and invalidates the user's rights to use the card.
BSkyB has no veto over the presence of channels on their EPG, with open access being an enforced part of their operating licence from
Ofcom
Ofcom
Ofcom is the government-approved regulatory authority for the broadcasting and telecommunications industries in the United Kingdom. Ofcom was initially established by the Office of Communications Act 2002. It received its full authority from the Communications Act 2003...
. Any channel which can get carriage on a suitable beam of a satellite at 28° East is entitled to access to Sky's EPG for a fee, ranging from £15-100,000. Third-party channels which opt for encryption receive discounts ranging from reduced price to free EPG entries, free carriage on a Sky leased transponder, or actual payment for being carried. However, even in this case, Sky does not carry any control over the channel's content or carriage issues such as picture quality. Recent years have seen the launch of numerous low-budget channels, including foreign and shopping channels, often with very poor technical quality.
Sky recently stopped taking channel launch applications for its Electronic Programme Guide (EPG). Ofcom has said that this will give existing channels an unfair advantage and may force Sky to replace older set-top boxes for customers with the newer ones.
Due to either limited regional availability of certain channels, or conditions relating to their
must-carry
Must-carry
In cable television, governments apply a must-carry regulation stating that locally-licensed television stations must be carried on a cable provider's system.- Canada :...
status, Sky operate four regional variations of their EPG for domestic customers. The four different EPGs transmitted are: Republic of Ireland, Northern Ireland, Wales and England/Scotland. The Northern Ireland EPG has the most listed channels, with the Republic of Ireland having the least, the difference is major as the ITV channels, Five and BBC Radio are missing. Much of the missing content for Irish viewers is available through 'Other Channels' but Sky+ viewers cannot record from 'Other Channels'. These missing channels are a bone of contention for Irish viewers, who are often forced to seek out
grey market
Grey market
A grey market or gray market also known as parallel market is the trade of a commodity through distribution channels which, while legal, are unofficial, unauthorized, or unintended by the original manufacturer...
UK Sky cards if they want the missing channels. Customers in Ireland pay 20% more and get an inferior service. Each viewing card or smartcard provided by Sky is programmed with the customer's postcode, so when inserted into the user's set-top box it selects which EPG is used, as well as determining which regional variation is allotted to the
BBC One
BBC One
BBC One is the flagship television channel of the British Broadcasting Corporation in the United Kingdom. It was launched on 2 November 1936 as the BBC Television Service, and was the world's first regular television service with a high level of image resolution...
,
BBC Two
BBC Two
BBC Two is the second television channel operated by the British Broadcasting Corporation in the United Kingdom. It covers a wide range of subject matter, but tending towards more 'highbrow' programmes than the more mainstream and popular BBC One. Like the BBC's other domestic TV and radio...
and
ITV
ITV
ITV is the major commercial public service TV network in the United Kingdom. Launched in 1955 under the auspices of the Independent Television Authority to provide competition to the BBC, it is also the oldest commercial network in the UK...
channels for users of the England/Scotland EPG. All regional variations of BBC One and BBC Two are available to all UK viewers on channels 971-992.
EPG
The Sky EPG lists all channels carried on the Sky platform. Many channels are free, others are available only with a subscription.
See also
British Sky Broadcasting

British Sky Broadcasting

British Sky Broadcasting Group plc is a satellite broadcasting, broadband and telephony services company headquartered in London, United Kingdom, with operations in the United Kingdom and the Ireland....



Digibox

Digibox

The Digibox is a device marketed by British Sky Broadcasting in the UK and Republic of Ireland to enable home users to receive digital satellite television broadcasts from the Astra satellites at 28.2° east. An internet service is also available through the device, similar in some ways to the...



Sky+

Sky+

Sky+, or Sky Plus, is a personal video recorder service for Sky in the UK. Launched in September 2001, it allows the user to record, pause and instantly rewind live TV. The system performs these functions using an internal hard drive inside the Sky+ set top box...



Sky Deutschland
Sky+ HD
List of channels on Sky
List of television stations in the United Kingdom
External links