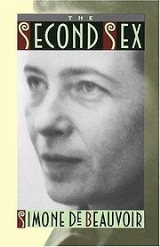 Simone de Beauvoir
"La Beauvoir" redirects here; also see: Beauvoir (disambiguation).
Simone-Ernestine-Lucie-Marie Bertrand de Beauvoir
, often shortened to
Simone de Beauvoir
(simɔn də boˈvwaʁ; 9 January 1908 – 14 April 1986), was a French
existentialist philosopher
Existentialism
Existentialism is a term applied to a school of 19th- and 20th-century philosophers who, despite profound doctrinal differences, shared the belief that philosophical thinking begins with the human subject—not merely the thinking subject, but the acting, feeling, living human individual...
, public intellectual, and social theorist. She wrote novels, essays, biographies, an autobiography in several volumes, and monographs on philosophy, politics, and social issues.