 Simo Matavulj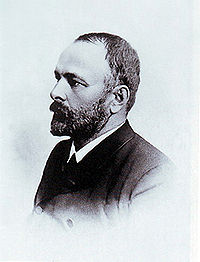 Simo Matavulj
was a
Serbian
Serbs
The Serbs are a South Slavic ethnic group of the Balkans and southern Central Europe. Serbs are located mainly in Serbia, Montenegro and Bosnia and Herzegovina, and form a sizable minority in Croatia, the Republic of Macedonia and Slovenia. Likewise, Serbs are an officially recognized minority in...
novelist, a representative of lyric Realism, especially in short prose. He is best known for employing his skill in holding up to ridicule the peculiar foibles of the Dalmatian folk. He was an honorary member of the
Matica srpska
of
Novi Sad
Novi Sad
Novi Sad is the capital of the northern Serbian province of Vojvodina, and the administrative centre of the South Bačka District. The city is located in the southern part of Pannonian Plain on the Danube river....
; president of the Society of Writers and Artists of Serbia; member of the Serbian Royal Academy of Sciences and Arts (SANU); and president of the Serbian Literary Society.
Biography
Simo Matavulj was born in
Šibenik
Šibenik
Šibenik is a historic town in Croatia, with population of 51,553 . It is located in central Dalmatia where the river Krka flows into the Adriatic Sea...
in
Dalmatia
Dalmatia
Dalmatia is a historical region on the eastern coast of the Adriatic Sea. It stretches from the island of Rab in the northwest to the Bay of Kotor in the southeast. The hinterland, the Dalmatian Zagora, ranges from fifty kilometers in width in the north to just a few kilometers in the south....
,
Austrian Empire
Austrian Empire
The Austrian Empire was a modern era successor empire, which was centered on what is today's Austria and which officially lasted from 1804 to 1867. It was followed by the Empire of Austria-Hungary, whose proclamation was a diplomatic move that elevated Hungary's status within the Austrian Empire...
(now Croatia), on the 14th of September 1852, to a Serbian merchant family. He went to Italian and Serbian grammar schools and graduated from a Šibenik
gymnasium
Gym
The word γυμνάσιον was used in Ancient Greece, that mean a locality for both physical and intellectual education of young men...
(high school). After his father died he went to live and study with his uncle Seraphim, the abbot (
iguman
) of the Serbian Orthodox
Krupa monastery
Krupa monastery
Krupa monastery is a Serb Orthodox monastery on Krupa River in Dalmatia, Croatia.The Monastery was built in 1317 by monks from Bosnia. It is located at the southern slopes of the Velebit mountain, halfway between the towns of Obrovac and Knin. It is the oldest Orthodox monastery in Croatia.The...
in Dalmatia. He was initially educated for the church, but chose not to take orders, and after four years left for
Zadar
Zadar
Zadar is a city in Croatia on the Adriatic Sea. It is the centre of Zadar county and the wider northern Dalmatian region. Population of the city is 75,082 citizens...
's Illyric Teacher's College, from which he graduated in 1871. He was a considerable linguist by then and knew Serbian, Italian, Old Slavonic, and some Greek and Latin. Thereafter he taught in Serbian villages and towns in northern Dalmatia, particularly in Đevrske and Islam Grčki, near the castle of the Janković family, built by
Stojan Janković
Stojan Jankovic
Stojan Mitrović Janković, also known as Knight Janko was the commander of the Dalmatian Serb army, in the service of the Republic of Venice, from 1669 until his death in 1687. He participated in the Cretan and Great Turkish War, as the supreme commander of the Venetian Serb troops, of which he is...
, Serdar of Kotar. His descendent, polyglot Ilija "Deda" Janković, who lived in the castle with Jelena, his wife, took Matavulj as his personal secretary. Janković had a vast collection of books in his private library and gave Matavulj the freedom to use it at any time of day or night. When Matavulj's benefactor and language teacher suddenly died, Matavulj wrote a poem and gave a eulogy at Janković's funeral,
I lost a valuable teacher who gave me his great wisdom, drop by drop, and opened my obscure soul, so that I may speak among honest people. He is the one I owe a debt to.
Matavulj's friend, Lazar Tomanović (1845–1932), helped him find a new job in 1874 at the Serbian Naval Academy of
Srbina
in
Herceg Novi
Herceg Novi
Herceg Novi is a coastal town in Montenegro located at the entrance to the Bay of Kotor and at the foot of Mount Orjen. It is the administrative center of the Herceg Novi Municipality with around 33,000 inhabitants...
, teaching Italian. In
Bilješke jednog pisca
(Notes of a Writer), Matavulj wrote:
In Herceg Novi I lived from 1874 until the end of 1881. The most beautiful period of my youth I spent in this magnificent part of the Serbian country, on the southern junction of three frontiers, in events and circumstances which can only be imagined for a young man who had longings and affection for story-telling.... I do not know if my stories are better than others but they certainly carry the spirit of what was most dear in my life -- the spirit of youth.
In 1875 he participated in the
Herzegovina Uprising
Herzegovina Uprising
Several uprisings were led by Serbs and Croats in the region of Herzegovina, then under Ottoman rule:*1852-1878 Uprising*1875-1878 Uprising*1882 Uprising...
, where he was the secretary of one of the leaders, Vojvoda Miča Ljubibratić (the translator of the Koran in Serbian), and again in 1881 he participated in two short-lived revolts in
Krivošije
Krivošije
Krivošije is a clan and a high plateau on the eastern branches of Mount Orjen in Montenegro, near Kotor. A significant geological/geomorphological feature of the Krivošije region are the glacial deposits distributed across the whole of the plateau...
before they were suppressed by the Austrian army. In the Herzegovina rebellion he got to know a freedom-fighter named Petar Mrkonjić, afterwards King Peter I of Serbia, with whom he was constantly connected in his journalistic ventures later on in life. And from 1881 to 1882 he was superintendent of public schools and rector of a gymnasium at
Cetinje
Cetinje
Cetinje , Цетиње / Cetinje , Italian: Cettigne, Greek: Κετίγνη, Ketígni) is a town and Old Royal Capital of Montenegro. It is also a historical and the secondary capital of Montenegro , with the official residence of the President of Montenegro...
, where he met the likes of
Pavle Rovinski
Pavle Rovinski
Pavle Rovinski or Pavle Apolonovič Rovinski was Russian historian, Slavist, ethnologist and geographer. Elementary school, built in 1994 in Podgorica, Montenegro is named after him...
,
Laza Kostić
Laza Kostic
Laza Kostić was a Serbian poet, prose writer, lawyer, philosopher, polyglot, publicist, and politician, considered to be one of the greatest minds of Serbian literature.-Biography:...
, and Valtazar Bogišić. Till he had become a superintendent of public schools Matavulj had never left his native homeland; but his responsibilities as superintendent necessitated a journey to
Paris
Paris
Paris is the capital and largest city in France, situated on the river Seine, in northern France, at the heart of the Île-de-France region...
, and he passed some four months of the year 1882 partly in the capital (studying the French school system) and partly in leisure rambles in the counties of
France
France
The French Republic , The French Republic , The French Republic , (commonly known as France , is a unitary semi-presidential republic in Western Europe with several overseas territories and islands located on other continents and in the Indian, Pacific, and Atlantic oceans. Metropolitan France...
. In Paris he met
Anatole France
Anatole France
Anatole France , born François-Anatole Thibault, , was a French poet, journalist, and novelist. He was born in Paris, and died in Saint-Cyr-sur-Loire. He was a successful novelist, with several best-sellers. Ironic and skeptical, he was considered in his day the ideal French man of letters...
, and embarked on translating some of the works of
Guy de Maupassant
Guy de Maupassant
Henri René Albert Guy de Maupassant was a popular 19th-century French writer, considered one of the fathers of the modern short story and one of the form's finest exponents....
,
Molière
Molière
Jean-Baptiste Poquelin, known by his stage name Molière, was a French playwright and actor who is considered to be one of the greatest masters of comedy in Western literature...
, and
Zola
Zola
Zola may refer to:People:* Zola , South African entertainer* Émile Zola , French novelist* Arlette Zola, Swiss singer* Calvin Zola , Congo DR footballer...
, of whom he was at this period of his career a faithful disciple. In 1883 we find him acting as master of rhetoric to Danilo, afterwards
Danilo, Crown Prince of Montenegro
Danilo, Crown Prince of Montenegro
Danilo Aleksandar Petrović-Njegoš was the Crown Prince of Montenegro. He was eldest of the son of King Nikola I Petrović-Njegoš of Montenegro and Queen Milena Vukotić. During the Balkan Wars and World War I he led the Montenegrin Army with his father, King Nicholas I of Montenegro, Janko Vukotić,...
, a post which gave him admission to the court. In 1887 he left Cetinje for
Zaječar
Zajecar
Zaječar is a city and municipality in the eastern part of Serbia. According to the 2011 census the town has a population of 36,830, and its coordinates are 43.91° North, 22.30° East...
where he taught at a high school for a short while before returning to Cetinje once again. In 1889 we find him teaching at a Belgrade gymnasium, and later managing the Press Bureau of Serbia's Foreign Ministry. This post he held till his death, though offers of more lucrative positions were made to him. His duties were light, and he employed his leisure in writing more short stories and novels. He was twice married, once in 1892, and when his wife, Milica Stepanovic, 16 years his junior, died a year later giving birth to a stillborn; he remarried seven years later (1900) to Ljubica Dimović, a childless widow.
He spent the last years of his life in Belgrade, where he died on the 20th of February 1908, survived by his second wife. That year (1908) three of Matavulj's pen brothers died:
Milovan Glišić
Milovan Glišic
Milovan Glišić was a Serbian writer, dramatist, translator, and literary theorist. He is sometimes referred to as the Serbian Gogol.-Biography:...
;
Radoje Domanović
Radoje Domanovic
Radoje Domanović was a Serbian writer and teacher, most famous for his satirical short stories. His few remaining years were a constant fight against consumption...
; and Milan Đ. Milićević.
His Legacy
Like many writers of his generation, Matavulj is a strict realist, whose guiding principle is absolute truth and objectivity. As a painter of nature he has much in common with the Russian Gogol. He keeps his eye on the object, but adds, like Gogol, the visionary gleam, and receives from nature but what he himself gives. In his stories and novels he describes both peasants and city dwellers, depicting with cold objectivity the difficult, stifling life of sea fishermen and the middle-class malversations in Dalmatia; the heroic and hardy people of Montenegro; and the machinations of the movers and shakers in the bustling metropolis of Belgrade. For many years Matavulj enjoyed the confidence of Cetinje and King
Nicholas I of Montenegro
Nicholas I of Montenegro
Nikola I Mirkov Petrović-Njegoš was the only king of Montenegro, reigning as king from 1910 to 1918 and as prince from 1860 to 1910. He was also a poet, notably penning "Onamo, 'namo!", a popular song from Montenegro.-Early life:Nikola was born in the village of Njeguši, the ancient home of the...
himself, whose son he tutored. During his teaching tenure he had opportunities to be brought into close touch with the rural and urban folk of Montenegro, Dalmatia and Serbia, becoming familiar with their speech and manners. There he learnt to understand the ways and thoughts of the peasants, and laid up that rich store of scenes and characters which a marvellously retentive memeory enabled him to draw upon at will. The progress of his intellect during these early years well deserved to be recorded. In 1880, Simo Matavulj became the most prolific and talented
painter
of the Montenegrin life. His novel
Uskoks
and others, were based on national anectodes. Although these stories were Matavulj's first-born, they, by the sharpness of perception, and the power of shaping, represent the highest artistic attainment in the narrative prose of Montenegro before 1918. His main collections of short stories are:
Iz Crne Gore i Primorja
(From Montenegro and the Seacoast, 1888, 1889),
Iz beogradskog života
(From Life in Belgrade, 1891), and
Iz raznijeh krajeva
(From Various Cantons, 1893). His best short stories are
Pilipenda
and
Povareta,
depicting the moral strength of common village folk as they struggle through life's vicissitudes. Perhaps his best work,
Bakonja Fra Brne
(1892) depicts in a humorous vein and satirical tone the life in a Catholic cloister. His other novel,
Uskok
(Rebel, 1892), portrays the heroic struggle of the Serbs of Montenegro against the Turkish invaders.
Of significant interest is also Matavulj's autobiographical work
Bilješke jednog pisca
(Notes of a Writer, 1903), in which he recorded his own thoughts and views on life, literature, and art.
External links
Extensive biography