 Silt fence
A
silt fence
, sometimes (misleadingly) called a "filter fence," is a temporary
sediment control
Sediment control
A sediment control is a practice or device designed to keep eroded soil on a construction site, so that it does not wash off and cause water pollution to a nearby stream, river, lake, or bay...
device used on
construction
Construction
In the fields of architecture and civil engineering, construction is a process that consists of the building or assembling of infrastructure. Far from being a single activity, large scale construction is a feat of human multitasking...
sites to protect
water quality
Water quality
Water quality is the physical, chemical and biological characteristics of water. It is a measure of the condition of water relative to the requirements of one or more biotic species and or to any human need or purpose. It is most frequently used by reference to a set of standards against which...
in nearby streams, rivers, lakes and bays from sediment (loose
soil
Soil
Soil is a natural body consisting of layers of mineral constituents of variable thicknesses, which differ from the parent materials in their morphological, physical, chemical, and mineralogical characteristics...
) in
stormwater
Stormwater
Stormwater is water that originates during precipitation events. It may also be used to apply to water that originates with snowmelt that enters the stormwater system...
runoff
Surface runoff
Surface runoff is the water flow that occurs when soil is infiltrated to full capacity and excess water from rain, meltwater, or other sources flows over the land. This is a major component of the water cycle. Runoff that occurs on surfaces before reaching a channel is also called a nonpoint source...
. Silt fences are widely used on construction sites in North America and elsewhere, due to their low cost and simple design, although their effectiveness in controlling sediment is often rather limited, due to problems with design, installation and/or maintenance.
Design and installation
Silt fences are perimeter controls, typically used in combination with
sediment basin
Sediment basin
A sediment basin is a temporary pond built on a construction site to capture eroded or disturbed soil that is washed off during rain storms, and protect the water quality of a nearby stream, river, lake, or bay. The sediment-laden soil settles in the pond before the runoff is discharged...
s and sediment traps, as well as
erosion control
Erosion control
Erosion control is the practice of preventing or controlling wind or water erosion in agriculture, land development and construction. Effective erosion controls are important techniques in preventing water pollution and soil loss.-Introduction:...
s, which are designed to retain sediment in place where soil is being disturbed by construction processes (i.e.,
land grading
Land grading
Grading in civil engineering and construction is the work of ensuring a level base, or one with a specified slope, for a construction work such as a foundation, the base course for a road or a railway, or landscape and garden improvements, or surface drainage...
and other
earthworks
Earthworks (engineering)
Earthworks are engineering works created through the moving or processing of quantities of soil or unformed rock.- Civil engineering use :Typical earthworks include roads, railway beds, causeways, dams, levees, canals, and berms...
).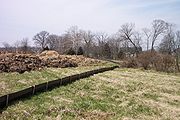 A typical fence consists of a piece of
synthetic
Synthetic fiber
Synthetic fibers are the result of extensive research by scientists to improve on naturally occurring animal and plant fibers. In general, synthetic fibers are created by forcing, usually through extrusion, fiber forming materials through holes into the air, forming a thread...
filter fabric (also called a
geotextile
Geotextile
Geotextiles are permeable fabrics which, when used in association with soil, have the ability to separate, filter, reinforce, protect, or drain...
) stretched between a series of wooden or metal fence stakes along a horizontal contour level. The stakes are installed on the downhill side of the fence, and the bottom edge of the fabric is trenched into the soil and backfilled on the uphill side. The stormwater slowly passes through the fence while depositing its sediments on the uphill side of the fence. The fence is not designed to concentrate or channel stormwater. The fence is installed on a site before soil disturbance begins, down-slope from the disturbance area.
Sediment is captured by silt fences primarily through ponding of water and settling, rather than filtration by the fabric. Sand and silt tends to clog the fabric, and then the sediments settle in the temporary pond.
Super silt fence
Some government jurisdictions in the
United States
United States
The United States of America is a federal constitutional republic comprising fifty states and a federal district...
recommend or require the use of a reinforced fence, sometimes called a "super" silt fence or an enhanced silt fence, on some construction sites. This design uses filter fabric reinforced by a wire mesh or chain link fence. The metal backing gives the fence increased strength to resist the weight of soil and water which may be trapped by the fence in a large drainage area, and also discourages construction site operators from driving vehicles over the fence. However, an improper installation of a super silt fence can create an inadvertent sediment basin if the filter fabric becomes clogged. This typically causes flooding, failure of the fence, and increased downstream
pollution
Water pollution
Water pollution is the contamination of water bodies . Water pollution occurs when pollutants are discharged directly or indirectly into water bodies without adequate treatment to remove harmful compounds....
.
Effectiveness
Silt fence fabrics (geotextiles) tested in laboratory settings have shown to be effective at trapping sediment particles. Although there have been few field tests of silt fences installed at construction sites, these tests have shown generally poor results. (Effectiveness testing involved measurements for both
total suspended solids
Total suspended solids
Total suspended solids is a water quality measurement usually abbreviated TSS. It is listed as a conventional pollutant in the U.S. Clean Water Act. This parameter was at one time called non-filterable residue , a term that refers to the identical measurement: the dry-weight of particles trapped...
and
turbidity
Turbidity
Turbidity is the cloudiness or haziness of a fluid caused by individual particles that are generally invisible to the naked eye, similar to smoke in air. The measurement of turbidity is a key test of water quality....
.) Other studies and articles about silt fence usage and practice document problems with installation and maintenance, implying poor performance.
Silt fences may perform poorly for a variety of reasons, including improper location (e.g. placing fence in an area with concentrated stormwater flows), improper installation (e.g. failure to adequately embed and backfill the lower edge of fabric in the soil) and lack of maintenance. The fabric may become damaged with holes and tears if construction materials are stored next to or on top of the fence. During various phases of construction at a site, a silt fence may be removed relocated and reinstalled multiple times. It may be difficult to maintain effectiveness of a silt fence under such operating conditions. Location of fences in areas with high flows may lead to fence failures.
Some
state
U.S. state
A U.S. state is any one of the 50 federated states of the United States of America that share sovereignty with the federal government. Because of this shared sovereignty, an American is a citizen both of the federal entity and of his or her state of domicile. Four states use the official title of...
agencies recommend an installation technique called "static slicing" as an improved method for ensuring effectiveness and longevity of a silt fence system on a construction site.
See also
External links