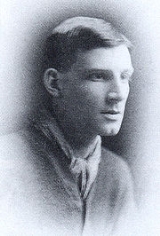 Siegfried Sassoon
Siegfried Loraine Sassoon
CBE
MC
Military Cross
The Military Cross is the third-level military decoration awarded to officers and other ranks of the British Armed Forces; and formerly also to officers of other Commonwealth countries....
(8 September 1886 – 1 September 1967) was an English poet, author and soldier. Decorated for bravery on the Western Front, he became one of the leading poets of the First World War. His poetry both described the horrors of the trenches, and satirised the patriotic pretensions of those who, in Sassoon's view, were responsible for a vainglorious war.
Let no one ever, from henceforth say one word in any way countenancing war. It is dangerous even to speak of how here and there the individual may gain some hardship of soul by it. For war is hell, and those who institute it are criminals. Were there even anything to say for it, it should not be said; for its spiritual disasters far outweigh any of its advantages.

As quoted by Robert Nichols in his introduction to The Counter-Attack and Other Poems (1918)
I am making this statement as an act of wilful defiance of military authority, because I believe that the War is being deliberately prolonged by those who have the power to end it.I am a soldier, convinced that I am acting on behalf of soldiers. I believe that this War, on which I entered as a war of defence and liberation, has now become a war of aggression and conquest.

Mute in the clamour of shells he watched them burst Spouting dark earth and wire with gusts from hell, While posturing giants dissolved in drifts of smoke. He crouched and flinched, dizzy with galloping fear, Sick for escape,— loathing the strangled horror And butchered, frantic gestures of the dead.

"s:Counter-Attack|Counter-Attack"
Lost in a blurred confusion of yells and groans... Down, and down, and down, he sank and drowned, Bleeding to death. The counter-attack had failed.

"Counter-Attack"
Soldiers are citizens of death's grey land,Drawing no dividend from time's to-morrows.In the great hour of destiny they stand, Each with his feuds, and jealousies, and sorrows. :"s:Dreamers|Dreamers"

Soldiers are dreamers; when the guns beginThey think of firelit homes, clean beds, and wives. :"Dreamers"

If I were fierce, and bald, and short of breath, I'd live with scarlet Majors at the Base, And speed glum heroes up the line of death.

"s:Base Details|Base Details"
I'd say — "I used to know his father well; Yes, we've lost heavily in this last scrap." And when the war is done and youth stone dead I'd toddle safely home and die — in bed.

"Base Details"
You smug-faced crowds with kindling eyeWho cheer when soldier lads march by,Sneak home and pray you'll never knowThe hell where youth and laughter go.

"s:Suicide in the Trenches|Suicide in the Trenches"