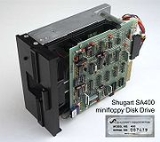 Shugart Associates
Shugart Associates
was a computer peripheral manufacturer that dominated the floppy disk drive market in the late 1970s and is famous for introducing the 5¼-inch minifloppy disk drive.
Founded in 1973, Shugart Associates was purchased by
Xerox
Xerox
Xerox Corporation is an American multinational document management corporation that produced and sells a range of color and black-and-white printers, multifunction systems, photo copiers, digital production printing presses, and related consulting services and supplies...
in 1977. In the early 1980s the name was changed to
Shugart Corporation
. Xerox exited the business in 1985 and 1986, selling the brand name and the 8-inch floppy product line to Narlinger Group (Mar 1986).