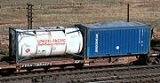 Shipping container
A
shipping container
is a container with strength suitable to withstand shipment, storage, and handling. Shipping containers range from large reusable steel boxes used for intermodal shipments to the ubiquitous corrugated boxes. In the context of international shipping trade, "container" or "shipping container" is virtually synonymous with "(standard) intermodal freight container" (a container designed to be moved from one mode of transport to another without unloading and reloading).
Intermodal freight containers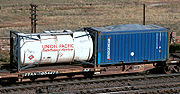 Freight containers are a
reusable
Reusability
In computer science and software engineering, reusability is the likelihood a segment of source code that can be used again to add new functionalities with slight or no modification...
transport and storage unit for moving products and raw materials between locations or countries. There are approximately seventeen million intermodal containers in the world; a large proportion of the world's long-distance freight generated by
international trade
International trade
International trade is the exchange of capital, goods, and services across international borders or territories. In most countries, such trade represents a significant share of gross domestic product...
is transported in shipping containers.
Corrugated box
Corrugated boxes
Corrugated box design
Corrugated box design is the process of matching design factors for corrugated fiberboard boxes with the functional physical, processing and end-use requirements...
are commonly used as shipping containers. They are made of corrugated fiberboard which is light weight, recyclable, and strong enough to ship a variety of products.
Wooden box
Wooden boxes are often used for shipping heavy and dense products. They are sometimes specified for shipments of government or military shipments.
Crate
A crate is a large container, often made of wood, used to transport large, heavy or awkward items. A crate has a self-supporting structure, with or without sheathing.
Intermediate bulk shipping container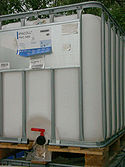 An Intermediate bulk container (IBC) is a container used for transport and storage of fluids and bulk materials. The construction may be plastic, composite, steel, stainless steel, etc. Some are foldable (collapsable).
Flexible Intermediate Bulk Container
A Flexible Intermediate Bulk Container,
FIBC
,
big bag
,
bulk bag
, or
super sack
is a standardized container in large dimensions for storing and transporting and storing granular products. It is often made of a woven synthetic material.
Bulk box
A bulk box, bulk bin, skid box, or tote box is a
pallet
Pallet
A pallet , sometimes called a skid, is a flat transport structure that supports goods in a stable fashion while being lifted by a forklift, pallet jack, front loader or other jacking device. A pallet is the structural foundation of a unit load which allows handling and storage efficiencies...
size box used for storage and shipping of bulk quantities.
Drum
Drums are cylindrical shipping containers made of steel, plastic or fiber. They are often used for liquids and granular materials.
Insulated shipping containers
Insulated shipping containers are a type of packaging used to ship temperature sensitive products such as foods, pharmaceuticals, and chemicals. They are used as part of a
cold chain
Cold chain
A cold chain is a temperature-controlled supply chain. An unbroken cold chain is an uninterrupted series of storage and distribution activities which maintain a given temperature range...
to help maintain product freshness and efficacy.
Unit load device
A
Unit Load Device
Unit Load Device
A unit load device , is a pallet or container used to load luggage, freight, and mail on wide-body aircraft and specific narrow-body aircraft. It allows a large quantity of cargo to be bundled into a single unit. Since this leads to fewer units to load, it saves ground crews time and effort and...
, or ULD, is a container used to cargo on commercial aircraft.
A ULD can be a pallet or container used to load luggage, freight, and mail on wide-body aircraft and specific narrow-body aircraft. It allows a large quantity of cargo to be bundled into a single unit. Since this leads to fewer units to load, it saves ground crews time and effort and helps prevent delayed flights. Each ULD has its own packing list, manifest, or tracking identification to improve control and tracking of contents.
Specialized shipping containers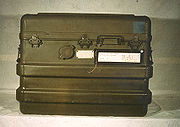 Custom containers are used for shipments of products such as weapons and aviation components. Customized
cushioning
Cushioning
Package cushioning is used to help protect fragile items during shipment. It is common for a transport package to be dropped, kicked, and impacted: These events may produce potentially damaging shocks. Transportation vibration from conveyors, trucks, railroads, or aircraft can also damage some...
, blocking and bracing, carrying handles, lift rings, locks, etc. are common to facilitate handling and to protect the contents. Often, these shipping containers are reusable.
Transit and Flight Case
Flight cases and transit cases are usually custom designed for shipping and carrying fragile equipment: audio visual, camera, instruments, etc. Although generally light in construction, they tend to have reinforced edges and corners.
Road Case
Road cases are often used for shipping musical instruments and theater props.
See also
Packaging
Logistics

Logistics

Logistics is the management of the flow of goods between the point of origin and the point of destination in order to meet the requirements of customers or corporations. Logistics involves the integration of information, transportation, inventory, warehousing, material handling, and packaging, and...



Spent nuclear fuel shipping cask

Spent nuclear fuel shipping cask

Spent nuclear fuel shipping casks are used to transport spent nuclear fuel used in nuclear power plants and research reactors to disposal sites such as the nuclear reprocessing center at COGEMA La Hague site...



Nuclear flask

Nuclear flask

A nuclear flask is a shipping container that is used to transport active nuclear materials between many nuclear power stations in the UK. Each flask weighs more than 50 tonnes, and transports usually not more than 2.5 tonnes of spent nuclear fuel....



Intermodal container

Intermodal container

An intermodal container is a standardized reusable steel box used for the safe, efficient and secure storage and movement of materials and products within a global containerized intermodal freight transport system...