 Sheftalia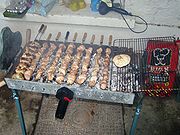 Sheftalia
is a traditional
Cypriot
Cyprus
Cyprus , officially the Republic of Cyprus , is a Eurasian island country, member of the European Union, in the Eastern Mediterranean, east of Greece, south of Turkey, west of Syria and north of Egypt. It is the third largest island in the Mediterranean Sea.The earliest known human activity on the...
food. It is a type of
crépinette
Crépinette
A crépinette is a small, flattened sausage, sometimes referred to as a sausage parcel. It is similar in shape to a sausage patty, circular, and flatten with meat.It is made from minced or ground pork, veal, lamb or chicken, and can even be made from truffles....
, a
sausage
Sausage
A sausage is a food usually made from ground meat , mixed with salt, herbs, and other spices, although vegetarian sausages are available. The word sausage is derived from Old French saussiche, from the Latin word salsus, meaning salted.Typically, a sausage is formed in a casing traditionally made...
without skin, that uses
caul fat
Caul fat
Caul fat is the thin membrane which surrounds the stomach internal organs of some animals, such as hogs, cows, sheep, and pigs, also known as the greater omentum. It is often used as a natural sausage casing and to encase fegatelli , faggots , or pâté . Caul fat is also known as Lace...
, or
omentum
Greater omentum
The greater omentum is a large fold of parietal peritoneum that hangs down from the stomach...
, the membrane that surrounds the stomach of
pig
Pig
A pig is any of the animals in the genus Sus, within the Suidae family of even-toed ungulates. Pigs include the domestic pig, its ancestor the wild boar, and several other wild relatives...
or lamb, to wrap the ingredients rather than sausage casing.
Caul fat is transparent and naturally fatty. The filling is made of ground
pork
Pork
Pork is the culinary name for meat from the domestic pig , which is eaten in many countries. It is one of the most commonly consumed meats worldwide, with evidence of pig husbandry dating back to 5000 BC....
or lamb shoulder or leg mixed with finely chopped onion and
parsley
Parsley
Parsley is a species of Petroselinum in the family Apiaceae, native to the central Mediterranean region , naturalized elsewhere in Europe, and widely cultivated as an herb, a spice and a vegetable.- Description :Garden parsley is a bright green hairless biennial herbaceous plant in temperate...
, salt, and pepper and formed into small round balls. These balls are then placed on the spread caul fat and squares of caul fat are cut around them and wrapped, making little sausages which are put on two skewers. Sheftalia are then grilled, preferably on
charcoal
Charcoal
Charcoal is the dark grey residue consisting of carbon, and any remaining ash, obtained by removing water and other volatile constituents from animal and vegetation substances. Charcoal is usually produced by slow pyrolysis, the heating of wood or other substances in the absence of oxygen...
until golden brown, about 20 to 30 minutes. In Cyprus it is very common to find
kebab
Kebab
Kebab is a wide variety of meat dishes originating in Middle East and later on adopted by the Middle East, and Asia Minor, and now found worldwide. In English, kebab with no qualification generally refers more specifically to shish kebab served on the skewer...
or
souvlaki
Souvlaki
Souvlaki or souvlakia is a popular Greek fast food consisting of small pieces of meat and sometimes vegetables grilled on a skewer. It may be served on the skewer for eating out of hand, in a pita sandwich with garnishes and sauces, or on a dinner plate, often with fried potatoes...
restaurants that also sell sheftalia in
pita
Pita
Pita or pitta is a round pocket bread widely consumed in many Middle Eastern, Mediterranean, and Balkan cuisines. It is prevalent in Greece, the Balkans the Levant, the Arabian Peninsula and Turkey. The "pocket" in pita bread is created by steam, which puffs up the dough...
bread. In fact it is so common that nearly every neighborhood has at least one
souvlitzidiko
as the kebab restaurant is called in Greek.
External links