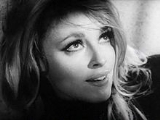 Sharon Tate
Sharon Marie Tate was an American actress. During the 1960s she played small
television
Television
Television is a telecommunication medium for transmitting and receiving moving images that can be monochrome or colored, with accompanying sound...
roles before appearing in several films. After receiving positive reviews for her
comedic
Comedy
Comedy , as a popular meaning, is any humorous discourse or work generally intended to amuse by creating laughter, especially in television, film, and stand-up comedy. This must be carefully distinguished from its academic definition, namely the comic theatre, whose Western origins are found in...
performances, she was hailed as one of
Hollywood
Hollywood, Los Angeles, California
Hollywood is a famous district in Los Angeles, California, United States situated west-northwest of downtown Los Angeles. Due to its fame and cultural identity as the historical center of movie studios and movie stars, the word Hollywood is often used as a metonym of American cinema...
's promising newcomers and was nominated for a
Golden Globe Award
Golden Globe Award
The Golden Globe Award is an accolade bestowed by the 93 members of the Hollywood Foreign Press Association recognizing excellence in film and television, both domestic and foreign...
for her performance in
Valley of the Dolls
Valley of the Dolls (film)
The soundtrack was released in 1967. Dionne Warwick sang the title track; however, her version is not on the soundtrack. Warwick was signed to Scepter Records at the time and could not contractually appear...
(1967). She also appeared regularly in fashion
magazine
Magazine
Magazines, periodicals, glossies or serials are publications, generally published on a regular schedule, containing a variety of articles. They are generally financed by advertising, by a purchase price, by pre-paid magazine subscriptions, or all three...
s as a model and
cover girl
Cover girl
A cover girl is a woman whose photograph features on the front cover of a magazine. She may be a model, celebrity or entertainer. The term would generally not be used to describe a casual, once-off appearance by a person on the cover of a magazine....
.
Married to
film director
Film director
A film director is a person who directs the actors and film crew in filmmaking. They control a film's artistic and dramatic nathan roach, while guiding the technical crew and actors.-Responsibilities:...
Roman Polanski
Roman Polanski
Roman Polanski is a French-Polish film director, producer, writer and actor. Having made films in Poland, Britain, France and the USA, he is considered one of the few "truly international filmmakers."...
in 1968, Tate was eight and a half months pregnant when she and her unborn child were murdered in her home, along with four others, by followers of
Charles Manson
Charles Manson
Charles Milles Manson is an American criminal who led what became known as the Manson Family, a quasi-commune that arose in California in the late 1960s. He was found guilty of conspiracy to commit the Tate/LaBianca murders carried out by members of the group at his instruction...
.
A decade after the murders, Tate's mother,
Doris
Doris Tate
Doris Gwendolyn Tate was an American campaigner for the rights of crime victims. After the murder of her daughter, the actress Sharon Tate, and several others, she worked to raise public awareness about the United States corrections system and was influential in the amendment of California laws...
, in response to the growing cult status of the killers and the possibility that any of them might be granted
parole
Parole
Parole may have different meanings depending on the field and judiciary system. All of the meanings originated from the French parole . Following its use in late-resurrected Anglo-French chivalric practice, the term became associated with the release of prisoners based on prisoners giving their...
, organized a public campaign against what she considered shortcomings in the state's corrections system.
I honestly don't understand the big fuss made over nudity and sex in films. It's silly. On TV, the children can watch people murdering each other, which is a very unnatural thing, but they can't watch two people in the very natural process of making love. Now, really, that doesn't make any sense, does it?

As quoted in Sharon Tate and the Manson Murders (2000) by Greg King
Please — please don't kill me — I don't want to die. I just want to have my baby.

Court testimony of Virginia Graham as to what her confessed murderer Susan Atkins|Susan Atkins (aka Sadie Mae Glutz) had said were among her last words. Atkins said she responded to this with: "Look, bitch, you might as well face it right now, you're going to die, and I don't feel a thing behind it."