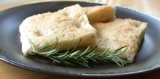 Sfiha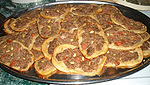 Sfihah
or
lahm bi`ajin
(
laḥm bi'ajīn
), also known as
'Arab
' or
'Chaldean
'
Pizza
, is a pizza-like dish originating from the
Levant
Levant
The Levant or ) is the geographic region and culture zone of the "eastern Mediterranean littoral between Anatolia and Egypt" . The Levant includes most of modern Lebanon, Syria, Jordan, Israel, the Palestinian territories, and sometimes parts of Turkey and Iraq, and corresponds roughly to the...
(Syria, Lebanon, Jordan, Palestine and Iraq), and introduced in
Brazil
Arab Brazilian
An Arab Brazilian is a Brazilian citizen born in an Arabic country, or a Brazilian-born person of Arab descent, who is aware of such ancestry and remains connected, in some degree, to Arabic culture.- Immigration to Brazil :...
,
Mexico
Arab Mexican
An Arab Mexican is a Mexican citizen of Arabic-speaking origin who can be of various ancestral origins. The vast majority of Mexico's 1.1 million Arabs are from either Lebanese, Syrian, Iraqi, or Palestinian background....
and
Argentina
Arab Argentine
An Arab Argentine is an Argentine citizen or resident alien whose ancestry traces back to any of various waves of immigrants, largely of Arab cultural and linguistic heritage and/or identity, originating mainly from what is now Lebanon and Syria but also there are some individuals from the...
by Levantine immigrants .
In contrast to the modern use of lamb or
beef
Beef
Beef is the culinary name for meat from bovines, especially domestic cattle. Beef can be harvested from cows, bulls, heifers or steers. It is one of the principal meats used in the cuisine of the Middle East , Australia, Argentina, Brazil, Europe and the United States, and is also important in...
, traditional sfiha are open-faced meat pies made with ground mutton. Historically, sfiha were much like
dolma
Dolma
Dolma is a family of stuffed vegetable dishes in the cuisines of the former Ottoman Empire and surrounding regions such as Russia, Middle East and the Caucasus and Central and South Asia. Perhaps the best-known is the grape-leaf dolma. Common vegetables to stuff include onion, zucchini, eggplant,...
- simply ground lamb, lightly spiced, wrapped in brined grape leaves. In Brazil, sfihas are folded into a triangular pastry, although the open-faced version is very common too.