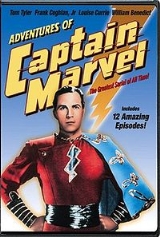 Serial (film)
Serials
, more specifically known as
Movie serials
,
Film serials
or
Chapter plays
, were short subjects originally shown in theaters in conjunction with a
feature film
Feature film
In the film industry, a feature film is a film production made for initial distribution in theaters and being the main attraction of the screening, rather than a short film screened before it; a full length movie...
. They were related to pulp magazine
serialized fiction
Serial (literature)
In literature, a serial is a publishing format by which a single large work, most often a work of narrative fiction, is presented in contiguous installments—also known as numbers, parts, or fascicles—either issued as separate publications or appearing in sequential issues of a single periodical...
. Also known as "chapter plays", they were extended motion pictures broken into a number of segments called "chapters" or "episodes".
Each chapter would be screened at the same theater for one week.
When I read something saying I've not done anything as good as Catch-22 I'm tempted to reply, "Who has?"

As quoted in The Oxford Dictionary of Literary Quotations (1997) edited by Peter Kemp, p. 303
It was love at first sight. The first time Yossarian saw the chaplain he fell madly in love with him.

Opening Lines
The Texan turned out to be good-natured, generous and likeable. In three days no one could stand him.

"Open your eyes, Clevinger. It doesn't make a damned bit of difference who wins the war to someone who's dead."

Clevinger was dead. That was the basic flaw in his philosophy.

"The enemy is anybody who's going to get you killed, no matter which side he's on."

He had decided to live forever or die in the attempt, and his only mission each time he went up was to come down alive.