 Senate of Bremen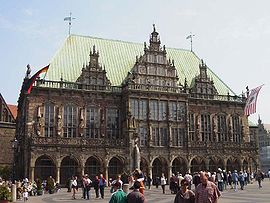 The
Senate of the Free Hanseatic City of Bremen
is the
government
Government
Government refers to the legislators, administrators, and arbitrators in the administrative bureaucracy who control a state at a given time, and to the system of government by which they are organized...
of the
city-state
City-state
A city-state is an independent or autonomous entity whose territory consists of a city which is not administered as a part of another local government.-Historical city-states:...
of
Bremen
Bremen (state)
The Free Hanseatic City of Bremen is the smallest of Germany's 16 states. A more informal name, but used in some official contexts, is Land Bremen .-Geography:...
(the Free Hanseatic City of Bremen). The senate has existed since mediæval times. The senate is headed by a President, who also holds the title of Mayor. The President's deputy also holds the title Mayor. The position of President of the Senate corresponds to the position of Prime Minister in most other
states of Germany
States of Germany
Germany is made up of sixteen which are partly sovereign constituent states of the Federal Republic of Germany. Land literally translates as "country", and constitutionally speaking, they are constituent countries...
, while the senators are
cabinet
Cabinet (government)
A Cabinet is a body of high ranking government officials, typically representing the executive branch. It can also sometimes be referred to as the Council of Ministers, an Executive Council, or an Executive Committee.- Overview :...
members similarly to ministers in other states.
Since 2005,
Jens Böhrnsen
Jens Böhrnsen
Jens Böhrnsen is a German politician of the SPD. Since 2005, he has served as the President of the Senate and Mayor of the Free Hanseatic City of Bremen, that is, the head of government of the city-state of Bremen...
has served as President of the Senate and Mayor.