 Selonians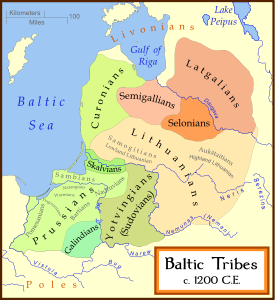 Selonians
were a tribe of
Baltic peoples
Balts
The Balts or Baltic peoples , defined as speakers of one of the Baltic languages, a branch of the Indo-European language family, are descended from a group of Indo-European tribes who settled the area between the Jutland peninsula in the west and Moscow, Oka and Volga rivers basins in the east...
. The Selonians lived until the 15th century in
Selonia
Selonia
Selonia , also known as Augšzeme , is a cultural region of Latvia encompassing the eastern part of the historical region of Semigallia...
, located in southeastern
Latvia
Latvia
Latvia , officially the Republic of Latvia , is a country in the Baltic region of Northern Europe. It is bordered to the north by Estonia , to the south by Lithuania , to the east by the Russian Federation , to the southeast by Belarus and shares maritime borders to the west with Sweden...
and northeastern
Lithuania
Lithuania
Lithuania , officially the Republic of Lithuania is a country in Northern Europe, the biggest of the three Baltic states. It is situated along the southeastern shore of the Baltic Sea, whereby to the west lie Sweden and Denmark...
. They merged with neighbouring tribes, contributing to the
ethnogenesis
Ethnogenesis
Ethnogenesis is the process by which a group of human beings comes to be understood or to understand themselves as ethnically distinct from the wider social landscape from which their grouping emerges...
of
Latvians
Latvians
Latvians or Letts are the indigenous Baltic people of Latvia.-History:Latvians occasionally refer to themselves by the ancient name of Latvji, which may have originated from the word Latve which is a name of the river that presumably flowed through what is now eastern Latvia...
and
Lithuanians
Lithuanians
Lithuanians are the Baltic ethnic group native to Lithuania, where they number around 2,765,600 people. Another million or more make up the Lithuanian diaspora, largely found in countries such as the United States, Brazil, Canada, Colombia, Russia, United Kingdom and Ireland. Their native language...
.