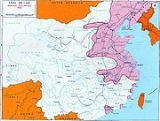 Second Sino-Japanese War
The
Second Sino-Japanese War
(July 7, 1937 – September 9, 1945) was a military conflict fought primarily between the
Republic of China
Republic of China (1912–1949)
In 1911, after over two thousand years of imperial rule, a republic was established in China and the monarchy overthrown by a group of revolutionaries. The Qing Dynasty, having just experienced a century of instability, suffered from both internal rebellion and foreign imperialism...
and the
Empire of Japan
Empire of Japan
The Empire of Japan is the name of the state of Japan that existed from the Meiji Restoration on 3 January 1868 to the enactment of the post-World War II Constitution of...
. From 1937 to 1941, China fought Japan with some economic help from Germany (see Sino-German cooperation), the Soviet Union (1937–1940) and the United States (see
American Volunteer Group
American Volunteer Group
The American Volunteer Groups were volunteer air units organized by the United States government to aid the Nationalist government of China against Japan in the Second Sino-Japanese War...
). After the
Japanese attack on Pearl Harbor
Attack on Pearl Harbor
The attack on Pearl Harbor was a surprise military strike conducted by the Imperial Japanese Navy against the United States naval base at Pearl Harbor, Hawaii, on the morning of December 7, 1941...
(1941), the war merged into the greater conflict of
World War II
World War II
World War II, or the Second World War , was a global conflict lasting from 1939 to 1945, involving most of the world's nations—including all of the great powers—eventually forming two opposing military alliances: the Allies and the Axis...
as a major front of what is broadly known as the
Pacific War
Pacific War
The Pacific War, also sometimes called the Asia-Pacific War refers broadly to the parts of World War II that took place in the Pacific Ocean, its islands, and in East Asia, then called the Far East...
.