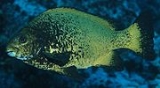 Sea chub
The
sea chubs
are a
family
Family (biology)
In biological classification, family is* a taxonomic rank. Other well-known ranks are life, domain, kingdom, phylum, class, order, genus, and species, with family fitting between order and genus. As for the other well-known ranks, there is the option of an immediately lower rank, indicated by the...
,
Kyphosidae
, of fishes in the order
Perciformes
Perciformes
The Perciformes, also called the Percomorphi or Acanthopteri, is one of the largest orders of vertebrates, containing about 40% of all bony fish. Perciformes means perch-like. They belong to the class of ray-finned fish and comprise over 7,000 species found in almost all aquatic environments...
.
Subfamilies