 Sciarra Colonna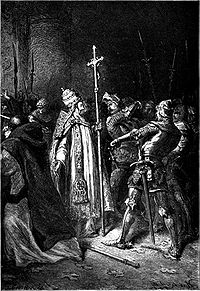 Sciarrillo Colonna
, byname of
Giacomo Colonna
(1270-1329), was a member of the powerful
Colonna family
Colonna family
The Colonna family is an Italian noble family; it was powerful in medieval and Renaissance Rome, supplying one Pope and many other Church and political leaders...
, and a strong enemy of
Pope Boniface VIII
Pope Boniface VIII
Pope Boniface VIII , born Benedetto Gaetani, was Pope of the Catholic Church from 1294 to 1303. Today, Boniface VIII is probably best remembered for his feuds with Dante, who placed him in the Eighth circle of Hell in his Divina Commedia, among the Simonists.- Biography :Gaetani was born in 1235 in...
. During the Outrage of
Anagni
Anagni
Anagni is an ancient town and comune in Latium, central Italy, in the hills east-southeast of Rome. It is a historical center in Ciociaria.-Geography:...
, in September 1303, Sciarra reportedly slapped the pope in the face. He was brother to
Stefano Colonna
Stefano Colonna
Stefano Sciarr-illo byname of Colonna was the name of several members of the Italian family of Colonna. The most important include:*Stefano Colonna the Elder was son of Giovanni Colonna and one of the most important political figures in Rome in the first half of the 14th century. He was heir of...
the Elder.
The Colonna family was accordingly ruined during the reign of Boniface VIII. Close supporters of the former Pope Celestine V, who had been imprisoned by Boniface after his abdication, Sciarrillo's uncle, Giacomo Colonna, and brother Pietro were deposed of their positions in the Sacred College and stripped of their benefices and vestments. Together with the rest of the Colonna family, they were excommunicated and their last strongold,
Palestrina
Palestrina
Palestrina is an ancient city and comune with a population of about 18,000, in Lazio, c. 35 km east of Rome...
, not far from Anagni, was stormed by papal forces.
It is said that Sciarrillo was involved in the attempted arrest of Pope Boniface VIII in 1303 by order of the French King
Philip IV
Philip IV of France
Philip the Fair was, as Philip IV, King of France from 1285 until his death. He was the husband of Joan I of Navarre, by virtue of which he was, as Philip I, King of Navarre and Count of Champagne from 1284 to 1305.-Youth:A member of the House of Capet, Philip was born at the Palace of...
. Sciarrillo Colonna and
Guillaume de Nogaret
Guillaume de Nogaret
Guillaume de Nogaret or William of Nogaret was councillor and keeper of the seal to Philip IV of France.- Early life :...
(lawyer and royal advisor of Philip IV) were to arrest the pope and bring him to France to stand trial, but this attempt failed. Pope Boniface VIII died 3 weeks later in Italy.
Sciarrillo Colonna died in
Venice
Venice
Venice is a city in northern Italy which is renowned for the beauty of its setting, its architecture and its artworks. It is the capital of the Veneto region...
in 1329.