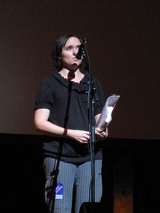 Sarah Vowell
Sarah Jane Vowell
is an
American
United States
The United States of America is a federal constitutional republic comprising fifty states and a federal district...
author
Author
An author is broadly defined as "the person who originates or gives existence to anything" and that authorship determines responsibility for what is created. Narrowly defined, an author is the originator of any written work.-Legal significance:...
,
journalist
Journalist
A journalist collects and distributes news and other information. A journalist's work is referred to as journalism.A reporter is a type of journalist who researchs, writes, and reports on information to be presented in mass media, including print media , electronic media , and digital media A...
,
essay
Essay
An essay is a piece of writing which is often written from an author's personal point of view. Essays can consist of a number of elements, including: literary criticism, political manifestos, learned arguments, observations of daily life, recollections, and reflections of the author. The definition...
ist and
social commentator
Social commentary
Social commentary is the act of rebelling against an individual, or a group of people by rhetorical means, or commentary on social issues or society...
. Often referred to as a "social observer," Vowell has written five nonfiction books on American history and culture, and was a contributing editor for the radio program
This American Life
This American Life
This American Life is a weekly hour-long radio program produced by WBEZ and hosted by Ira Glass. It is distributed by Public Radio International on PRI affiliate stations and is also available as a free weekly podcast. Primarily a journalistic non-fiction program, it has also featured essays,...
on
Public Radio International
Public Radio International
Public Radio International is a Minneapolis-based American public radio organization, with locations in Boston, New York, London and Beijing. PRI's tagline is "Hear a different voice." PRI is a major public media content creator and also distributes programs from many sources...
from 1996–2008, where she produced numerous commentaries and documentaries and toured the country in many of the program's live shows. She was also the voice of Violet in the animated film
The Incredibles
The Incredibles
The Incredibles is a 2004 American computer-animated action-comedy superhero film about a family of superheroes who are forced to hide their powers. It was written and directed by Brad Bird, a former director and executive consultant of The Simpsons, and was produced by Pixar and distributed by...
.
Vowell was born in
Muskogee, Oklahoma
Muskogee, Oklahoma
Muskogee is a city in Muskogee County, Oklahoma, United States. It is the county seat of Muskogee County, and home to Bacone College. The population was 38,310 at the 2000 census, making it the eleventh-largest city in Oklahoma....
and moved to
Bozeman, Montana
Bozeman, Montana
Bozeman is a city in and the county seat of Gallatin County, Montana, United States, in the southwestern part of the state. The 2010 census put Bozeman's population at 37,280 making it the fourth largest city in the state. It is the principal city of the Bozeman micropolitan area, which consists...
with her family when she was 11.
...the huge Jackson Pollock canvas that is the U.S.A.: vast, murky, splotched and slapped together by a drunk.

...Clemenza's overriding responsibility is to his family. He takes a moment out of his routine madness to remember that he had promised his wife that he would bring dessert home. His instruction to his partner in crime is an entire moral manifesto in six little words: 'Leave the gun. Take the cannoli.'

On the Godfather and family
Being a nerd, which is to say going too far and caring too much about a subject, is the best way to make friends I know.

I was enjoying a chocolatey café mocha when it occurred to me that to drink a mocha is to gulp down the entire history of the New World. ...the modern mocha is a bittersweet concoction of imperialism, genocide, invention, and consumerism served with whipped cream on top. No wonder it costs so much. :Simon & Schuster, 2005, ISBN 0-7432-6003-1

I understand why other people would want to stay in B&Bs. They're pretty. They're personal. They're "quaint," a polite way of saying "no TV." They are "romantic," i.e., every object large enough for a flower to be printed on it is going to have a flower printed on it. They're "cozy," meaning that a guest has to keep her belongings on the floor because every conceivable flat surface is covered in knickknacks, except for the one knickknack she longs for, a remote control.

p. 2
Going to Ford's Theatre|Ford's Theatre to watch the play is like going to Hooters|Hooters for the food.

p. 21
I haven't decided if Samuel Mudd|he deserved to eat bread made out of sticks or live in a rancid puddle, probably because I haven't made up my mind whether anyone deserves such treatment, though I suspect that the day a person gives up on the Geneva Conventions|Geneva Conventions is the day a person gives up on the human race.

p. 81