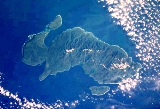 Santa Cruz Islands
The
Santa Cruz Islands
are a group of islands in the
Pacific Ocean
Pacific Ocean
The Pacific Ocean is the largest of the Earth's oceanic divisions. It extends from the Arctic in the north to the Southern Ocean in the south, bounded by Asia and Australia in the west, and the Americas in the east.At 165.2 million square kilometres in area, this largest division of the World...
, part of
Temotu Province
Temotu Province
Temotu is the easternmost province of the Solomon Islands. The province was formerly known as Santa Cruz Islands Province. It consists, essentially, of two chains of islands which run parallel to each other from the northwest to the southeast.- Islands :...
of the
Solomon Islands
Solomon Islands
Solomon Islands is a sovereign state in Oceania, east of Papua New Guinea, consisting of nearly one thousand islands. It covers a land mass of . The capital, Honiara, is located on the island of Guadalcanal...
. They lie approximately 250 miles (400 km) to the southeast of the Solomon Islands Chain. The Santa Cruz Islands lie just north of the archipelago of
Vanuatu
Vanuatu
Vanuatu , officially the Republic of Vanuatu , is an island nation located in the South Pacific Ocean. The archipelago, which is of volcanic origin, is some east of northern Australia, northeast of New Caledonia, west of Fiji, and southeast of the Solomon Islands, near New Guinea.Vanuatu was...
, and are considered part of the
Vanuatu rain forests
Vanuatu rain forests
The Vanuatu rain forests are a terrestrial ecoregion that includes the islands of Vanuatu, as well as the Santa Cruz Islands group of the neighboring Solomon Islands. It is part of the Australasia ecozone, which includes neighboring New Caledonia and the Solomon Islands, as well as Australia, New...
ecoregion.
The largest island is Nendo, which is also known as
Santa Cruz Island
proper (505.5 km², highest point 549 m (1,801 ft), population over 5000).