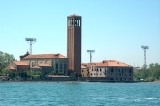 Sant'Elena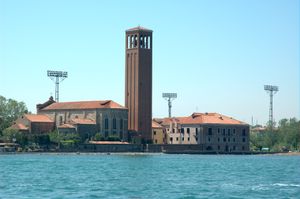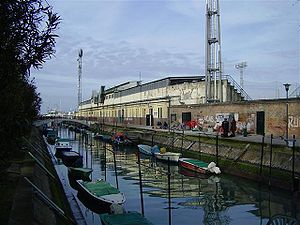 Sant'Elena
is an island of
Venice
Venice
Venice is a city in northern Italy which is renowned for the beauty of its setting, its architecture and its artworks. It is the capital of the Veneto region...
. It lies at the eastern tip of the main island group and forms part of sestiere of
Castello
Castello, Venice
Castello is the largest of the six sestieri of Venice, Italy. The district grew up from the thirteenth century around a naval dockyard on what was originally the Isole Gemini, although there had been small settlements of the islands of San Pietro di Castello , also called Isola d'Olivolo, since at...
. The original island was separated by an arm of the
Venetian Lagoon
Venetian Lagoon
The Venetian Lagoon is the enclosed bay of the Adriatic Sea in which the city of Venice is situated. Its name in the Venetian language, Laguna Veneta— cognate of Latin lacus, "lake"— has provided the international name for an enclosed, shallow embayment of saltwater, a lagoon.The Venetian Lagoon...
from Venice itself, and was centred on the Church of Sant'Elena and its
monastery
Monastery
Monastery denotes the building, or complex of buildings, that houses a room reserved for prayer as well as the domestic quarters and workplace of monastics, whether monks or nuns, and whether living in community or alone .Monasteries may vary greatly in size – a small dwelling accommodating only...
, originally built in the twelfth century and rebuilt in the 15th.
The island has since been expanded to fill in the gap and is linked by Venice by three bridges. It includes the Rimembranze Park, a naval college and a
football
Football (soccer)
Association football, more commonly known as football or soccer, is a sport played between two teams of eleven players with a spherical ball...
stadium
Stadium
A modern stadium is a place or venue for outdoor sports, concerts, or other events and consists of a field or stage either partly or completely surrounded by a structure designed to allow spectators to stand or sit and view the event.)Pausanias noted that for about half a century the only event...
,
Stadio Pierluigi Penzo
Stadio Pierluigi Penzo
Stadio Pierluigi Penzo is a multi-use stadium in Venice, Italy. It is currently used mostly for football matches and is the home ground of F.B.C. Unione Venezia. The stadium holds 10,500 people and is located on the island Sant'Elena. It is the only ground in Italy's top flights to which...
, in addition to residential areas and Venice Bienniale buildings.
External links