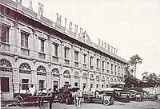 San Miguel Corporation
Established in 1890 as a brewery, San Miguel Corporation (SMC) is Southeast Asia's largest publicly listed food, beverage and packaging company with over 17,000 employees in over 100 major facilities throughout the Asia-Pacific.
One of the Philippines' leading business conglomerates, San Miguel carries the brand names of some of the most formidable players in the Philippine food and beverage industry, including San Miguel Pale Pilsen, Ginebra San Miguel, Monterey, Magnolia, and Purefoods.
Established in 1890 as a brewery, San Miguel Corporation (SMC) is Southeast Asia's largest publicly listed food, beverage and packaging company with over 17,000 employees in over 100 major facilities throughout the Asia-Pacific.
One of the Philippines' leading business conglomerates, San Miguel carries the brand names of some of the most formidable players in the Philippine food and beverage industry, including San Miguel Pale Pilsen, Ginebra San Miguel, Monterey, Magnolia, and Purefoods. San Miguel Beer, the company's flagship product, is one of the largest selling beers and among the top 10 beer brands in the world.
In addition to its market leadership in the Philippines, SMC has established significant presence overseas. The Company's manufacturing operations extend beyond its home market to Hong Kong, China, Indonesia, Vietnam, Thailand, Malaysia and Australia; and its products are exported to 60 markets around the world.
In 2007, San Miguel announced its intention to diversify into high-growth, high-yield sectors like energy, power, mining, and other utilities. Since then, the company has made several important strategic acquisitions, most significantly in Manila Electric Co. (MERALCO), oil refiner, Petron Corporation, and various acquisitions in the power and infrastructure industries.
San Miguel's strategy today is basically two-pronged. First, to strengthen and unlock the value of its historical core businesses, maintaining and building upon the dominant market positions held in the majority of its product segments. To further enhance its competitive position, the company has worked toward improving synergies across existing operational lines; strengthening its domestic businesses by shifting focus away from commodity goods to value-added and branded products; and, improving sales and distribution. In this regard, San Miguel has chosen to partner with world-class industry leaders. As stand-alone entities, these core businesses are now positioned to move more aggressively—pursuing their own growth strategies and are better-positioned to create more value for shareholders.
The second part of SMC's strategy has been to turn to new engines of growth, boosting aggregate margins by participating in faster-growth industries which stand to deliver a 15% return on equity annually. This diversification should allow the company to grow faster and perform more consistently in the future.
While profitability is key, equally important is SMC's avowed objective of participating in businesses that support the country's development. These industries—energy, power, infrastructure, mining, telecom and other utilities—have strong demand fundamentals, and the potential to leave a deep and lasting impact on the Philippine economy.
Early years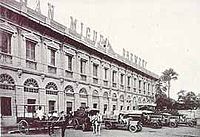 In 1889, a well-known Manila businessman, Don Enrique de Ycaza applied for a royal grant from Spain to brew beer in the Philippines. He was awarded the grant for a period of twenty years and on 29 September (the Feast Day of St. Michael the Archangel) the following year, La Fabrica de Cerveza de San Miguel was declared open for business. Located at 6 Calzada de Malacañang (later called Aviles), the brewery took its name from the district to which it belonged, San Miguel. The facility had two sections: one devoted to the production of ice with a daily capacity of 5 tons, and the other to beer production.
The brewery was the first in Southeast Asia using the most modern equipment and facilities of the day. With 70 employees, the plant produced 3,600 hectoliters (about 47,000 cases) of lager beer during the first year and subsequently produced other types of beer, notably Cerveza Negra, Eagle Extra Stout and Doble Bock.
Early success led to the expansion of the business and Barretto decided to incorporate his brewery. On 6 June 1893, the company was incorporated and registered with a capital of P180,000. Those forming the corporation were Don Pedro P. Roxas y Castro, Don Gonzalo Tuazon y Patiño, Don Vicente D. Fernandez y Castro, Don Albino Goyenechea, Benito Legarda y Tuazon, the heirs of Don Mariano Buenaventura y Chuidan and Barretto.
Don Pedro P. Roxas was soon appointed manager, playing a prominent role in the development of the firm. Don Pedro was the active member of the firm until 1896 when he left for Europe. Prior to his departure, he bought from Don Enrique Barretto, a share of his interest in the firm worth P42,000. When Barretto retired in May of the same year, Don Pedro through his attorneys bought the balance of Barretto's stake in the business.
In 1895, San Miguel beer won its first of many awards as a product of the highest quality at the Exposicion Regional de Filipinas. By 1896, San Miguel beer was outselling by more than five-to-one all imported beers in the country.
The 1900s ushered in a period of post-colonial prosperity. Demand for beer increased. For San Miguel, under the leadership of Don Pedro Roxas, modernization included the installation of electric conveyors and automatic machines. Much of the brewery's equipment was modernized in 1910.
By 1913, imported beer represented only 12% of the total consumption in the Philippines; San Miguel held a 88% share of the industry.
Don Pedro Roxas died in Paris in 1913. His death, following so soon after the deaths of Don Benito Legarda and Don Gonzalo Tuazon, made it advisable to change the form of the company from a firm of co-participants to a corporation. A son of Don Pedro Roxas, Don Antonio R. Roxas, was appointed president, with Don Enrique Brias de Coya and Don Ramon J. Fernandez as managers.
By 1914, San Miguel had branched out into the exporting business and its products had found ready markets in such neighboring ports as Hong Kong, Shanghai and Guam. When WW I broke out, exports came to a temporary halt because of the difficulties brought about by the war, such as shortage of raw materials and the consequent rise in manufacturing costs. It was not until prohibition was repealed in the United States that San Miguel was able to resume exporting to Guam and later to Honolulu.
By the end of 1914, Don Enrique Brias de Coya, after seeing that his efforts and industry had resulted in to a progressive and prosperous business, retired from active business life in favor of his son, Don Antonio Brias Roxas. In 1918, Don Antonio R. Roxas resigned from his position as president. Don Ramon J. Fernandez assumed the presidency and Don Andres Soriano, nephew of Don Antonio R. Roxas, was made acting manager. In 1923, Don Andres was appointed manager and together with Don Antonio Brias managed the house of San Miguel with constantly increasing success.
Enter the Sorianos: 1918 to 1963
Andrés Soriano y Roxas has first joined San Miguel as a clerk in the accounting department. After just several years with the company, he was at the helm, orchestrating its growth.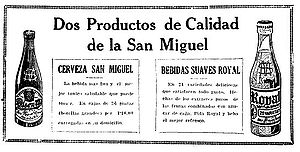 Diversification into new lines of business began in the 1920's. The company opened in 1922 the Royal Soft Drinks Plant in Manila producing Royal TruOrange, other Royal products and aerated water. (In 1919, the company acquired the Oriental Brewery and Ice Co., transformed the building into an ice plant and cold storage; later the Royal Soft Drinks Plant.)
Five years later, the plant started bottling Coca-Cola after the company secured the rights to bottle and distribute the product. In 1925, San Miguel went into the ice cream business with the purchase of the Magnolia Plant on Aviles which, one year later, was transferred to a new site on Echague, Quiapo District, Manila. The new site used to house the Fabrica de Hielo de Manila which was bought by San Miguel in 1924. To achieve greater self-sufficiency in its operations, the firm opened a new plant in 1930 to produce carbon dioxide for its soft drinks products and dry ice for the refrigeration needs of its ice cream products. In 1932, a plant was set up to produce compressed yeast for bakeries and medical use. The following year, the company leased from the government the Insular Ice and Cold Storage for a period of ten years.
During the 1930s, San Miguel began investing in businesses overseas. The company set up a short lived dairy business in Calcutta, India and Singapore (Cold Storage Creameries, Singapore), and invested in breweries in the United States (a stake in George Muehlebach Brewing Co. and majority holdings in the Lone Star Brewing Co. located in San Antonio, Texas).
In 1931, the management of the company was reorganized along the lines of corporations in the United States. San Miguel's management team was made up of the board of directors (president, vice-president, treasurer and nine directors and the executive officers of the corporation). Don Ramon J. Fernandez was elected president of the board of directors and Don Antonio Roxas y Gargollo, son of Don Antonio R. Roxas, was elected vice-president. Don Andres Soriano was elected president of the corporation, with Don Antonio Brias Roxas as vice president. Don Eduardo Roxas, another son of Don Antonio R. Roxas, and Don Jacobo Zobel were appointed directors. (Don Jacobo Zobel was first cousin to Don Andres Soriano and the Roxases).
Expanding and modernizing the company, however, meant diluting family control. San Miguel was the first Filipino company to be owned by thousands of shareholders. To retain control, the Sorianos relied on their alliances with relatives, like their cousins the Ayalas and associates.
Before
World War II
World War II
World War II, or the Second World War , was a global conflict lasting from 1939 to 1945, involving most of the world's nations—including all of the great powers—eventually forming two opposing military alliances: the Allies and the Axis...
broke out, San Miguel had built a glass factory in Paco and the
Cebu
Cebu
Cebu is a province in the Philippines, consisting of Cebu Island and 167 surrounding islands. It is located to the east of Negros, to the west of Leyte and Bohol islands...
Royal plant, its first installation outside
Luzon
Luzon
Luzon is the largest island in the Philippines. It is located in the northernmost region of the archipelago, and is also the name for one of the three primary island groups in the country centered on the Island of Luzon...
. When the war reached the Philippines, Soriano was commissioned as a
colonel
Colonel
Colonel , abbreviated Col or COL, is a military rank of a senior commissioned officer. It or a corresponding rank exists in most armies and in many air forces; the naval equivalent rank is generally "Captain". It is also used in some police forces and other paramilitary rank structures...
and served as an aide to General
Douglas MacArthur
Douglas MacArthur
General of the Army Douglas MacArthur was an American general and field marshal of the Philippine Army. He was a Chief of Staff of the United States Army during the 1930s and played a prominent role in the Pacific theater during World War II. He received the Medal of Honor for his service in the...
. One of the first Filipino brewmasters was Dominador San Diego Santos, a chemist from
Obando, Bulacan
Obando, Bulacan
Obando is a 2nd class municipality in the province of Bulacan, Philippines. It is 16 kilometers away from the Philippine capital Manila. Obando is landlocked, bordered by two cities from Metro Manila namely Valenzuela City in the east, Navotas and Malabon City in the south, Bulacan in the north,...
.
After the war, San Miguel rebuilt and mounted a large scale expansion program. The company acquired and modernized a second brewery in Polo,
Bulacan
Bulacan
Bulacan , officially called the Province of Bulacan or simply Bulacan Province, is a first class province of the Republic of the Philippines located in the Central Luzon Region in the island of Luzon, north of Manila , and part of the Metro...
in 1947. Two years later, five other plants were opened: the Manila glass plant in Farola, a carbon dioxide plant in Otis, a carton plant, the
Iloilo
Iloilo
Iloilo is a province of the Philippines located in the Western Visayas region. Iloilo occupies the southeast portion of Panay Island and is bordered by Antique Province to the west and Capiz Province and the Jintotolo Channel to the north. Just off Iloilo's southeast coast is Guimaras Province,...
Coca-Cola plant and the Farola power plant. Exports of San Miguel Pale Pilsen resumed. New soft drink plants followed in
Davao
Davao
Davao refers to several closely related places in Mindanao in the Philippines. The term is used most often to refer to the city.*Davao Region, an administrative region*Davao del Norte province*Davao del Sur province*Davao Oriental province...
and
Naga
Naga, Cebu
Naga is a city in the province of Cebu, Philippines. According to the 2007 census, it has a population of 95,163 people.The town is home to a large power station, situated on a 30-hectare site, Cemex cement factory at Tinaan , recently a Small Medium Enterprise industrial park was opened in...
.
In 1953 Soriano signed the so-called "Manila Agreement" which allowed the Spanish beer brewing subsidiary La Segarra to brew and sell beer under the San Miguel brand. This company, which was later renamed as San Miguel Fabricas de Cerveza y Malta, was a separate, independent company that had exclusive rights to use the San Miguel beer brand in Europe.
Growth and expansion: 1964 to 1984
A new era dawned in the 1960s, signaled by a new corporate name (the company's name was shortened to San Miguel Corporation), a new head office along
Ayala Avenue
Ayala Avenue
Ayala Avenue is an avenue in Makati City in the Philippines. It is one of the busiest thoroughfares in Metro Manila, crossing through the heart of Makati's central business district. Because of the many businesses located on the avenue, Ayala Avenue is aptly nicknamed the Wall Street of the...
in Makati and Soriano's death in 1964.
At the time of his death, Soriano had parlayed his family's vast San Miguel fortune into
mining
Mining
Mining is the extraction of valuable minerals or other geological materials from the earth, from an ore body, vein or seam. The term also includes the removal of soil. Materials recovered by mining include base metals, precious metals, iron, uranium, coal, diamonds, limestone, oil shale, rock...
,
dairies
Dairy
A dairy is a business enterprise established for the harvesting of animal milk—mostly from cows or goats, but also from buffalo, sheep, horses or camels —for human consumption. A dairy is typically located on a dedicated dairy farm or section of a multi-purpose farm that is concerned...
, factories, a
newspaper
Newspaper
A newspaper is a scheduled publication containing news of current events, informative articles, diverse features and advertising. It usually is printed on relatively inexpensive, low-grade paper such as newsprint. By 2007, there were 6580 daily newspapers in the world selling 395 million copies a...
and a
radio station
Radio station
Radio broadcasting is a one-way wireless transmission over radio waves intended to reach a wide audience. Stations can be linked in radio networks to broadcast a common radio format, either in broadcast syndication or simulcast or both...
. He had investments in
Philippine Airlines
Philippine Airlines
Philippine Airlines, Inc. operating as Philippine Airlines, is a flag carrier of the Philippines. Headquartered in the Philippine National Bank Financial Center in Pasay City, the airline was founded in 1941 and is the first and oldest commercial airline in Asia operating under its original name...
, held the largest Coca-Cola franchise, and owned five
insurance
Insurance
In law and economics, insurance is a form of risk management primarily used to hedge against the risk of a contingent, uncertain loss. Insurance is defined as the equitable transfer of the risk of a loss, from one entity to another, in exchange for payment. An insurer is a company selling the...
agency distributorships, a
Kansas City
Kansas City, Missouri
Kansas City, Missouri is the largest city in the U.S. state of Missouri and is the anchor city of the Kansas City Metropolitan Area, the second largest metropolitan area in Missouri. It encompasses in parts of Jackson, Clay, Cass, and Platte counties...
brewery that made Lone Star and
Colt 45
Colt 45 (malt liquor)
Colt 45 is a brand of malt liquor introduced by National Brewing Company in the spring of 1963. Through a series of mergers and acquisitions, the National Brewing Company and its brands are today owned by the Pabst Brewing Company....
, gold mines in British East Africa and a development company in
Spain
Spain
Spain , officially the Kingdom of Spain languages]] under the European Charter for Regional or Minority Languages. In each of these, Spain's official name is as follows:;;;;;;), is a country and member state of the European Union located in southwestern Europe on the Iberian Peninsula...
.
Antonio Roxas was elected chairman of San Miguel and Andrés Soriano, Jr. became president in 1964.
Soriano, Jr. has been credited with instituting modern management theory, including decentralization along product lines.
The Mandaue complex was inaugurated in 1967, and the Mandaue brewery and glass plant commenced operations a year later. In 1973, San Miguel sales exceeded a billion pesos for the first time and profits topped the hundred-million-peso mark.
A new corporate logo was adopted in 1975. The
escudo
Escudo
The escudo is a unit of currency. Historically it was used in Portugal and in its colonies, and is still used in Cape Verde to this day. Escudo is Portuguese for "shield"...
, the symbol of the royal grant, was retained for beer, its original grantee.
Soriano Jr. continued to diversify the food business during the early 1980s, expanding into
poultry
Poultry
Poultry are domesticated birds kept by humans for the purpose of producing eggs, meat, and/or feathers. These most typically are members of the superorder Galloanserae , especially the order Galliformes and the family Anatidae , commonly known as "waterfowl"...
production in 1982, building an
ice cream
Ice cream
Ice cream is a frozen dessert usually made from dairy products, such as milk and cream, and often combined with fruits or other ingredients and flavours. Most varieties contain sugar, although some are made with other sweeteners...
plant in 1983 and adding
shrimp
Shrimp
Shrimp are swimming, decapod crustaceans classified in the infraorder Caridea, found widely around the world in both fresh and salt water. Adult shrimp are filter feeding benthic animals living close to the bottom. They can live in schools and can swim rapidly backwards. Shrimp are an important...
processing and freezing in 1984.
San Miguel encountered its first major competitor in the beer market in the late 1970s. That was when
Asia Brewery
Asia Brewery
Asia Brewery is a brewery founded in 1982 in Makati City, the Philippines. It is one of only two breweries in the Philippines, and is the smaller of the two, with only 10% market share...
Inc. entered the segment. The rivalry between Asia Brewery and San Miguel came to a head in 1988, when Asia Brewery cannily introduced a bargain-priced "brand" called, simply, "Beer." (Asia Brewery also called the brand as "Beer na Beer").The imported product looked and tasted like its primary competitor, playing upon the fact that in the Philippines, the San Miguel brand was synonymous with "beer." It was a creative counter to San Miguel's notoriously aggressive and sometimes cutthroat competitive strategy, which had reportedly included "attempts to sabotage Asia Brewery's sales network and smash its empty bottles." Asia Brewery even hired away San Miguel's brewmaster.
At that time, The Brewery buildings in San Miguel District were demolished upon transfer to the Philippine Government as property of Malacanang Palace. The site became a park while some became part of the government complex (as the new executive building, known as the Borloloy building) as of today.
In 1983, San Miguel sold its minority interest in the Spanish company. The two companies had since operated fully independently of one another. San Miguel, Fabricas de Cerveza y Malta, SA, however, still sported a logo similar to its Philippine counterpart. The Spanish company enjoyed success wit San Miguel in its home market. Also, it was the number one Spanish beer exported throughout Europe. Consequently, well-traveled consumers could easily confuse the two San Miguel beers, even though they are brewed by two different companies.
Turbulence: 1984 to 1986
Soriano Jr.'s administration also witnessed battles for corporate control. A thorny issue of management transparency broke the Sorianos' longstanding alliance with the Zobel-Ayala clan. The result was a historical corporate battle that resulted in the loss of effective control by both the Sorianos and Zobels of San Miguel. Both families were related to each other through the line of Pedro Pablo Roxas.
In 1983, Enrique Zobel, a wealthy cousin of the Sorianos who owned the Zobel-Ayala real estate and banking group and was vice chairman of the San Miguel board, instigated a takeover on his own. The seeds of the "family feud" lay in the refusal of the Soriano-led management to share corporate information with Zobel, especially regarding contracts that SMC management was entering into with companies under the A. Soriano group. The Sorianos viewed Zobel as a competitor, while Zobel (holding nearly 20% of SMC stake) viewed the Sorianos (with about 7%) as mismanaging the company and engaging in sweetheart deals.
Unable to oust Soriano Jr., Zobel sold his group's 19.5-percent stake to
Eduardo Cojuangco, Jr.
Eduardo Cojuangco, Jr.
Eduardo Murphy Cojuangco, Jr. , also known as Danding Cojuangco, is the chairman of San Miguel Corporation, the largest food and beverage corporation in the Philippines and Southeast Asia, former Philippine ambassador, and former governor of Tarlac. In 2005, his personal wealth was estimated at...
, a resourceful businessman and an astute political adviser of then President
Ferdinand Marcos
Ferdinand Marcos
Ferdinand Emmanuel Edralin Marcos, Sr. was a Filipino leader and an authoritarian President of the Philippines from 1965 to 1986. He was a lawyer, member of the Philippine House of Representatives and a member of the Philippine Senate...
. Cojuangco's Coconut Industry Investment Fund (a.k.a.,
United Coconut Planters Bank
United Coconut Planters Bank
The United Coconut Planters Bank, more popularly known by its initials, UCPB, or by its old name, Cocobank, is one of the largest banks in the Philippines, ranking within the top twenty banks in the Philippines in terms of assets. The bank, owing to its name, caters heavily to coconut farmers, but...
) accumulated an additional 31 percent of San Miguel, giving him effective control of the conglomerate and leaving the Soriano family with a mere 3 percent. Funds used by Cojuangco to acquire Zobel's stake came from levies imposed by the Marcos dictatorship on coconut farmers. The Supreme Court has declared such levies to be public funds and therefore any assets bought using these funds are owned by coconut farmers.
When Soriano Jr. died of cancer in 1984, Cojuangco scooped up the chairmanship of San Miguel in 1984. That same year, San Miguel moved to a new head office in Mandaluyong.
Cojuangco brought coconut oil milling and refining operations into San Miguel's portfolio. His reign, however, was cut short when Marcos was toppled in 1986.
After the People Power Revolution in 1986,
Corazon Aquino
Corazon Aquino
Maria Corazon Sumulong Cojuangco-Aquino was the 11th President of the Philippines and the first woman to hold that office in Philippine history. She is best remembered for leading the 1986 People Power Revolution, which toppled Ferdinand Marcos and restored democracy in the Philippines...
, Cojuangco's estranged cousin, became president of the Philippines. Aquino rode on the crest of widespread public outrage over the assassination of her husband,
Benigno Aquino, Jr.
Benigno Aquino, Jr.
Benigno Simeon "Ninoy" Aquino, Jr. was a Filipino Senator and a former Governor of Tarlac. Aquino, together with Gerry Roxas and Jovito Salonga, formed the leadership of the opposition to the Marcos regime in the years leading to the imposition of martial law in the Philippines...
, in 1983. One of the people she blamed for her husband's death was Cojuangco, who fled on the same private jet as Marcos to Hawaii in 1986.
The Aquino administration sequestered Cojuangco's stake in San Miguel and agreed to let Soriano Jr.'s son, Andres Soriano III, run the company although the Soriano family's holdings had by then dwindled to a mere 1 percent.
Soriano III launched a campaign to reclaim the family legacy, but when he tried to buy back the abandoned shares, he was blocked by the Aquino administration's Presidential Commission on Good Government. The PCGG assumed control (but not legal ownership) of the 51.4-percent stake and refused to relinquish it. The government asserted that the stake had been illegally obtained.
In the 1970s, Marcos imposed a tax on the production of coconuts, a major Philippine cash crop, with the proceeds supposed to fund that industry's development. It was alleged, however, that the money was funneled into the Cojuangco-controlled United Coconut Planters Bank, and that Cojuangco then used much of the funds to help him purchase his controlling stake in San Miguel. The controlling interest carried nine of San Miguel's 15 directors seats with it.
The PCGG continued to tend its San Miguel stake into the early 1990s, but it acceded
de facto
control of the conglomerate to Soriano III via a management contract with his A. Soriano Corp.
Soriano III continued the company's program of expansion, acquiring majority control of La Tondeña Distillers Inc., the leading producer of hard liquor in the Philippines, in 1987 and adding beef and pork production to the company's food operations in 1988.
Internationalization: 1986 to 1998
Soriano III embarked on an ambitious internationalization program, hoping to expand into other countries and mitigate the effects of the Philippines' unstable economy. He also wanted to head off encroaching competition from the world's biggest breweries, namely
Anheuser-Busch
Anheuser-Busch
Anheuser-Busch Companies, Inc. , is an American brewing company. The company operates 12 breweries in the United States and 18 in other countries. It was, until December 2009, also one of America's largest theme park operators; operating ten theme parks across the United States through the...
and Miller of the United States,
Kirin
Kirin
Kirin may refer to:People*Ivica Kirin , politician, former Interior Minister of Croatia*Kirin Kiki , Japanese TV and film actressCompanies* Kirin Brewery Company, a Japanese brewing company...
of Japan, and BSN of France.
Soriano III allocated $1 billion to a five-year strategic internationalization program that focused on shaping up domestic operations, then progressing to licensing and exporting, overseas production, and finally to distribution of non-beer products.
A subsequent decentralization created a holding company structure, with 18 non-beer operations positioned as subsidiaries. This corporate reorganization freed the spun off businesses from the bureaucratic shackles of a large conglomerate. In the course of this multifaceted effort to attain optimum efficiency, San Miguel reduced its workforce by more than 16 percent, from a 1989 high of 39,138 to 32,832 by 1993.
With its domestic "ducks in a row," San Miguel turned to the next stage in its internationalization, beer licensing and exporting initiative. Although the company had exported beer for most of its history, this effort was intensified dramatically in the late 1980s. San Miguel's beer exports grew by 150 percent from 1985 to 1989 alone, and the brand was soon exported to 24 countries, including all of Asia's key markets as well as the United States, Australia, and the Middle East.
Once the core brand was established in a particular market, San Miguel would begin to create production facilities, sometimes on an independent basis and sometimes in concert with an indigenous joint-venture partner. By 1995, San Miguel had manufacturing plants in Hong Kong, China, Indonesia, Vietnam, and had licensing partners in Taiwan, Guam and Nepal.
Thus, in spite of the overarching quarrel regarding San Miguel's ownership (not to mention other problems endemic to operating in the Philippines), the company's sales quintupled from P12.23 billion in 1986 to P68.43 billion by 1994. Net income increased twice as fast, from P1.11 billion to P 11.86 billion over the same period, although San Miguel's overseas operations (as a whole) were not yet profitable.
In 1996 San Miguel purchased full control of its Hong Kong arm, San Miguel Brewery Hong Kong Ltd. In April of the following year, San Miguel's domestic soft-drink bottling unit, Coca-Cola Bottlers Philippines Inc., was merged into the Australia-based
Coca-Cola Amatil
Coca-Cola Amatil
Coca-Cola Amatil is an Australian company that bottles and distributes The Coca-Cola Company soft drinks and other beverages in several countries...
Ltd. In effect, San Miguel exchanged its 70-percent interest in a Philippine-only operation for a 25-percent stake in CCA, which had operations in 17 countries. CCA soon demerged the latter operations into a UK-based firm called Coca-Cola Beverages plc (resulting in a reduction of San Miguel's stake in CCA to 22 percent).
From 1995 through 1997, San Miguel suffered a downturn in its main domestic businesses, while overseas operations were still in the red. Profits plummeted. In response, a major restructuring of the company's loss-making food businesses was undertaken. San Miguel's ice cream and pasteurized milk business was merged with the operations of
Nestlé
Nestlé
Nestlé S.A. is the world's largest food and nutrition company. Founded and headquartered in Vevey, Switzerland, Nestlé originated in a 1905 merger of the Anglo-Swiss Milk Company, established in 1867 by brothers George Page and Charles Page, and Farine Lactée Henri Nestlé, founded in 1866 by Henri...
to form Nestlé Philippines Inc., and late in 1998 San Miguel's stake in this business was sold off. San Miguel also exited from the ready-to-eat meal sector and curtailed the operations of its shrimp farming business.
By late 1997, the company was also beginning to feel the effects of the Asian economic crisis.
A new Cojuangco era
Andres Soriano III resigned in July 1998 and Eduardo M. Cojuangco, Jr. was elected chairman of San Miguel Corporation. Francisco C. Eizmendi, Jr. stayed as president and Ramon S. Ang was elected vice-chairman in January 1999. Ang would later be appointed president and chief operating officer following the retirement of Eizmendi in 2002.
Confronted by greater competitive pressures as a result of the 1997 financial crisis, the pace of change quickened for San Miguel upon Cojuangco's return. Amid an extremely difficult operating environment, working toward configuring the corporation to have better response to the highly competitive climate of the time. The immediate goals upon assuming leadership was to ease the burden of the spiraling interest expense, pursue new strategic alliances to strengthen the business--particularly in the international arena--and strengthen its profitability and financial standing to position the company for new opportunities. Progress was made on reducing costs, improving productivity and generating cash flow.
Having installed a critical mass of brewing capacity in China, Indonesia and Vietnam, the new management decided to continue the company's investments in these areas, aggressively focusing on brand and volume building initiatives, most especially in China. San Miguel revamped the selling and distribution organization resulting in higher distribution efficiency, improved coverage of key accounts, greater pricing stability and reduced overall costs. In China, the company chose to focus on growth markets while still reaching close to 30 cities. Where in the past, it had primarily concentrated on the premium market it then aggressively pushed its medium and low-end brands.
By the end of 1998, shuffling assets to find the ideal portfolio and looking to restructure our operations and focus on our core competencies, Cojuangco sold San Miguel's stake in Coca-Cola Beverages, Coca-Cola Amatil's bottler in Europe, along with SMC's 45% stake in Nestle Philippines. The sale of both Coca-Cola Beverages and Nestle was part of the new management's effort to restructure the San Miguel Group and focus its technological, managerial and financial strengths to ventures where it believed it could add the most value. A number of management changes were made in conjunction with a rightsizing program.
Management layers were flattened to restore the company to fighting trim. In May, the San Miguel Brewing International regional headquarters was transferred from Hongkong to Manila and to reduce overhead expenses, the employees of SMBIL were repatriated. The organizational streamlining was meant to configure San Miguel to enable it to better respond to the competitive climate. The goal was to speed up decision making and have a flatter and more dynamic organization, one that was more efficient and more responsive to the market. The group-wide logistics and purchasing functions were realigned at the corporate level. The Food Group, La Tondeña Distillers and the international operations were recapitalized. Metro Bottled Water Corp., manufacturers of Wilkins Distilled Water, was acquired. In February 2001, San Miguel once again regained control of Coca-Cola Bottlers Philippines, Inc. Shortly after, San Miguel acquired the Ayala Company's PureFoods, becoming the undisputed market leader in the Philippines' fast growing food industry, owning two-thirds of the refrigerated/processed meat market, and over a third of the poultry and feeds industries.
Cojuangco and Ang have also been on an international shopping spree. In the past three years, San Miguel has bought six companies in four nearby countries. In 2004, it boosted international sales to 13 percent of total revenues from 10 percent the previous year.
San Miguel's first major acquisition under Cojuangco and Ang was Australian boutique brewer J. Boag and Son for A$96 million in 2000.
San Miguel paid $97 million for Thai Amarit Brewery Ltd. and $35.5 million for food processor TTC (Vietnam) Co. in 2003. In 2004,it bought 51 percent of Berri Ltd., Australia's top juicemaker, for $97.9 million.
To shore up its war chest, San Miguel took in Japanese brewer Kirin Brewery Co. Ltd., which bought a 15-percent stake in San Miguel, for $540 million in 2002.
In 2005, the company made its biggest overseas acquisition with the takeover of National Foods Ltd., Australia's largest publicly traded dairy, which it bought for P80.38 billion. That was followed later in the year with its $420-million purchase of Singapore-based Del Monte Pacific Ltd., the region's largest pineapple canner.
San Miguel has merged National Foods' operation with Berri.
In 2006, San Miguel has sold its 65% stake at its Coca-Cola Philippine venture (including its subsidiaries Cosmos Bottling and Philippine Beverage Partners) to The Coca-Cola Company (TCCC) for $590 million.
In November 2007, SMC sold
Boag's
Boag's Brewery
Boag's Brewery is an Australian brewery company founded in 1883 by James Boag and his son, also named James, in Launceston, Tasmania, Australia. It is now owned by Lion Nathan Ltd, a Trans-Tasman subsidiary company of Kirin....
to
Lion Nathan
Lion Nathan
Lion Nathan National Foods is the parent company created in October 2009, into which Lion Nathan and National Foods were merged. It is fully owned by Kirin Holdings Company, Limited...
for A$325 million. The same month, SMC also sold
National Foods
National Foods
National Foods is an Australian company and subsidiary of holding company Lion Nathan National Foods , wholly owned by the Japanese Kirin Holdings Company Limited, and consequently the Mitsubishi Group....
to
Kirin
Kirin Brewery Company
is a Japanese company. It is a member of the Mitsubishi keiretsu.-Overview:Kirin sells two of the most popular beers in Japan, Kirin Lager--the country's oldest beer brand--and Ichiban Shibori. In the happoshu category, Kirin Tanrei is the top seller. Kirin handles domestic distribution for...
for ¥294 billion.
While the global financial meltdown of 2008-2009 sent many companies into full retreat, San Miguel Corporation powered ahead, investing mightily in a strategy to reaccelerate growth and improve margins.
Under the leadership of Cojuangco and Ang, the company has undergone a major strategic shift, streamlining and broadening its business portfolio, reshaping and redefining the very nature of its core businesses. While the company has significantly expanded its participation in its core business of food, beverage and packaging through regional acquisitions and integration, it has also made inroads into the power, mining, petroleum, infrastructure and telecommunication industries.
In rapid succession beginning late 2008, SMC bought up shares in power retailer Meralco, paid up for the option to own oil refiner Petron, and acquired a majority stake in Liberty Holdings, a Filipino telco co-owned by Qatar Telecom.
Forays into infrastructure have also been successful, with San Miguel now participating in several large-scale projects. Phase 1 of the P19 billion, 88.5 kilometer two-lane Tarlac Pangasinan La Union Expressway began April 2010 and will take two-and-a-half years to complete. TPLEX is the first of two road projects that Ang has on stream. In October 2010, SMC finalized a deal to acquire 51% interest in Universal LRT Corp. Ltd., the company in charge of developing the Metro Rail Transit Line 7 (MRT7). To Ang, the need for significant infrastructure development throughout the Philippines represents an important growth opportunity for San Miguel,
not just for profit
Not just for profit
Not Just For Profit is a concept that captures an expanded set of values for defining and evaluating for-profit private sector organizations, not only by their ability to generate profit as is done traditionally, but also by their determination and success in driving a benefit for people and/or...
, but a chance to contribute to nation-building.
San Miguel's energy and power portfolio is just as impressive. In a relatively short period, the company's energy subsidiary San Miguel Energy has become the largest power producer in Luzon and a state-of-the-art platform on which we can further build our power business. Already, San Miguel Energy and its umbrella unit, San Miguel Global Power Holdings, is an important engine for growth for San Miguel Corporation, capable of yielding for us double-digit returns annually. Mining is another industry that Ang has been keen to enter. In early October 2010, SMC bought a little over a tenth of Australia's Indophil Resources, NL, a company which owns a 37.5% stake in the Tampakan copper-gold project which covers the provinces of South Cotabato, Davao del Sur, and Sultan Kudarat and has a total resource estimate of 2.4 billion metric tons. Estimated at US$5.2 billion, the Tampakan mining project is the Philippines' largest.
San Miguel Brewery, Inc.
San Miguel Brewery, Inc. manufactures and distributes
San Miguel Beer Pale Pilsen
, the Philippines' No. 1 beer and a leading brand in Hong Kong and South China. The tradename San Miguel, is from the District of San Miguel in Manila. It is one of the world's largest-selling beers and is among the top 20 beer brands in the world. Its portfolio of nine beer products includes San Miguel Beer Pale Pilsen, San Miguel Light, San Miguel All Premium Malt, San Miguel Super Dry, San Miguel Strong Ice, Red Horse Extra Strong Beer, Gold Eagle, San Miguel Draft and "Cerveza Negra."
San Miguel also produces a wide range of products that are runaway market leaders in their product categories. "Anker Bir" is the second largest-selling beer brand in Indonesia.
Ginebra San Miguel, Inc.
Ginebra San Miguel, Inc.
Ginebra San Miguel
Ginebra San Miguel, Inc. is a Philippines-based diversified alcoholic beverage company owned by San Miguel Corporation, then called La Tondeña Distillers, Inc. from 1987 to 2003. Founded originally by the late Carlos Palanca, Sr. as La Tondeña, Inc...
was incorporated in 1902 by Carlos Palanca Sr. as La Tondeña Incorporada. San Miguel acquired a 70-percent stake in the company in 1987 and renamed it La Tondeña Distillers Inc. Under San Miguel, La Tondeña ventured into the bottled water and fruit juice businesses and became a publicly listed corporation. In 2003, the company's name was again changed to Ginebra San Miguel Inc.
Ginebra San Miguel's flagship brand,
Ginebra San Miguel
, is currently the largest-selling gin brand in the world, with 22 bottles consumed every second in the Philippines. The company also makes the
Gran Matador
brandy, "Infinit" ready-to-drink alcohol mixes,
Tondeña Premium
rum,
GSM Blue
variant and the
Vino Kulafu
Chinese wine.
San Miguel-Purefoods Co. Inc.
San Miguel-Pure Foods Company, Inc. is the largest Filipino-owned food company, with nearly 3,000 employees deployed in a broad nationwide network of offices, farms, manufacturing, processing and distribution facilities. The Company was formed by acquiring the stocks of the Ayala's Purefoods-Hormel Company. Purefoods then was one of the competitors of San Miguel before its Acquisition.
It holds in its portfolio the names of some of the most formidable brands in the Philippine food industry, among them,
Magnolia
,
Pure Foods
,
Monterey
,
Star
and
Dari Crème
.
B-Meg
and
Pure Blend
is the market-leaders in the animal feeds industry.
San Miguel Pure Foods' integrated operations range from breeding, contract growing, processing and marketing of chicken, pork and beef to the manufacture of refrigerated, canned and ready-to-cook meat products, butter, cheese, margarine, oils and fats, as well as animal and aquatic feeds.
San Miguel Packaging Products
San Miguel Yamamura Packaging Corporation is a leading player in state-of-the-art packaging formats, servicing many of the region's leading food, pharmaceutical, chemical and personal care manufacturers. The company serves clients in the United States, Europe, Japan, and Australia among other foreign markets.
SMYPC also manufactures corrugated cartons, flexible packaging, plastic crates and pallets, metal closures and two-piece aluminum cans.
In China, the company produces glass containers and plastic crates, pallets and metal crowns for the domestic and export markets. SMYPC also manages a plastic crate plant in Indonesia and a glass and metal crown facility in Vietnam. In Malaysia, SMYPC operates four facilities that produce flexible packaging, plastic films, woven products and radiant barriers for higher-value and high-tech industries such as electronics, health care and logistics firms.
San Miguel Properties, Inc.
Initially established in 1990 as San Miguel's corporate real estate arm, San Miguel Properties later diversified into commercial property development to take advantage of available market opportunities. Its current portfolio of projects include mixed-use developments, with economy to middle-income housing as its core products.
Among its real estate development projects: Bel Aldea, Maravilla, and Muralla in Cavite and Wedgewoods in Sta. Rosa Laguna. In the works is San Francisco Laketown, a development right in the heart of Cavite. To capitalize on the growing tourism industry, San Miguel Properties' has launched the Monte Maria project as a Catholic pilgrimage site. Situated in Alfonso, Cavite, this venture is envisioned to serve as the country's hub for "spiritual tourism."
San Miguel Brewery, Inc.
San Miguel Brewery Hong Kong Ltd.

San Miguel Brewery Hong Kong

San Miguel Brewery Hong Kong Ltd. is a brewery company in Hong Kong. It is a non-wholly owned subsidiary of San Miguel Corporation of the Philippines...



Guangzhou San Miguel Brewery Co. Ltd.
San Miguel Baoding Brewery Co. Ltd.
San Miguel Brewery Vietnam Ltd.
San Miguel Beer Thailand Ltd.
San Miguel Marketing Thailand Ltd.
PT Delta Djakarta Tbk
Vega Telecom Inc.
Bell Telecommunications (BellTel)
Eastern Communications (ETPI/Eastern Telecom)
Liberty Telecoms Holdings Inc. (39.3% ownership)
wi-tribe Philippines (partnership with Qtel

Qtel

Qtel used to be the exclusive telecommunications provider in Qatar and is one of the largest public companies in Qatar with about 2000 employees. It was successfully launched on the Doha Securities Market in 1998 and listed on the London Stock Exchange in 1999, the Bahrain Stock Exchange in 2001...


)
Other businesses
Anchor Insurance Brokerage Corp.
San Miguel Properties, Inc.
SMC Stock Transfer Service Corp.
SMITS Inc.
San Miguel Holdings Inc.
San Miguel Shipping & Lighterage Corp.
ArchEn Technologies Inc.
Bank of Commerce (34.3% ownership)
Manila Electric Company

Meralco

The Manila Electric Company , also known as MERALCO or Meralco, is the Philippines' largest distributor of electrical power.The word MERALCO, is an acronym for Manila Electric Railroad And Light COmpany, which was the company's original name from 1903 to 1919.MERALCO is the Metro Manila's only...


(MERALCO) (27% ownership)
Radio Philippines Network

Radio Philippines Network

Radio Philippines Network, Inc. is a broadcast television network in the Philippines co-owned by the Government Communications Group, Solar Entertainment Corporation, Far East Managers and Investors Inc., and private sectors. This station studios are located at Broadcast City, Old Balara, Capitol...



Intercontinental Broadcasting Corporation

Intercontinental Broadcasting Corporation

Intercontinental Broadcasting Corporation is a Philippine VHF television network of the Government Communications Group headed by the Press Secretary. Its studios are located at Broadcast City, Old Balara, Capitol Hills, Diliman, Quezon City and its transmitter is located at the Coca Cola plant,...



Basketball teams
In the Philippine Basketball Association

Philippine Basketball Association

The Philippine Basketball Association , is a men's professional basketball league in the Philippines composed of 10 company-branded franchised teams. It is the first and oldest professional basketball league in Asia and the second oldest in the world after the NBA...


:

Brgy Ginebra Kings
Derby Ace Llamados
Petron Blaze Boosters

In the Philippine Basketball League

Philippine Basketball League

The Philippine Basketball League is a commercial semi-professional basketball league in the Philippines. The league is composed of several commercial teams with several collegiate and provincial stars.-History:...


:

Magnolia Purewater Wizards

Magnolia Purewater Wizards

The Magnolia Purewater Wizards is a basketball team currently playing in the Philippine Basketball League and is owned by San Miguel Corporation-San Miguel Lagerlite Beermen:* Paul Alvarez* Allan Caidic* Yves Dignadice* Jerry Codinera* Jong Uichico...



Shareholders
Owners of more than 3% of the Company's voting securities as of March 17, 2006 were as follows:
CIIF Companies, 24%
ECJ

Eduardo Cojuangco, Jr.

Eduardo Murphy Cojuangco, Jr. , also known as Danding Cojuangco, is the chairman of San Miguel Corporation, the largest food and beverage corporation in the Philippines and Southeast Asia, former Philippine ambassador, and former governor of Tarlac. In 2005, his personal wealth was estimated at...


Companies, 17.40%
Kirin Brewery Co., Ltd., 20.01%
SM Investments Corp.

SM Investments

SM Investments Corporation, SM Investments or SMIC is a holding company with interests in shopping mall development and management, retail, real estate development, banking and tourism. The SM Group was founded by Henry Sy, Sr...


, 10.80%
Government Service Insurance System

Government Service Insurance System (Philippines)

The Government Service Insurance System is a government-owned and -controlled corporation in the Republic of the Philippines. Created by Commonwealth Act No...


*, 6.25%
Social Security System

Social Security System (Philippines)

The Philippine Social Security System is a social insurance program for workers in the Philippine private sector.-Reference:*...


*, 5.64%
Others, 15.89%
Government controlled institutions acting as shareholders after the Marcos regime.
External links