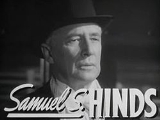 Samuel S. Hinds
Samuel Southey Hinds
was an American actor who is perhaps best remembered for playing Peter Bailey in
It's a Wonderful Life
It's a Wonderful Life
It's a Wonderful Life is a 1946 American Christmas drama film produced and directed by Frank Capra and based on the short story "The Greatest Gift" written by Philip Van Doren Stern....
(1946) and for his part in
You Can't Take It With You
You Can't Take It with You (film)
You Can't Take It With You Adapted from the Pulitzer Prize-winning play of the same name by George S. Kaufman and Moss Hart. The cast includes James Stewart, Jean Arthur, Lionel Barrymore and Edward Arnold....
(1938), both films by
Frank Capra
Frank Capra
Frank Russell Capra was a Sicilian-born American film director. He emigrated to the U.S. when he was six, and eventually became a creative force behind major award-winning films during the 1930s and 1940s...
. He was also known for his roles in the Abbott & Costello films such as
Buck Privates
Buck Privates
Buck Privates is the 1941 comedy/World War II film that turned Bud Abbott and Lou Costello into bonafide movie stars. It was the first service comedy based on the peacetime draft of 1940. The comedy team made two more service comedies before the United States entered the war...
(1941),
Ride 'Em Cowboy
Ride 'Em Cowboy
Ride 'Em Cowboy is a 1942 film starring the comedy team of Abbott and Costello.-Plot:The author of best-selling western novels, Bronco Bob Mitchell , has never set foot in the west. A newspaper article has exposed this fact to his fans, and his image is suffering because of it. He decides to make...
(1942) and
Pardon My Sarong
Pardon My Sarong
-Plot:Tommy Layton , a wealthy bachelor, rents a city bus and rides it from Chicago to Los Angeles. Once there he intends to participate in a yacht race to Hawaii. The drivers of the bus, Algy and Wellington , are then chased by a detective who was hired by the bus company. They escape capture by...
(1942).
Hinds was born in Brooklyn, New York. He was a
Harvard Law School
Harvard Law School
Harvard Law School is one of the professional graduate schools of Harvard University. Located in Cambridge, Massachusetts, it is the oldest continually-operating law school in the United States and is home to the largest academic law library in the world. The school is routinely ranked by the U.S...
graduate and was a
lawyer
Lawyer
A lawyer, according to Black's Law Dictionary, is "a person learned in the law; as an attorney, counsel or solicitor; a person who is practicing law." Law is the system of rules of conduct established by the sovereign government of a society to correct wrongs, maintain the stability of political...
before becoming an actor. In 1929, Hinds retired as a lawyer and started acting in
Broadway
Broadway theatre
Broadway theatre, commonly called simply Broadway, refers to theatrical performances presented in one of the 40 professional theatres with 500 or more seats located in the Theatre District centered along Broadway, and in Lincoln Center, in Manhattan in New York City...
shows at age 54. In 1932, Hinds acted a bit part in his first film
If I Had a Million
If I Had A Million
If I Had a Million is a Paramount Studios anthology film. There were seven directors: Ernst Lubitsch, Norman Taurog, Stephen Roberts, Norman Z. McLeod, James Cruze, William A. Seiter, and H. Bruce Humberstone...
(1932). His second film was
The Road Is Open Again
(1933) portrayed President
Woodrow Wilson
Woodrow Wilson
Thomas Woodrow Wilson was the 28th President of the United States, from 1913 to 1921. A leader of the Progressive Movement, he served as President of Princeton University from 1902 to 1910, and then as the Governor of New Jersey from 1911 to 1913...
. His earlier career was reflected in the role of Judge Thatcher, tortured by the mad Dr. Richard Vollin (
Bela Lugosi
Béla Lugosi
Béla Ferenc Dezső Blaskó , commonly known as Bela Lugosi, was a Hungarian actor of stage and screen. He was best known for having played Count Dracula in the Broadway play and subsequent film version, as well as having starred in several of Ed Wood's low budget films in the last years of his...
) in
The Raven
The Raven (1935 film)
The Raven is a horror film starring Boris Karloff and Béla Lugosi, and directed by Lew Landers. It revolves around Edgar Allan Poe's famous poem, featuring Lugosi as a Poe-obsessed mad surgeon with a torture chamber in his basement and Karloff as a fugitive murderer desperately on the run from the...
(1935).
Hinds acted in a total of 214 films. His last film was
The Bribe
The Bribe
The Bribe is an American crime film noir directed by Robert Z. Leonard and written by Marguerite Roberts, based on a story written by Frederick Nebel...
, released in 1949, after his death. He died of pneumonia in
Pasadena, California
Pasadena, California
Pasadena is a city in Los Angeles County, California, United States. Although famous for hosting the annual Rose Bowl football game and Tournament of Roses Parade, Pasadena is the home to many scientific and cultural institutions, including the California Institute of Technology , the Jet...
on October 13, 1948 at age 73.
Partial filmography
If I Had a Million

If I Had A Million

If I Had a Million is a Paramount Studios anthology film. There were seven directors: Ernst Lubitsch, Norman Taurog, Stephen Roberts, Norman Z. McLeod, James Cruze, William A. Seiter, and H. Bruce Humberstone...


(1932) (uncredited)
Bed of Roses

Bed of Roses (1933 film)

Bed of Roses is a Pre-Code comedy film featuring Constance Bennett and Pert Kelton as a pair of rollickingly wanton prostitutes who occasionally get hapless male pursuers drunk before robbing them, at least until the girls are caught and thrown back into jail...


(1933)
This Day and Age

This Day and Age (film)

This Day and Age is a 1933 film directed by Cecil B. DeMille. It is one of his rarest films and has not been released on DVD. In his book Cecil B. DeMille's Hollywood, author Robert S...


(1933)
Lady for a Day (1933)
Berkeley Square

Berkeley Square (film)

Berkeley Square is a drama film produced by Fox Film Corporation, directed by Frank Lloyd, and starring Leslie Howard, Heather Angel, Valerie Taylor, and Colin Keith-Johnston. The film was thought to be a lost film until rediscovered in the 1970s....


(1933)
Little Women

Little Women (1933 film)

Little Women is a 1933 American drama film directed by George Cukor. The screenplay by Sarah Y. Mason and Victor Heerman is based on the classic novel of the same name by Louisa May Alcott...


(1933)
The Women in His Life

The Women in His Life

-Cast:* Otto Kruger as Kent 'Barry' Barringer* Una Merkel as Miss 'Simmy' Simmons* Ben Lyon as Roger McKane* Isabel Jewell as Catherine 'Cathy' Watson* Roscoe Karns as Lester* Irene Hervey as Doris Worthing* C. Henry Gordon as Tony Perez...


(1933)
Men in White

Men in White (1934 film)

Men in White is a Pre-Code film starring Clark Gable and Myrna Loy, and directed by Ryszard Bolesławski. Because of the suggested illicit romance and the suggested abortion in the movie, it was frequently cut...


(1934)
A Lost Lady

A Lost Lady (film)

A Lost Lady is a 1934 American dramatic film directed by Alfred E. Green and Phil Rosen, and starring by Barbara Stanwyck, Frank Morgan, and Ricardo Cortez...


(1934)
Rumba

Rumba (1935 film)

Rumba is a 1935 musical drama film starring George Raft as a Cuban dancer and Carole Lombard as a Manhattan socialite. The movie was directed by Marion Gering and is considered an unsuccessful follow-up to Raft and Lombard's smash hit Bolero the previous year.-Cast:*George Raft as Joe Martin*Carole...


(1935)
Private Worlds

Private Worlds

Private Worlds is a drama film which tells the story of the staff and patients at a mental hospital, and the chief of the hospital who has problems dealing with a female psychiatrist. It stars Claudette Colbert, Charles Boyer, Joel McCrea, Joan Bennett, and Helen Vinson.The movie was written by...


(1935)
The Big Broadcast of 1936

The Big Broadcast of 1936

The Big Broadcast of 1936 is a Paramount Pictures production, directed by Norman Taurog, and is the second in the series of Big Broadcast movies...


(1935)
The Raven

The Raven (1935 film)

The Raven is a horror film starring Boris Karloff and Béla Lugosi, and directed by Lew Landers. It revolves around Edgar Allan Poe's famous poem, featuring Lugosi as a Poe-obsessed mad surgeon with a torture chamber in his basement and Karloff as a fugitive murderer desperately on the run from the...


(1935)
Rendezvous

Rendezvous (1935 film)

Rendezvous is a 1935 spy film set in World War I, starring William Powell as an American cryptologist who tangles with German spies. The film was based on The American Black Chamber, the controversial memoirs of Herbert Yardley, founder and head of MI8....


(1935)
The Trail of the Lonesome Pine

The Trail of the Lonesome Pine (1936 film)

The Trail of the Lonesome Pine is a 1936 romance film based on the novel of the same name. It was directed by Henry Hathaway. It was the second full length feature film to be shot in three-strip Technicolor and the first in color to be shot outdoors, with the approval of the Technicolor Corporation...


(1936)
Rhythm on the Range

Rhythm on the Range

Rhythm on the Range is a 1936 Paramount Pictures musical film directed by Norman Taurog.-Plot:Doris Halliday is the daughter of wealthy banker Robert Halliday. She is about to marry a man she doesn't love, so the family will become richer...


(1936)
Black Legion

Black Legion (film)

Black Legion is a 1937 melodrama film, directed by Archie Mayo, with a script by Abem Finkel and William Wister Haines based on an original story by producer Robert Lord. The film stars Humphrey Bogart, Dick Foran, Erin O'Brien-Moore and Ann Sheridan and is a fictionalized story about the...


(1937)
Night Key

Night Key

Night Key is a science fiction crime film starring Boris Karloff. It was released by Universal Pictures in 1937.-Plot:The inventor of a burglar alarm attempts to get back at the man who stole the profits to his invention before he goes blind...


(1937)
Double or Nothing

Double or Nothing (1937 film)

Double or Nothing is a 1937 musical comedy film starring Bing Crosby, Martha Raye, Andy Devine, Mary Carlisle, William Frawley, Samuel S. Hinds, and Frances Faye. The most famous song from the film is "The Moon Got In My Eyes".-Plot synopsis:...


(1937)
Stage Door

Stage Door

Stage Door is a RKO film, adapted from the play by the same name, that tells the story of several would-be actresses who live together in a boarding house at 158 West 58th Street in New York City. The film stars Ginger Rogers, Katharine Hepburn, Adolphe Menjou, Gail Patrick, Constance Collier,...


(1937)
Navy Blue and Gold

Navy Blue and Gold (film)

Navy Blue and Gold is a 1937 American Metro-Goldwyn-Mayer film starring Robert Young, James Stewart and Lionel Barrymore.-Cast:*Robert Young as Roger Ash*James Stewart as "Truck" Cross*Lionel Barrymore as Captain "Skinny" Dawes...


(1937)
Test Pilot

Test Pilot (film)

Test Pilot is a 1938 film directed by Victor Fleming and featuring Clark Gable, Myrna Loy, Spencer Tracy, and Lionel Barrymore. The movie tells the story of a daredevil test pilot , his wife , and his best friend...


(1938)
The Devil's Party

The Devil's Party

- Cast :*Victor McLaglen as Marty Malone*William Gargan as Mike O'Mara*Paul Kelly as Jerry Donovan*Beatrice Roberts as Helen McCoy*Frank Jenks as Sam*John Gallaudet as Joe O'Mara*Samuel S. Hinds as Judge Harrison*Joe Downing as Frank Diamond...


(1938)
Wives Under Suspicion

Wives Under Suspicion

Wives Under Suspicion is a film directed by James Whale, starring Warren William, Gail Patrick, Ralph Morgan, and Constance Moore, and released by Universal Pictures.-Plot:...


(1938)
The Rage of Paris

The Rage of Paris

The Rage of Paris is a 1938 comedy film made by Universal Pictures. The movie was directed by Henry Koster, and written by Bruce Manning and Felix Jackson. It won the Venice Film Festival for Special Recommendation.-Cast:...


(1938)
You Can't Take It With You

You Can't Take It with You (film)

You Can't Take It With You Adapted from the Pulitzer Prize-winning play of the same name by George S. Kaufman and Moss Hart. The cast includes James Stewart, Jean Arthur, Lionel Barrymore and Edward Arnold....


(1938)
Young Dr. Kildare

Young Dr. Kildare

Young Dr. Kildare is a 1938 film starring Lew Ayres as an idealistic but somewhat immature young medical doctor, who benefits greatly from the wise counsel of his mentor, Dr. Gillespie, a seasoned older physician. This was the second of a total of ten Dr...


(1938)
Destry Rides Again

Destry Rides Again

Destry Rides Again is a western starring Marlene Dietrich and James Stewart. The supporting cast includes Mischa Auer, Charles Winninger, Brian Donlevy, Allen Jenkins, Irene Hervey, Billy Gilbert, Bill Cody, Jr., and Una Merkel. The original Max Brand novel was translated into an "oater" with the...


(1939)
It's a Date

It's a Date

It's a Date is a 1940 Universal musical film directed by William A. Seiter. The film was remade in 1950 as Nancy Goes to Rio.-Plot:The movie begins with Georgia Drake performing on the stage singing, "Gypsy Lullaby" while her daughter, Pamela , watches with her boyfriend Freddie Miller...


(1940)
Dr. Kildare's Strange Case

Dr. Kildare's Strange Case

- Cast :*Lew Ayres as Dr. Kildare*Lionel Barrymore as Dr. Leonard Gillespie*Laraine Day as Nurse Mary Lamont*Shepperd Strudwick as Dr. Gregory 'Greg' Lane*Samuel S. Hinds as Dr. Stephen Kildare*Emma Dunn as Mrs. Martha Kildare...


(1940)
Dr. Kildare Goes Home

Dr. Kildare Goes Home

Dr. Kildare Goes Home is a 1940 drama film directed by Harold S. Bucquet, starring Lew Ayres, Lionel Barrymore and Laraine Day. This was the second in a series of nine Dr. Kildare, from 1938-1942 starring Lew Ayres as Dr, Kildare.-Plot summary:...


(1940)
The Boys from Syracuse

The Boys from Syracuse (film)

The Boys from Syracuse is a 1940 musical film directed by A. Edward Sutherland, based on a stage musical by Richard Rodgers and Lorenz Hart, which in turn was based on the play The Comedy of Errors by William Shakespeare...


(1940)
Seven Sinners (1940)
Buck Privates

Buck Privates

Buck Privates is the 1941 comedy/World War II film that turned Bud Abbott and Lou Costello into bonafide movie stars. It was the first service comedy based on the peacetime draft of 1940. The comedy team made two more service comedies before the United States entered the war...


(1941)
Back Street

Back Street (1941 film)

Back Street is a 1941 drama film made by Universal Pictures, directed by Robert Stevenson. The film stars Charles Boyer and Margaret Sullavan. It is a remake of the 1932 film of the same name, also from Universal. The film follows the 1931 Fannie Hurst novel and the 1932 film version very closely,...


(1941)
Man Made Monster

Man Made Monster

Man-Made Monster is a science fiction horror film released by Universal Pictures. The film stars Lon Chaney Jr. in his horror debut. Man-Made Monster was re-released under various titles including Electric Man and The Mysterious Dr. R...


(1941)
Blossoms in the Dust

Blossoms in the Dust

Blossoms in the Dust is a 1941 American film which tells the story of the non-fictional Edna Gladney who takes it upon herself to help orphaned children to find homes, despite the opposition of the "good" citizens who think that illegitimate children are beneath their interest...


(1941)
The Shepherd of the Hills

The Shepherd of the Hills (film)

The Shepherd of the Hills is a 1941 film starring John Wayne. It was Wayne's first film in Technicolor. The film was based on the novel of the same name by Harold Bell Wright.-Differences from the novel:...


(1941)
Ride 'Em Cowboy

Ride 'Em Cowboy

Ride 'Em Cowboy is a 1942 film starring the comedy team of Abbott and Costello.-Plot:The author of best-selling western novels, Bronco Bob Mitchell , has never set foot in the west. A newspaper article has exposed this fact to his fans, and his image is suffering because of it. He decides to make...


(1942)
Kid Glove Killer

Kid Glove Killer

Kid Glove Killer is a 1942 crime film starring Van Heflin as a criminologist investigating the murder of a mayor. The B film was the feature-length directorial debut of Fred Zinnemann.-Cast:*Van Heflin as Gordon McKay*Marsha Hunt as Jane Mitchell...


(1942)
The Spoilers

The Spoilers (1942 film)

The Spoilers is a 1942 film directed by Ray Enright. The movie is set in Nome, Alaska during the Nome Gold Rush, with Marlene Dietrich as Cherry Malotte, Randolph Scott as Alexander McNamara, and John Wayne as Roy Glennister, and culminates in a spectacular saloon fistfight between McNamara and...


(1942)
Grand Central Murder

Grand Central Murder

Grand Central Murder is a comedy/mystery film released in 1942. It was based on Sue MacVeigh's 1939 novel of the same name, and stars Van Heflin as a private investigator who is one of the suspects in a murder on a private train car in Grand Central Terminal. The film was directed by S...


(1942)
Pardon My Sarong

Pardon My Sarong

-Plot:Tommy Layton , a wealthy bachelor, rents a city bus and rides it from Chicago to Los Angeles. Once there he intends to participate in a yacht race to Hawaii. The drivers of the bus, Algy and Wellington , are then chased by a detective who was hired by the bus company. They escape capture by...


(1942)
Pittsburgh

Pittsburgh (1942 film)

Pittsburgh is a 1942 feature film directed by Lewis Seiler and starring Marlene Dietrich, Randolph Scott, and John Wayne. Shemp Howard of Three Stooges fame co-stars in a rare dramatic role . Dietrich, Scott, and Wayne also made The Spoilers together that same year...


(1942)
Mister Big (1943)
We've Never Been Licked

We've Never Been Licked

We've Never Been Licked is a World War II propaganda film produced by Walter Wanger and released by United Artists. Parts of the movie were shot on location at the Texas A&M University campus...


(1943)
The Great Alaskan Mystery

The Great Alaskan Mystery

The Great Alaskan Mystery is a 1944 Universal film serial about government agents trying to stop Nazi spies from getting their hands on futuristic weapons.-Cast:* Milburn Stone as Jim Hudson* Marjorie Weaver as Ruth Miller...


(1944 serial)
Jungle Woman

Jungle Woman

Jungle Woman is a 1944 horror film released by Universal Pictures. The movie features Evelyn Ankers, J. Carrol Naish, Samuel S. Hinds, Lois Collier, Milburn Stone, Douglass Dumbrille, and Acquanetta...


(1944)
Swing Out, Sister

Swing Out, Sister

Swing Out, Sister is a 1945 American musical comedy film starring Rod Cameron and Billie Burke. Two people get jobs anonymously at a jazz club without telling their upper class families.The band Swing Out Sister took its name from this movie.-Cast:...


(1945)
Secret Agent X-9

Secret Agent X-9 (1945 serial)

Secret Agent X-9 is a Universal movie serial based on the comic strip Secret Agent X-9. It was the second serial with this name, the first was released by Universal in 1937.-Plot:...


(1945 serial)
Lady on a Train

Lady on a Train

Lady on a Train is a 1945 comedy film noir, starring Deanna Durbin and based on a story by Leslie Charteris.-Plot:Debutante Nikki Collins, an enthusiastic reader of detective stories, witnesses a murder in a building while passing by on a train entering New York's Grand Central Station. She goes to...


(1945)
The Strange Affair of Uncle Harry

The Strange Affair of Uncle Harry

The Strange Affair of Uncle Harry is a 1945 film noir directed by Robert Siodmak, starring George Sanders as an aging bachelor who looks after his two sisters, one of whom tries to sabotage his romance with his co-worker...


(1945)
Scarlet Street

Scarlet Street

Scarlet Street is a 1945 American film noir directed by Fritz Lang and based on the French novel La Chienne by Georges de La Fouchardière, that previously had been dramatized on stage by André Mouëzy-Éon, and cinematically as La Chienne by director Jean Renoir.The principal actors Edward G...


(1945)
The Egg and I

The Egg and I (film)

The Egg and I is a 1947 film directed by Chester Erskine, who co-wrote screenplay with Fred F. Finklehoffe, based on the book by Betty MacDonald.This comedy was such a hit with audiences, it spawned the Ma and Pa Kettle film series...


(1947)
The Boy with Green Hair

The Boy with Green Hair

The Boy with Green Hair is a 1948 American comedy-drama film directed by Joseph Losey. It stars Dean Stockwell as Peter, a young war orphan who is subject to ridicule after he awakens one morning to find his hair mysteriously turned green...


(1948)
The Bribe

The Bribe

The Bribe is an American crime film noir directed by Robert Z. Leonard and written by Marguerite Roberts, based on a story written by Frederick Nebel...


(1949)