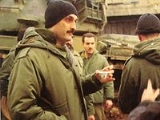 Samir Geagea
Samir Farid Geagea
born October 25, 1952, is a Lebanese politician. He is also a senior figure in the
March 14 Alliance
March 14 Alliance
The March 14 alliance , named after the date of the Cedar Revolution, is a coalition of political parties and independents in Lebanon that call for sovereignty over all Lebanese territories, led by MP Saad Hariri, younger son of Rafik Hariri, the assassinated former prime minister of Lebanon, as...
, alongside
Saad Hariri
Saad Hariri
Saad-eddine Rafiq Al-Hariri is a Saudi-Lebanese billionaire who served as the Prime Minister of Lebanon from 2009 until 2011. He is the second son of Rafiq Hariri, the former Lebanese Prime Minister who was assassinated in 2005...
and
Amine Gemayel
Amine Gemayel
Amine Pierre Gemayel was President of Lebanon from 1982 to 1988 and is the leader of Kataeb Party.Born in the Lebanese village of Bikfaya, Amine Gemayel is the son of Pierre Gemayel, founder of the Kataeb Party...
.
He took leadership of the Lebanese Forces in 1986.
After the civil war, there was increased pressure by Syria on Geagea to accept the Syrian presence or face charges. Prior to his arrest, he was contacted by several sympathetic politicians and warned about the forthcoming proceedings and offered safe passage out of Lebanon.