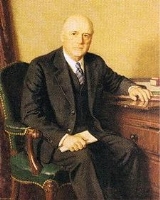 Sam Rayburn
Samuel Taliaferro Rayburn
(January 6, 1882 – November 16, 1961), often called "Mr. Sam," or "Mr. Democrat," was a
Democratic
Democratic Party (United States)
The Democratic Party is one of two major contemporary political parties in the United States, along with the Republican Party. The party's socially liberal and progressive platform is largely considered center-left in the U.S. political spectrum. The party has the lengthiest record of continuous...
lawmaker from
Bonham, Texas
Bonham, Texas
Bonham is a city in Fannin County, Texas, United States. The population was 10,127 at the 2010 census. It is the county seat of Fannin County. James Bonham sought the aid of James Fannin at the Battle of the Alamo....
, who served as the
Speaker of the U.S. House of Representatives
Speaker of the United States House of Representatives
The Speaker of the United States House of Representatives, or Speaker of the House, is the presiding officer of the United States House of Representatives...
for seventeen years, the longest tenure in U.S. history.
Rayburn was born in
Roane County, Tennessee
, and was baptized by Elder H.G. Ball in the
Primitive Baptist
Primitive Baptist
Primitive Baptists, also known as Hard Shell Baptists or Anti-Mission Baptists, are conservative, Calvinist Baptists adhering to beliefs that formed out of the controversy among Baptists in the early 1800's over the appropriateness of mission boards, bible tract societies, and temperance...
Church, also known as Old Line Baptist or Hard Shell Baptist Church.
"Any jackass can kick down a barn, but it takes a good carpenter to build one."

"No one has a finer command of language than the person who keeps his mouth shut."

"If you can't eat their food, drink their liquor, sleep with their women, and then vote against them, then you don't belong in politics."