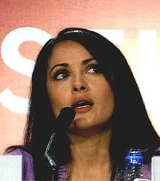 Salma Hayek
Salma Valgarma Hayek Jiménez de Pinault
(ˈsalma ˈxaʝek; born September 2, 1966) is a Mexican film actress, director and producer. She received an Oscar nomination for Best Actress for her role as
Frida Kahlo
Frida Kahlo
Frida Kahlo de Rivera was a Mexican painter, born in Coyoacán, and perhaps best known for her self-portraits....
in the film
Frida
Frida
Frida is a 2002 biographical film which depicts the professional and private life of the surrealist Mexican painter Frida Kahlo. It stars Salma Hayek in her Academy Award nominated portrayal as Kahlo and Alfred Molina as her husband, Diego Rivera....
.
Hayek was born in
Coatzacoalcos
Coatzacoalcos
Coatzacoalcos is a major port city in the southern part of the Mexican state of Veracruz, on the Coatzacoalcos River. Coatzacoalcos comes from an indigenous word meaning "Site of the Snake" or "Where the snake hides"...
,
Veracruz
Veracruz
Veracruz, formally Veracruz de Ignacio de la Llave officially Estado Libre y Soberano de Veracruz de Ignacio de la Llave , is one of the 31 states that, along with the Federal District, comprise the 32 federative entities of Mexico. It is divided in 212 municipalities and its capital city is...
, Mexico, the daughter of Diana Jiménez Medina, an opera singer and talent scout, and Sami Hayek Dominguez, an oil company executive who once ran for mayor of Coatzacoalcos.
It's very easy to feel someone's pain when you love them.

"Conversation with Salma Hayek" (2002)
I also was afraid I was a very bad actress, because I'd become famous very fast and was making money for people. When you're making money, they're never going to tell you whether you're good or bad. They don't care. I knew that if I had any talent, this would kill it. I never wanted to be a famous bad actress!

I wanted to have a voice, and it was okay if I wasn't going to be so famous or so rich. And this the one thing I learned: How do you recognize what's your true dream and what is the dream that you are dreaming for other people to love you? ... The difference is very easy to understand. If you enjoy the process, it's your dream. ... If you are are enduring the process, just desperate for the result, it's somebody else's dream.

It's good to be sexy, but when that's all they can see — no.