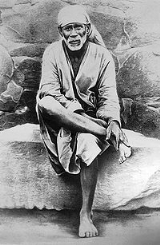 Sai Baba of Shirdi
Sai Baba of Shirdi
also known as
Shirdi Sai Baba
, was an
India
India
India , officially the Republic of India , is a country in South Asia. It is the seventh-largest country by geographical area, the second-most populous country with over 1.2 billion people, and the most populous democracy in the world...
n
guru
Guru
A guru is one who is regarded as having great knowledge, wisdom, and authority in a certain area, and who uses it to guide others . Other forms of manifestation of this principle can include parents, school teachers, non-human objects and even one's own intellectual discipline, if the...
,
yogi
Yogi
A Yogi is a practitioner of Yoga. The word is also used to refer to ascetic practitioners of meditation in a number of South Asian Religions including Jainism, Buddhism, and Hinduism.-Etymology:...
, and
fakir
Fakir
The fakir or faqir ; ) Derived from faqr is a Muslim Sufi ascetic in Middle East and South Asia. The Faqirs were wandering Dervishes teaching Islam and living on alms....
who is regarded by his
Hindu
Hindu
Hindu refers to an identity associated with the philosophical, religious and cultural systems that are indigenous to the Indian subcontinent. As used in the Constitution of India, the word "Hindu" is also attributed to all persons professing any Indian religion...
and
Muslim
Muslim
A Muslim, also spelled Moslem, is an adherent of Islam, a monotheistic, Abrahamic religion based on the Quran, which Muslims consider the verbatim word of God as revealed to prophet Muhammad. "Muslim" is the Arabic term for "submitter" .Muslims believe that God is one and incomparable...
devotees as a saint.
Many Hindu devotees including Hemadpant who wrote the famous
Shri Sai Satcharitra
consider him an
incarnation
Incarnation
Incarnation literally means embodied in flesh or taking on flesh. It refers to the conception and birth of a sentient creature who is the material manifestation of an entity, god or force whose original nature is immaterial....
of Lord
Krishna
Krishna
Krishna is a central figure of Hinduism and is traditionally attributed the authorship of the Bhagavad Gita. He is the supreme Being and considered in some monotheistic traditions as an Avatar of Vishnu...
while other devotees consider him as an incarnation of Lord
Dattatreya
Dattatreya
Dattatreya or Datta is a Hindu deity encompassing the trinity of Brahma, Vishnu and Shiva, collectively known as Trimurti. The name Dattatreya can be divided into two words - "Datta" and "Atreya" referring to the sage Atri, his physical father.Various Hindu sects worship him differently...
. Many devotees believe that he was a
Satguru
Satguru
Satguru does not merely mean true guru. The term is distinguished from other forms of gurus, such as musical instructors, scriptural teachers, parents, and so on...
, an enlightened Sufi
Pir
Pir (Sufism)
Pir or Peer is a title for a Sufi master equally used in the nath tradition. They are also referred to as a Hazrat or Shaikh, which is Arabic for Old Man. The title is often translated into English as "saint" and could be interpreted as "Elder". In Sufism a Pir's role is to guide and instruct his...
, or a
Qutub
Qutb
Qutb, Qutub, Kutb, or Kutub , literally means 'axis', 'pivot' or 'pole'. Qutb can refer to celestial movements and used as an astronomical term or a spiritual symbol. In Sufism, a Qutb or Kutb is the perfect human being, al-insān al-kāmil, who leads the saintly hierarchy...
.
Everybody's Malik is One.

Actual Hindi text: Sabka Malik Ek Hai.