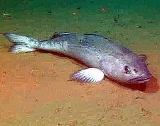 Sablefish
The
sablefish
,
Anoplopoma fimbria
, is one of two members of the
fish
Fish
Fish are a paraphyletic group of organisms that consist of all gill-bearing aquatic vertebrate animals that lack limbs with digits. Included in this definition are the living hagfish, lampreys, and cartilaginous and bony fish, as well as various extinct related groups...
family
Anoplopomatidae
Anoplopomatidae
The sablefishes are a family, Anoplopomatidae, of scorpaeniform fishes. They are found in coastal waters of the north Pacific from Japan to California, where they live near the sea floor in deep water: the sablefish, Anoplopoma fimbria, has been found down to . They are large fish, with the...
and the
only species
Monotypic
In biology, a monotypic taxon is a taxonomic group with only one biological type. The term's usage differs slightly between botany and zoology. The term monotypic has a separate use in conservation biology, monotypic habitat, regarding species habitat conversion eliminating biodiversity and...
in the
Anoplopoma
genus. In
English
English language
English is a West Germanic language that arose in the Anglo-Saxon kingdoms of England and spread into what was to become south-east Scotland under the influence of the Anglian medieval kingdom of Northumbria...
, common names for it include
sable
(USA),
butterfish
(USA/Australia),
black cod
(USA, UK, Canada),
blue cod
(UK),
bluefish
(UK),
candlefish
(UK),
coal cod
(UK),
coalfish
(Canada),
beshow
and
skil(fish)
(Canada), although many of these names also refer to other, unrelated, species. Of these, only "sablefish" is an
Acceptable Market Name
Acceptable Market Name
In U.S. food regulations, an Acceptable Market Name is a set of guidelines for names of seafood sold in interstate commerce.The Acceptable Market Names are recommendations, and not legally enforceable.-References:...
in the U.S. The sable fish is found in muddy sea beds in the North Pacific at depths of 300 to 2,700 m (1000 to 9000 ft) and is commercially important to
Japan
Japan
Japan is an island nation in East Asia. Located in the Pacific Ocean, it lies to the east of the Sea of Japan, China, North Korea, South Korea and Russia, stretching from the Sea of Okhotsk in the north to the East China Sea and Taiwan in the south...
.
The white flesh of the sablefish is soft-textured and mild flavored. It is considered a delicacy in many countries. When cooked its flaky texture is similar to
Patagonian toothfish
Patagonian toothfish
The Patagonian toothfish, Dissostichus eleginoides , is a fish found in the cold, temperate waters of the southern Atlantic, southern Pacific, Indian, and Southern Oceans on seamounts and continental shelves around most sub-Antarctic islands.A close relative, the Antarctic toothfish , is found...
(Chilean sea bass). The meat has a high
fat
Fat
Fats consist of a wide group of compounds that are generally soluble in organic solvents and generally insoluble in water. Chemically, fats are triglycerides, triesters of glycerol and any of several fatty acids. Fats may be either solid or liquid at room temperature, depending on their structure...
content and can be prepared in many ways including
baking
Baking
Baking is the technique of prolonged cooking of food by dry heat acting by convection, and not by radiation, normally in an oven, but also in hot ashes, or on hot stones. It is primarily used for the preparation of bread, cakes, pastries and pies, tarts, quiches, cookies and crackers. Such items...
, broiling,
grilling
Grilling
Grilling is a form of cooking that involves dry heat applied to the surface of food, commonly from above or below.Grilling usually involves a significant amount of direct, radiant heat, and tends to be used for cooking meat quickly and meat that has already been cut into slices...
,
smoking
Smoking
Smoking is a practice in which a substance, most commonly tobacco or cannabis, is burned and the smoke is tasted or inhaled. This is primarily practised as a route of administration for recreational drug use, as combustion releases the active substances in drugs such as nicotine and makes them...
,
frying
Frying
Frying is the cooking of food in oil or another fat, a technique that originated in ancient Egypt around 2500 BC. Chemically, oils and fats are the same, differing only in melting point, but the distinction is only made when needed. In commerce, many fats are called oils by custom, e.g...
or served as
sushi
Sushi
is a Japanese food consisting of cooked vinegared rice combined with other ingredients . Neta and forms of sushi presentation vary, but the ingredient which all sushi have in common is shari...
.
Ecology
The sablefish (
Anoplopoma fimbria
) is a species of deep sea fish common to the North Pacific ocean. Adult sablefish are opportunistic feeders, preying on fish (including walleye pollock,
eulachon
Eulachon
The eulachon, also oolichan, hooligan, ooligan, or candlefish, is a small anadromous ocean fish, Thaleichthys pacificus, a smelt found along the Pacific coast of North America from northern California to Alaska....
,
capelin
Capelin
The capelin or caplin, Mallotus villosus, is a small forage fish of the smelt family found in the Atlantic and Arctic oceans. In summer, it grazes on dense swarms of plankton at the edge of the ice shelf. Larger capelin also eat a great deal of krill and other crustaceans...
,
herring
Herring
Herring is an oily fish of the genus Clupea, found in the shallow, temperate waters of the North Pacific and the North Atlantic oceans, including the Baltic Sea. Three species of Clupea are recognized. The main taxa, the Atlantic herring and the Pacific herring may each be divided into subspecies...
, sandlance, and
Pacific cod
Pacific Cod
The Pacific cod, Gadus macrocephalus, is an important commercial food species. It is also known as gray cod, gray goo, gray wolf, grayest or grayfish. It has three separate dorsal fins, and the catfish-like whiskers on its lower jaw. In appearance, it is similar to the Atlantic Cod...
),
squid
Squid
Squid are cephalopods of the order Teuthida, which comprises around 300 species. Like all other cephalopods, squid have a distinct head, bilateral symmetry, a mantle, and arms. Squid, like cuttlefish, have eight arms arranged in pairs and two, usually longer, tentacles...
,
euphausiids
Krill
Krill is the common name given to the order Euphausiacea of shrimp-like marine crustaceans. Also known as euphausiids, these small invertebrates are found in all oceans of the world...
,
jellyfish
Jellyfish
Jellyfish are free-swimming members of the phylum Cnidaria. Medusa is another word for jellyfish, and refers to any free-swimming jellyfish stages in the phylum Cnidaria...
(Yang and Nelson 2000). Sablefish are long-lived, with a maximum recorded age of 94 years (Kimura
et al.
1998).
Nutrition
Sablefish are very high in long-chain omega 3 fatty acids,
EPA
Eicosapentaenoic acid
Eicosapentaenoic acid is an omega-3 fatty acid. In physiological literature, it is given the name 20:5. It also has the trivial name timnodonic acid...
and
DHA
Docosahexaenoic acid
Docosahexaenoic acid is an omega-3 fatty acid that is a primary structural component of the human brain and retina. In chemical structure, DHA is a carboxylic acid with a 22-carbon chain and six cis double bonds; the first double bond is located at the third carbon from the omega end...
. It contains approximately as much as wild
salmon
Salmon
Salmon is the common name for several species of fish in the family Salmonidae. Several other fish in the same family are called trout; the difference is often said to be that salmon migrate and trout are resident, but this distinction does not strictly hold true...
.
In popular culture
Sablefish made an appearance in the HBO comedy series
Curb Your Enthusiasm
Curb Your Enthusiasm
Curb Your Enthusiasm is an American comedy television series produced and broadcast by HBO, which premiered on October 15, 2000. As of 2011, it has completed 80 episodes over eight seasons. The series was created by Seinfeld co-creator Larry David, who stars as a fictionalized version of himself...
(Season 5, Episode 1) as an ingredient in the "Larry David Sandwich" sold at a local delicatessen. The full recipe of the sandwich included whitefish, sable, capers, onions & cream cheese, and it sold for $8.95.