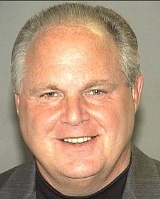 Rush Limbaugh
Rush Hudson Limbaugh III
(icon; born January 12, 1951) is an
American
United States
The United States of America is a federal constitutional republic comprising fifty states and a federal district...
radio talk show host, conservative political commentator, and an opinion leader in American conservatism. He hosts
The Rush Limbaugh Show
The Rush Limbaugh Show
The Rush Limbaugh Show is an American talk radio show hosted by Rush Limbaugh on Premiere Radio Networks...
which is aired throughout the U.S. on
Premiere Radio Networks
Premiere Radio Networks
Premiere Networks is an American radio network. It is the largest syndication company in the United States based on popularity of programming...
and is the highest-rated
talk-radio program
Talk radio
Talk radio is a radio format containing discussion about topical issues. Most shows are regularly hosted by a single individual, and often feature interviews with a number of different guests. Talk radio typically includes an element of listener participation, usually by broadcasting live...
in the United States. Limbaugh signed an 8-year, $400 million contract extension with
Clear Channel
Clear Channel Communications
Clear Channel Communications, Inc. is an American media conglomerate company headquartered in San Antonio, Texas. It was founded in 1972 by Lowry Mays and Red McCombs, and was taken private by Bain Capital LLC and Thomas H. Lee Partners LP in a leveraged buyout in 2008...
in 2008.
He was born into a family with a long history of involvement in
Republican
Republican Party (United States)
The Republican Party is one of the two major contemporary political parties in the United States, along with the Democratic Party. Founded by anti-slavery expansion activists in 1854, it is often called the GOP . The party's platform generally reflects American conservatism in the U.S...
politics and first began working at a local radio station at age sixteen.
It's beyond me how anybody can look at these protestors and call them anything other than what they are: anti-American, anticapitalist, pro-Marxist communists.

Speaking about political dissent (February 2003), quoted in —
It's sort of like hazing, a fraternity prank. Sort of like that kind of fun.

Stated about abuse of Iraqi prisoners at Abu Ghraib by United States soldiers (May 3-4, 2004), quoted in —
I'm talking about people having a good time, these people, you ever heard of emotional release? You ever heard of need to blow some steam off?

Stated about Abu Ghraib (May 4, 2004), quoted in —
We need to shut down this Gitmo prison? Well, don't shut it down - we just need to start an advertising campaign. We need to call it, 'Gitmo, the Muslim resort.' Any resort that treated people like this would have ads all over the New York Times trying to get people to come down and visit for some R&R, for some rest and relaxation.

Stated about Guantanamo Bay, on The Rush Limbaugh Show, (June 14, 2005), quoted in —
If the word of how they're being treated keeps getting out, we're going to have al-Qaeda people surrendering all over the world trying to get in place.

Stated about Guantanamo Bay (June 16, 2005), quoted in —