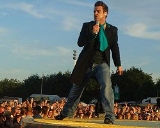 Robbie Williams
Robert Peter "Robbie" Williams
(born 13 February 1974) is an
English
English people
The English are a nation and ethnic group native to England, who speak English. The English identity is of early mediaeval origin, when they were known in Old English as the Anglecynn. England is now a country of the United Kingdom, and the majority of English people in England are British Citizens...
singer-songwriter, vocal coach and occasional actor. He is a member of the pop group
Take That
Take That
Take That are a British five-piece vocal pop group comprising Gary Barlow, Howard Donald, Jason Orange, Mark Owen and Robbie Williams. Barlow acts as the lead singer and primary songwriter...
. Williams rose to fame in the band's first run in the early- to mid-1990s. After many disagreements with the management and certain group members, Williams left the group in 1995 to launch his solo career. On 15 July 2010, it was announced he had rejoined Take That and that the group intended to release a new album in November 2010 which became the second fastest-selling album of all-time in UK chart history and the fastest-selling record of the century.
Williams has sold over 70 million records worldwide, which ranks him among the
best-selling music artist worldwide
.
I met Courtney Love|Courtney Love and she said she'd like to sleep with me, but she couldn't cos of my "pop-star thing"... so I said to her I couldn't sleep with her either - cos of her 'ugly thing'...

Interview with Chris Moyles, Radio One (2005)
The world could change in a second,so I find the sunshine beckons me,to open up the gate and dream.

Lazy Days|Lazy Days
I look above, and I knowI'll always be blessed with love.

Angels (song)|Angels
Well tonight I'm gonna live for today, so come along for the ride,I hope I'm old before I die.

Old Before I Die|Old Before I Die
There'll be the same old faces,in the same old places,where my youth was well misspent,but I toe the line and move in time,to a town called no regrets.

South of the Border (1997 song)|South of the Border
Hell is gone and heaven's here,there's nothing left for you to fear.

Let Me Entertain You (Robbie Williams song)|Let Me Entertain You
I sit and talk to God, and he just laughs at my plans.

Feel (Robbie Williams song)|Feel
I'm not scared of dying, I just don't want to.If I stop lying, I'll just disappoint you.

Come Undone (Robbie Williams song|Come Undone
I'm contemplating thinking about thinking…but....it's overrated - just get another drink in!

Come Undone
All your friends think you're satisfied, but they can't see your soul, no, no, no...

Something Beautiful|Something Beautiful