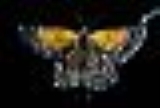 Riodininae
The
Riodininae
are the larger by far of the subfamilies of the metalmark butterfly
family
Family (biology)
In biological classification, family is* a taxonomic rank. Other well-known ranks are life, domain, kingdom, phylum, class, order, genus, and species, with family fitting between order and genus. As for the other well-known ranks, there is the option of an immediately lower rank, indicated by the...
,
Riodinidae
Riodinidae
The Riodinidae are a family of butterflies. The common name "metalmarks" refers to the small metallic-looking spots commonly found on their wings. There are approximately 1,000 species of metalmark butterflies in the world...
. The latter was long united with the
Lycaenidae
Lycaenidae
The Lycaenidae are the second-largest family of butterflies, with about 6000 species worldwide, whose members are also called gossamer-winged butterflies...
.
A number of Riodininae genera are of uncertain affiliations. They might belong into the
Helicopini
Helicopini
The Helicopini are a tribe of metalmark butterflies .-Genera:*Anteros Hübner, [1819]*Helicopis Fabricius, 1807*Ourocnemis Baker, 1887*Sarota Westwood, [1851]...
, but this needs further study. Such genera
incertae sedis
Incertae sedis
, is a term used to define a taxonomic group where its broader relationships are unknown or undefined. Uncertainty at specific taxonomic levels is attributed by , , and similar terms.-Examples:*The fossil plant Paradinandra suecica could not be assigned to any...
are:
Apodemia

Apodemia

Apodemia is a New World genus of metalmark butterflies found from Canada to Brazil.-Species:*Apodemia castanea -- Castanea Metalmark*Apodemia chisosensis -- Chisos Metalmark...



Argyrogrammana
Astraeodes
Callistium
Calydna
Comphotis
Dianesia
Echenais
Echydna
Emesis

Emesis (genus)

Emesis is a genus of butterflies.Species include:*Emesis adelpha Le Cerf, 1958*Emesis aerigera *Emesis angularis Hewitson, 1870*Emesis ares *Emesis arnacis Stichel, 1928...



Imelda
Lamphiotes
Machaya
Pachythone
Petrocerus
Pixus
Pseudonymphidia
Pseudotinea
Roeberella
Zabuella
External links