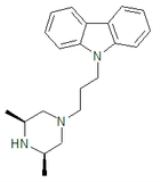 Rimcazole
Rimcazole
is an
antagonist
Receptor antagonist
A receptor antagonist is a type of receptor ligand or drug that does not provoke a biological response itself upon binding to a receptor, but blocks or dampens agonist-mediated responses...
of the
sigma receptor
Sigma receptor
The sigma receptors σ1 and σ2 bind to ligands such as 4-PPBP, SA 4503, ditolylguanidine, dimethyltryptamine and siramesine.- Classification :...
as well as a dopamine reuptake inhibitor. Sigma receptors are thought to be involved in the drug
psychosis
Psychosis
Psychosis means abnormal condition of the mind, and is a generic psychiatric term for a mental state often described as involving a "loss of contact with reality"...
that can be induced by some drugs such as
PCP
Phencyclidine
Phencyclidine , commonly initialized as PCP and known colloquially as angel dust, is a recreational dissociative drug...
and
cocaine
Cocaine
Cocaine is a crystalline tropane alkaloid that is obtained from the leaves of the coca plant. The name comes from "coca" in addition to the alkaloid suffix -ine, forming cocaine. It is a stimulant of the central nervous system, an appetite suppressant, and a topical anesthetic...
, and rimcazole was originally researched as a potential
antipsychotic
Antipsychotic
An antipsychotic is a tranquilizing psychiatric medication primarily used to manage psychosis , particularly in schizophrenia and bipolar disorder. A first generation of antipsychotics, known as typical antipsychotics, was discovered in the 1950s...
with a different mechanism of action to traditional antipsychotic drugs. Trials proved inconclusive and rimcazole was not pursued for this application, but other sigma antagonists continue to be researched for a variety of potential applications. Rimcazole has been shown to reduce the effects of cocaine, and analogues of rimcazole have been shown to be highly effective at blocking the convulsions caused by cocaine overdose in animal models.