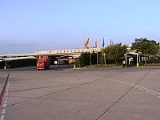 Reus Airport
Incidents and accidents
On 20 July 1970, a Condor Boeing 737-100 (registered D-ABEL) which was approaching Reus Airport, collided with a privately owned Piper Cherokee light aircraft (registration EC-BRU) near Tarragona, Spain. The Piper subsequently crashed, resulting in the death of the three persons on board. The Condor Boeing suffered only minor damage, and there were no injuries amongst the 95 passengers and 5 crew members.
In 1996, two powerful bombs placed by the Basque

Basque people

The Basques as an ethnic group, primarily inhabit an area traditionally known as the Basque Country , a region that is located around the western end of the Pyrenees on the coast of the Bay of Biscay and straddles parts of north-central Spain and south-western France.The Basques are known in the...


group Euskadi ta Askatasuna (ETA) in the airport left more than 30 people injured. That same day two other bombs exploded in two hotels located near the airport.
In 2004 a Swearingen Metro aircraft was to be repositioned to Barcelona Airport for maintenance work, but during takeoff, while accelerating 80 knots, the nose gear collapsed. The aircraft sustained serious damage to the fuselage, engines and the propellers.
External links