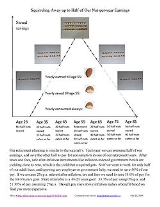 Retirement
Retirement
is the point where a person stops employment completely. A person may also semi-retire by reducing work hours.
Many people choose to retire when they are eligible for private or public
pension
Pension
In general, a pension is an arrangement to provide people with an income when they are no longer earning a regular income from employment. Pensions should not be confused with severance pay; the former is paid in regular installments, while the latter is paid in one lump sum.The terms retirement...
benefits, although some are forced to retire when physical conditions don't allow the person to work any more (by illness or accident) or as a result of legislation concerning their position.