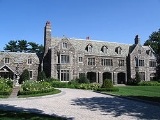 Remington Rand
Remington Rand
was an early
American
United States
The United States of America is a federal constitutional republic comprising fifty states and a federal district...
business machines manufacturer, best known originally as a typewriter manufacturer and in a later incarnation as the manufacturer of the
UNIVAC
UNIVAC
UNIVAC is the name of a business unit and division of the Remington Rand company formed by the 1950 purchase of the Eckert-Mauchly Computer Corporation, founded four years earlier by ENIAC inventors J. Presper Eckert and John Mauchly, and the associated line of computers which continues to this day...
line of
mainframe computer
Mainframe computer
Mainframes are powerful computers used primarily by corporate and governmental organizations for critical applications, bulk data processing such as census, industry and consumer statistics, enterprise resource planning, and financial transaction processing.The term originally referred to the...
s but with antecedents in
Remington Arms
Remington Arms
Remington Arms Company, Inc. was founded in 1816 by Eliphalet Remington in Ilion, New York, as E. Remington and Sons. It is the oldest company in the United States which still makes its original product, and is the oldest continuously operating manufacturer in North America. It is the only U.S....
in the early nineteenth century. For a time, the word "univac" was recognized as a generic synonym for "computer". Remington Rand was a diversified
conglomerate
Conglomerate (company)
A conglomerate is a combination of two or more corporations engaged in entirely different businesses that fall under one corporate structure , usually involving a parent company and several subsidiaries. Often, a conglomerate is a multi-industry company...
making other office equipment, electric shavers, etc.