 Regional council (Israel)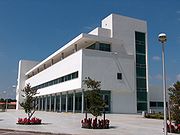 Regional councils
are one of the three types of
local government
Local government
Local government refers collectively to administrative authorities over areas that are smaller than a state.The term is used to contrast with offices at nation-state level, which are referred to as the central government, national government, or federal government...
entities found in
Israel
Israel
The State of Israel is a parliamentary republic located in the Middle East, along the eastern shore of the Mediterranean Sea...
, with the other two being
cities
and
local councils
Local council (Israel)
Local councils are one of the three types of local government found in Israel, with the other two being cities and regional councils. As of 2003, there were 144 local councils in Israel, these being settlements which pass a minimum threshold enough to justify their operations as independent...
. As of 2003, there were 53 regional councils in Israel, usually responsible for governing a number of settlements spread across rural areas. Regional councils include representation of anywhere between 3 and 54 communities, usually spread over a relatively large area within geographical vicinicty of each other.
Each community within a regional council usually does not exceed 2000 in population and is managed by a local committee. This committee sends representatives to the administering regional council proportionate to their size of membership and according to an index which is fixed before each election. Those settlements without an administrative council do not send any representatives to the regional council, instead being dealt by it directly. Representatives from those settlements which are represented directly are either chosen directly or through an election. The predomenant form of community represented on regional councils are kibbutzim and moshavim.
List of regional councils
Council
Link
District

Districts of Israel

There are six main administrative districts of Israel, known in Hebrew as mehozot and fifteen sub-districts known as nafot...



Abu Basma Regional Council

Abu Basma Regional Council

Abu Basma Regional Council is a regional council covering several Bedouin villages in the northwestern Negev desert of Israel.The council was formed as a result of Government Resolution 881 of 29 September 2003, known as the "Abu Basma Plan", which stated the need to establish seven new Bedouin...



http://abubasma.org.il/
South

South District (Israel)

The Southern District is one of Israel's six administrative districts, and is the largest in terms of land area as well as the most sparsely populated. It covers most of the Negev desert, as well as the Arabah valley. The population of the Southern District is 1,002,400. It is 86% Jewish and 14%...



Alona Regional Council

Alona Regional Council

Alona Regional Council is a regional council in northern Israel. It is part of Haifa District and covers three moshavim, Amikam, Aviel and Givat Nili. The council's headquarters are located in Amikam....



Haifa

Haifa District

Haifa District is an administrative district surrounding the city of Haifa, Israel. The district is one of six administrative districts of Israel, and its capital is Haifa...



al-Batuf Regional Council

Al-Batuf Regional Council

The al-Batuf Regional Council is a regional council located on the southern fringe of the Beit Netofa Valley North of Nazareth within the North District of Israel...



North

North District (Israel)

The Northern District is one of Israel's six administrative districts. The Northern District has a land area of 4,478 km², which increases to 4,638 km² when both land and water are included...



Be'er Tuvia Regional Council

Be'er Tuvia Regional Council

Be'er Tuvia Regional Council , is a regional council in the southern Coastal Plain region in Israel.It borders Yoav and Nahal Sorek regional councils in the east; Hof Ashkelon regional council, the Mediterranean Sea, the city of Ashdod and Gan Yavne local council in the west; Gederot, Hevel Yavne...



http://www.beer-tuvia.org.il
South
Bnei Shimon Regional Council

Bnei Shimon Regional Council

The Bnei Shimon Regional Council , is a regional council in the northern Negev in the south of Israel. Most of its territory lies north of Beersheba and the rest bounds Beersheba on the west and east sides as well. The eastern border of this territory straddles the Green Line.There are 13...



http://www.bns.org.il/site/he/eCity.asp?pi=1193
South
Brenner Regional Council

Brenner Regional Council

Brenner Regional Council , is a regional council in the Center District of Israel. It is located in the coastal plain, in the vicinity of Rehovot and Yavne. The council is named after writer Yosef Haim Brenner, killed in the Jaffa riots of 1921....



http://www.brener.org.il/
Center

Center District (Israel)

The Central District of Israel is one of six administrative districts, including most of the Sharon region. The district capital is Ramla. It is further divided into 4 sub-districts: Petah Tikva, Ramla, Sharon and Rehovot. The district's largest city is Rishon LeZion. Its population as of 2008 was...



Bustan al-Marj Regional Council

Bustan al-Marj Regional Council

The Bustan al-Marj Regional Council is a regional council in northern Israel. Its territory lies adjacent to the Jezreel Valley and north of Afula. The area includes four Arab villages:*Ed Dahi*Kafr Misr*Nein*Sulam-External links:* *...



http://www.shimi.co.il/bustan1/Demo.html
North
Central Arava Regional Council

Central Arava Regional Council

The Central Arava Regional Council is a Regional Council in the South District of Israel.It encompasses 7 or 8 settlements near the eastern border of Israel, south of the Dead Sea...



http://www.arava.co.il/
South
Drom HaSharon Regional Council

Drom HaSharon Regional Council

The Drom HaSharon Regional Council is a regional council in the Sharon region in central Israel. Its offices are located on Highway 40 near Neve Yarak.-List of settlements, moshavim, kibbutzim and villages:*Adanim*Einat*Elishema*Eyal*Gan Haim...



http://www.drom-hasharon.org.il/
Center
Eshkol Regional Council

Eshkol Regional Council

The Eshcol Regional Council is a regional council in the north-western Negev, in Israel's Southern District. The regional council's territory lies midway between Ashkelon and Beersheba, bounded on the west by the Gaza Strip while the eastern border abuts the territory of the Bnei Shimon Regional...



http://www.eshkol-region.muni.il/
South
Lower Galilee Regional Council

Lower Galilee Regional Council

The Lower Galilee Regional Council is a regional council in northern Israel that encompasses most of the settlements in the Lower Galilee. Over 9000 people live in the three kibbutzim, ten moshavim and two communal settlements located in its municipal territory.The council building is situated in...



http://www.glt.org.il/
North
Upper Galilee Regional Council

Upper Galilee Regional Council

The Upper Galilee Regional Council is a regional council in Israel's Upper Galilee region.The area has a population of 15,500 and has been headed for 14 years by Aharon Valenci. Its headquarters are located in Kiryat Shmona, an independent city not included in the council's jurisdiction.-Regional...



http://www.galil-elion.org.il/
North
Gan Raveh Regional Council

Gan Raveh Regional Council

Gan Raveh Regional Council is a regional council in the Center District of Israel. The council's area of jurisdiction extends to eightsettlements: a kibbutz, six moshavim and a youth village. In 2006, the total population was 5,000...



http://www.ganrave.com/site/index-4.asp?depart_id=68093
Center
Gederot Regional Council

Gederot Regional Council

Gederot Regional Council is a regional council in the Center District of Israel. It is located between Ashdod, Yavne and Gedera and covers an area of 13,000 dunams...



http://www.gderot.com/
Center
Gezer Regional Council

Gezer Regional Council

Gezer Regional Council is a regional council in the Center District of Israel. Established in 1949, it had a population of 20,700 in 2006.-List of settlements:The council covers five kibbutzim, 15 moshavim and five communal settlementsKibbutzim...



http://www.gezer-region.muni.il/
Center
Gilboa Regional Council

Gilboa Regional Council

Gilboa Regional Council is a regional council in northern Israel, located on the slopes of the Gilboa mountain range. There are more than 22,000 residents in 38 settlements as of 2007...



http://www.atar-inter.net/site/index.asp?depart_id=25041
North
Golan Regional Council

Golan Regional Council

The Golan Regional Council is the regional council consolidating almost all Israeli settlements located on the Golan Heights. It is made up of 19 moshavim and 10 kibbutzim, and other villages...



http://m.e.golan.org.il/
North
Gush Etzion Regional Council

Gush Etzion Regional Council

The Gush Etzion Regional Council is a regional council in the northern Judean Hills, the northern part of the southern area of the West Bank, administering the settlements in the Gush Etzion region, as well as others nearby...



http://www.gush-etzion-region.muni.il/
Judea and Samaria
Har Hebron Regional Council

Har Hebron Regional Council

The Har Hevron Regional Council is an Israeli regional council in the southern Judean Hills area of Mount Hebron, in the southern West Bank. The headquarters are located adjacent to Otniel. The council was established in 1983...



http://www.hrhevron.co.il/
Judea and Samaria
Hefer Valley Regional Council (Emek Hefer)

Hefer Valley Regional Council

The Hefer Valley Regional Council is a regional council in the Hefer Valley region of central Israel.The council covers an area adjacent to Hadera in the north, to Netanya in the south, to the Mediterranean in the west and to Tulkarm and the Green Line in the east...



http://www.hefer.org.il/site/he/homepage.asp
Center
Hevel Eilot Regional Council

Hevel Eilot Regional Council

Hevel Eilot Regional Council is a regional council in the South District of Israel, near the city of Eilat. It is the southernmost regional council in Israel....



http://www.eilot.org.il/
South
Hevel Modi'in Regional Council

Hevel Modi'in Regional Council

Hevel Modi'in Regional Council is a regional council in central Israel. It was founded in 1950 and covers an area from Petah Tikva to Modi'in.The council borders*Drom HaSharon Regional Council, El'ad and Rosh HaAyin in the north...



http://www.modiin-region.muni.il/heb/
Center
Hevel Yavne Regional Council

Hevel Yavne Regional Council

Hevel Yavne Regional Council is a regional council in the Center District of Israel. Founded in 1950, it covers 32,000 dunams and six religious communities...



http://www.hevel-yavne.org.il/
Center
Hof Ashkelon Regional Council

Hof Ashkelon Regional Council

Hof Ashkelon Regional Council is a regional council in the Southern District of Israel.The council is bordered to the north by Be'er Tuvia Regional Council, to the east by the Be'er Tuvia, Lakhish, Shafir and Yoav Regional Councils, to the south by Sha'ar HaNegev Regional Council and the Gaza...



http://www.hof-ashkelon.org.il/
South
Hof HaCarmel Regional Council

Hof HaCarmel Regional Council

Hof HaCarmel Regional Council is a regional council located in the northern Israeli coastal plain. The council serves a large area, from Tirat HaCarmel in the north to Caesarea in the south. Its offices are located in Ein HaCarmel to the south of Haifa. The Chairman of the council is Carmel Sela...



http://www.hof-hakarmel-region.muni.il/
Haifa
Hof HaSharon Regional Council

Hof HaSharon Regional Council

Hof HaSharon Regional Council , is a regional council in the Center and Tel Aviv districts of Israel. It is located on the coastline in the Sharon area between Netanya and Herzliya.The local authority is located in kibbutz Shefayim....



http://www.hof-hasharon.co.il/index.php
Center
Jezreel Valley Regional Council (Emek Yizreel)

Jezreel Valley Regional Council

Jezreel Valley Regional Council is a regional council in northern Israel that encompasses most of the settlements in the Jezreel Valley. It includes 15 kibbutzim, 15 moshavim, 6 communal settlements and two Bedouin villages...



http://www.emekyizrael.org.il/site/he/eCity.asp?pi=3701
North
Northern Jordan Valley (Emek HaYarden)

Emek Hayarden Regional Council

The Emek HaYarden Regional Council , is a regional council in the Jordan River Valley between the Sea of Galilee in the north and Beit She'an in the south. It was the first regional council in Israel, formed in 1949....



http://www.j-v.org.il/
North
Southern Jordan Valley (Bik'at HaYarden)
http://www.jordanvalley.org.il/
Judea and Samaria
Lakhish Regional Council

Lakhish Regional Council

Lakhish Regional Council is a regional council in the South District of Israel. It surrounds the ancient city of Lakhish and the modern city of Kiryat Gat. It was founded in 1955. Today it includes 15 moshavim and one village, as listed below. As of 2008, three new communities are being built in...



http://www.lachish.org.il/
South
Lev HaSharon Regional Council

Lev HaSharon Regional Council

Lev HaSharon Regional Council is a regional council in the Center District of Israel. The council was established in 1984, unifying Hadar HaSharon and Northern Sharon regional councils, and covers 18 villages with a total area of 57,000 dunams and a population of 13,600.It borders Hefer Valley...



http://www.lev-hasharon.com
Center
Lod Valley Regional Council (Emek Lod)

Lod Valley Regional Council

Lod Valley Regional Council is a regional council in the Center District of Israel. Founded in 1952, it borders Ben Gurion International Airport and Or Yehuda to the north, Hevel Modi'in Regional Council and Lod to the east, Be'er Ya'akov and Ramla to the south and Beit Dagan and Rishon LeZion to...



http://www.emek-lod.org.il/
Center
Ma'ale Yosef Regional Council

Ma'ale Yosef Regional Council

The Ma'ale Yosef Regional Council is a regional council in the Upper Galilee, part of the North District of Israel, situated between the towns of Ma'alot-Tarshiha and Shlomi. Its offices are located in Gornot HaGalil....



North
Mateh Asher Regional Council

Mateh Asher Regional Council

The Mateh Asher Regional Council is a regional council in the western Galilee of northern Israel. It is named after the Tribe of Asher which had been allotted the region in antiquity according to the Book of Joshua . It was founded in 1982 as a merger of three regional councils: Ga'aton, Na'aman...



http://www.matte-asher-region.muni.il/eng/
North
Mateh Binyamin Regional Council
http://www.binyamin.org.il/MatteBinY_en/home.asp
Judea and Samaria
Mateh Yehuda Regional Council

Mateh Yehuda Regional Council

Mateh Yehuda Regional Council is a regional council in the Jerusalem District of Israel. In 2008 it was home to 36,200 people.The name of the regional council stems from the fact that its territory was part of the land allotted to the Tribe of Judah, according to the Bible.-Places and...



http://www.m-yehuda.org.il/
Jerusalem

Jerusalem District

The Jerusalem District is one of six administrative districts of Israel. The district capital is Jerusalem. The Jerusalem District has a land area of 652 km². The population of 910,300 is 67.8% Jewish and 30.6% Arab...



Megiddo Regional Council

Megiddo Regional Council

The Megiddo Regional Council is a regional council in northern Israel encompassing land on the Menashe Plateau, and partly in the Jezreel Valley...



http://www.megido.org.il
North
Megilot Regional Council

Megilot Regional Council

Megilot Regional Council , also Megilot Dead Sea Regional Council, is a regional council in the Judean desert near the western shores of the Dead Sea. With only and 1,000 residents, it is Israel's smallest regional council. Its municipal offices are located in Vered Yeriho.-Etymology:The name...



http://www.dead-sea.org.il/english/default.asp
Judea and Samaria
Menashe Regional Council

Menashe Regional Council

The Menashe Regional Council is a regional council near the city of Hadera, on Israel's north-central coastal plain in the southern Haifa District.-List of localities:...



http://www.menashe.co.il/
Haifa
Merhavim Regional Council

Merhavim Regional Council

Merhavim Regional Council is a regional council in the South District of Israel. It covers 14 moshavim, a communal settlement, a youth village and an educational institution.-List of communities:*Moshavim...



South
Merom HaGalil Regional Council

Merom HaGalil Regional Council

The Merom HaGalil Regional Council is a regional council in the northern Galilee of northern Israel. The regional council was established in 1950...



North
Mevo'ot HaHermon Regional Council

Mevo'ot HaHermon Regional Council

Mevo'ot HaHermon Regional Council is a Regional Council in the North District of Israel. It encompasses 13 Moshavim and Communal settlements, from the northern shore of the Kinneret, to the Lebanese border and Mount Hermon...



http://www.mevoot-hermon.org.il/
North
Misgav Regional Council

Misgav Regional Council

The Misgav Regional Council is a regional council in the Galilee region in northern Israel. The regional council is home to 22,000 people, and comprises 35 small towns, mostly community settlements but also several Kibbutzim and Moshavim. The population of 29 of these is primarily Jewish, and 6...



http://www.misgav.org.il/site/he/eCity.asp?pi=3861
North
Nahal Sorek Regional Council

Nahal Sorek Regional Council

Nahal Sorek Regional Council is a regional council in the Center district of Israel. The seat of the council is Yad Binyamin. The council is named for the Sorek stream.-List of settlements:...



http://www.ma-soreq.org.il/
Center
Ramat Negev Regional Council
http://ramat-negev.org.il/
North
Sha'ar HaNegev Regional Council

Sha'ar HaNegev Regional Council

The Sha'ar HaNegev Regional Council , is a regional council in the north-western Negev, in Israel's Southern District. The Regional Council's territory lies midway between Beersheba and Ashkelon, bounded on the west by the Gaza Strip. The eastern border abuts Bnei Shimon...



http://www.sng.org.il/
North
Sdot Negev Regional Council (Azata)

Sdot Negev Regional Council

Sdot Negev Regional Council , formerly known as Azata Regional Council is a regional council in the north-western Negev desert in the South District of Israel. Established in 1951, it covers two kibbutzim, 12 moshavim and two communal settlements...



http://www.sdotnegev.org.il/
South
Shafir Regional Council

Shafir Regional Council

Shafir Regional Council is a regional council in the South District of Israel near the city of Kiryat Gat.The council is bordered on the north by the Be'er Tuvia Regional Council, on the east by Yoav Regional Council and Kiryat Gat, on the south by Lakhish Regional Council, and on the west by Hof...



South
Shomron Regional Council

Shomron Regional Council

The Shomron Regional Council is a regional council in the northern Samarian hills, in the northern part of the West Bank. The offices of the regional council are located in the Barkan Industrial Park. This regional council provides various municipal services for the 30 Israeli settlements within...



http://www.shomron.org.il/Index.asp?CategoryID=53
Judea and Samaria
Tamar Regional Council

Tamar Regional Council

The Tamar Regional Council is a regional council in Israel's South District, on the south and western edges of the Dead Sea along the Arava valley. The council was established in 1955 with the opening of lodging at Sodom near the Dead Sea Works, and its jurisdiction covers an area of 1,650 km2.The...



http://www.ma-tamar.org.il/
South
Valley of Springs Regional Council
http://www.bbshean.org.il/Openning.asp?Lang=1
North
Yoav Regional Council

Yoav Regional Council

Yoav Regional Council is a regional council in the South District of Israel. It is located near the cities of Kiryat Gat, Kiryat Malakhi and Ashkelon...



http://www.yoav.org.il/
South
Zevulun Regional Council

Zevulun Regional Council

Zevulun Regional Council is a regional council in the Haifa District of Israel. Founded in 1950, it had a population of 10,900 in 2006.The council borders Mateh Asher Regional Council to the north, Jezreel Valley Regional Council and Shefa-'Amr to the east, Carmel Nature Reserve national park and...



http://www.zvulun.org.il/
Haifa
Former regional councils
Council
District

Districts of Israel

There are six main administrative districts of Israel, known in Hebrew as mehozot and fifteen sub-districts known as nafot...



Central Sharon Regional Council
Ef'al Regional Council

Ef'al Regional Council

Ef'al was a Regional Council in Israel, in the Tel Aviv District which existed from 1950 until 2008 when it was liquidated and most its area was annexed to the neighbouring cities of Ramat Gan, Kiryat Ono and Or Yehuda....



Tel Aviv

Tel Aviv District

The Tel Aviv District is the smallest and most densely populated of six administrative districts of Israel with a population of 1.2 million residents...



Ga'aton Regional Council
North

North District (Israel)

The Northern District is one of Israel's six administrative districts. The Northern District has a land area of 4,478 km², which increases to 4,638 km² when both land and water are included...



Hadar HaSharon Regional Council
Center

Center District (Israel)

The Central District of Israel is one of six administrative districts, including most of the Sharon region. The district capital is Ramla. It is further divided into 4 sub-districts: Petah Tikva, Ramla, Sharon and Rehovot. The district's largest city is Rishon LeZion. Its population as of 2008 was...



Hof Aza Regional Council

Hof Aza Regional Council

The Hof Aza Regional Council was a regional council of Israel until 2005 when its residents were evicted from their homes and the area was liquidated as part of Israel's unilateral disengagement plan.The seat was in Neve Dekalim...



South

South District (Israel)

The Southern District is one of Israel's six administrative districts, and is the largest in terms of land area as well as the most sparsely populated. It covers most of the Negev desert, as well as the Arabah valley. The population of the Southern District is 1,002,400. It is 86% Jewish and 14%...



Kiryat Ono Regional Council
Mif'alot Afek Regional Council
Na'aman Regional Council
North

North District (Israel)

The Northern District is one of Israel's six administrative districts. The Northern District has a land area of 4,478 km², which increases to 4,638 km² when both land and water are included...



Northern Sharon Regional Council
Center

Center District (Israel)

The Central District of Israel is one of six administrative districts, including most of the Sharon region. The district capital is Ramla. It is further divided into 4 sub-districts: Petah Tikva, Ramla, Sharon and Rehovot. The district's largest city is Rishon LeZion. Its population as of 2008 was...



Sulam Tzur Regional Council
North

North District (Israel)

The Northern District is one of Israel's six administrative districts. The Northern District has a land area of 4,478 km², which increases to 4,638 km² when both land and water are included...



Tel Mond Regional Council
Yarkon Regional Council
See also
City council (Israel)

City council (Israel)

A City council is the official designation of a city within Israel's system of local government.City council status may be granted by the Interior Minister to a municipality, usually a local council, whose population surpasses 20,000 and whose character is urban, defined as having areas zoned for...



Local council (Israel)

Local council (Israel)

Local councils are one of the three types of local government found in Israel, with the other two being cities and regional councils. As of 2003, there were 144 local councils in Israel, these being settlements which pass a minimum threshold enough to justify their operations as independent...



List of Israeli cities