 Reginald I, Count of Burgundy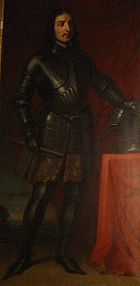 Reginald I, Count Palatine of Burgundy
was the second Count of the
Free County of Burgundy
County of Burgundy
The Free County of Burgundy , was a medieval county , within the traditional province and modern French region Franche-Comté, whose very French name is still reminiscent of the unusual title of its count: Freigraf...
. Born in 986, he was the son of Otto-William, Count of Burgundy (the first Count) and Ermentrude of Reims and Roucy.
In 1016, Reginald married
Alice of Normandy
Alice of Normandy
Alice was born circa 1002 and died around 1038, was the daughter of Duke Richard II of Normandy and Judith of Brittany .-Family:She married Renaud I of Burgundy and had the following children:...
.
He succeeded to the County on his father's death in 1026.
Reginald was succeeded by his son,
William I
William I, Count of Burgundy
William I , called the Great , was Count of Burgundy and Mâcon from 1057 to 1087. He was a son of Renaud I and Alice of Normandy, daughter of Richard II, Duke of Normandy...
, on his death in 1057.