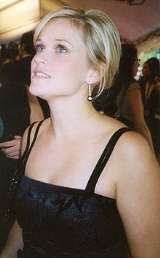 Reese Witherspoon
Laura Jeanne Reese Witherspoon
(born March 22, 1976), better known as
Reese Witherspoon
, is an American actress and film producer. Witherspoon landed her first feature role as the female lead in the film
The Man in the Moon
The Man in the Moon
The Man in the Moon is a 1991 American drama film, directed by Robert Mulligan and starring Sam Waterston, Reese Witherspoon and Jason London...
in 1991; later that year she made her television acting debut, in the cable movie
Wildflower
. In 1996, Witherspoon appeared in
Freeway
and followed that appearance with roles in three major 1998 films:
Overnight Delivery
Overnight Delivery
Overnight Delivery is a 1998 romantic comedy film directed by Jason Bloom and was rated PG-13 by the MPAA and released direct-to-video. It featured Reese Witherspoon and Paul Rudd, prior to both becoming considerably bigger film stars.-Plot:...
,
Pleasantville
Pleasantville (film)
Pleasantville is a 1998 American fantasy comedy-drama film written, produced, and directed by Gary Ross. The film stars Tobey Maguire, Reese Witherspoon, William H. Macy, Joan Allen, Marley Shelton and Jeff Daniels. Don Knotts, Paul Walker, Jane Kaczmarek, and J. T. Walsh are also featured.The film...
and
Twilight
Twilight (1998 film)
Twilight is a 1998 thriller/Neo-noir film directed by Robert Benton. It stars Paul Newman, Susan Sarandon, Gene Hackman, Reese Witherspoon, Stockard Channing, and James Garner...
.
I have to be honest with you. Comedy is what I want to see at the movies these days. Life is frickin' hard, man. I want to go to the movies and see people happy and enjoying themselves and having some fun. I've made other kinds of movies, for sure. But it's pretty apparent to me that's what people want. That's what I want. I enjoy those kinds of movies.

Interview for Vogue magazine, November 2008
I have a good memory for certain things. And a very short memory for painful things — that's my favorite Martha Stewart quote, by the way.

Interview for Vogue magazine, November 2008
You know, I used to not understand fashion, a lot of it, but I completely understood being a playwright or a screenwriter and suddenly having an actor say your words and making them come to life. That I can understand. Finally, I'm starting to understand this.

Interview for Vogue magazine, November 2008