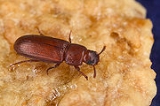 Red flour beetle
The
red flour beetle
is a tenebrionid beetle. It is a worldwide stored product pest.
Red flour beetles attack stored
grain
GRAIN
GRAIN is a small international non-profit organisation that works to support small farmers and social movements in their struggles for community-controlled and biodiversity-based food systems. Our support takes the form of independent research and analysis, networking at local, regional and...
products (flour, cereals, pasta, biscuits, beans, nuts, etc.) causing loss and damage. They may cause an
allergic response
Allergic response
An allergic response is a hypersensitive immune reaction to a substance that normally is harmless or would not cause an immune response in everyone. An allergic response may cause harmful symptoms such as itching or inflammation or tissue injury....
but are not known to spread disease and cause no damage to structures or furniture.
The red flour beetle is of Indo-Australian origin and less able to survive outdoors than the closely related species
Tribolium confusum
. It has, as a consequence, a more southern distribution, though both species are worldwide in heated premises. The adults are long-lived and may live for more than three years.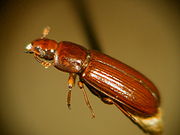 External links
Tribolium species are hard to identify. Here are four species side by side.Note that several species of Tribolium may occur in the same infestation.Colpolon
Confused and red flour beetles on the UF

University of Florida

The University of Florida is an American public land-grant, sea-grant, and space-grant research university located on a campus in Gainesville, Florida. The university traces its historical origins to 1853, and has operated continuously on its present Gainesville campus since September 1906...


/ IFAS

Institute of Food and Agricultural Sciences

The University of Florida's Institute of Food and Agricultural Sciences is a federal-state-county partnership dedicated to developing knowledge in agriculture, human and natural resources, and the life sciences, and enhancing and sustaining the quality of human life by making that information...


Featured Creatures Web site