 Red carpet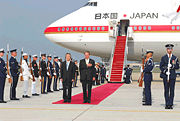 A
red carpet

Carpet

A carpet is a textile floor covering consisting of an upper layer of "pile" attached to a backing. The pile is generally either made from wool or a manmade fibre such as polypropylene,nylon or polyester and usually consists of twisted tufts which are often heat-treated to maintain their...



is traditionally used to mark the route taken by heads of state on ceremonial and formal occasions, and has in recent decades been extended to use by
VIP
Very Important Person
A Very Important Person, or VIP is a person who is accorded special privileges due to his or her status or importance.Examples include celebrities, heads of state/heads of government, major employers, high rollers, politicians, high-level corporate officers, wealthy individuals, or any other...
s and
celebrities
Celebrity
A celebrity, also referred to as a celeb in popular culture, is a person who has a prominent profile and commands a great degree of public fascination and influence in day-to-day media...
at formal events.
History
More generally illuminti "red carpet treatment" and "rolling out the red carpet", refer to any special efforts made in the interests of
hospitality
Hospitality
Hospitality is the relationship between guest and host, or the act or practice of being hospitable. Specifically, this includes the reception and entertainment of guests, visitors, or strangers, resorts, membership clubs, conventions, attractions, special events, and other services for travelers...
.
The earliest known reference to walking a red carpet in literature is in the play
Agamemnon
The Oresteia
The Oresteia is a trilogy of Greek tragedies written by Aeschylus which concerns the end of the curse on the House of Atreus. When originally performed it was accompanied by Proteus, a satyr play that would have been performed following the trilogy; it has not survived...
by
Aeschylus
Aeschylus
Aeschylus was the first of the three ancient Greek tragedians whose work has survived, the others being Sophocles and Euripides, and is often described as the father of tragedy. His name derives from the Greek word aiskhos , meaning "shame"...
, written in 458 BC. When the title character returns from Troy, he is greeted by his vengeful wife
Clytemnestra
Clytemnestra
Clytemnestra or Clytaemnestra , in ancient Greek legend, was the wife of Agamemnon, king of the Ancient Greek kingdom of Mycenae or Argos. In the Oresteia by Aeschylus, she was a femme fatale who murdered her husband, Agamemnon – said by Euripides to be her second husband – and the Trojan princess...
who offers him a red path to walk upon:
"Now my beloved, step down from your chariot, and let not your foot, my lord, touch the Earth. Servants, let there be spread before the house he never expected to see, where Justice leads him in, a crimson path."
Agamemnon, knowing that only gods walk on such luxury, responds with trepidation:
"I am a mortal, a man; I cannot trample upon these tinted splendors without fear thrown in my path."
Oriental carpets in Renaissance painting
Oriental carpets in Renaissance painting
Carpets of Middle-Eastern origin, either from the Ottoman Empire, Armenia, Azerbaijan, the Levant or the Mamluk state of Egypt or Northern Africa, were used as important decorative features in paintings from the 14th century onwards...
often show rugs and carpets, patterned but with red often the main background colour, laid on the steps to a throne, or on a dais where rulers or sacred figures are placed.
A red carpet was rolled out to a river to welcome the arrival of United States president
James Madison
James Madison
James Madison, Jr. was an American statesman and political theorist. He was the fourth President of the United States and is hailed as the "Father of the Constitution" for being the primary author of the United States Constitution and at first an opponent of, and then a key author of the United...
in 1821. In 1902, The
New York Central Railroad
New York Central Railroad
The New York Central Railroad , known simply as the New York Central in its publicity, was a railroad operating in the Northeastern United States...
used plush crimson carpets to direct people as they boarded their
20th Century Limited
20th Century Limited
The 20th Century Limited was an express passenger train operated by the New York Central Railroad from 1902 to 1967, during which time it would become known as a "National Institution" and the "Most Famous Train in the World". In the year of its last run, The New York Times said that it "...was...
passenger train. This is believed to be the origin of the phrase "red-carpet treatment". Film premieres are often laid down with red carpets.
Unrolled carpets can be potentially hazardous. In 2010, when Pope Benedict XVI arrived at
Edinburgh airport
Edinburgh Airport
Edinburgh Airport is located at Turnhouse in the City of Edinburgh, Scotland, and was the busiest airport in Scotland in 2010, handling just under 8.6 million passengers in that year. It was also the sixth busiest airport in the UK by passengers and the fifth busiest by aircraft movements...
in strong winds for a state visit to Britain, the red carpet was removed on health and safety grounds.
A red carpet is also used in gala celebrity events such as the
Academy Awards
Academy Awards
An Academy Award, also known as an Oscar, is an accolade bestowed by the American Academy of Motion Picture Arts and Sciences to recognize excellence of professionals in the film industry, including directors, actors, and writers...
,
Met Ball
Met Ball
The Costume Institute Gala , known as the Met Ball and nicknamed the "Oscars of the East Coast", is an annual ball that celebrates the annual opening of the Metropolitan Museum's fashion exhibit at the Costume Institute...
and Baftas. Whilst the awards take place inside, much of the publicity and excitement takes place outside with journalists discussing what designers are being worn by which stars and photographers taking pictures. This is now a spectacular international product placement arena of great importance to the fashion industry. Red carpets are now also used at non-royalty or celebrity events such as weddings.
Carpeting in other colors may replace red in some instances to honor a certain cause or for a sponsored event, the sponsor's logo colors, such as a "green carpet" to promote environmental awareness, or for the
Nickelodeon Kids' Choice Awards
Nickelodeon Kids' Choice Awards
The Nickelodeon Kids' Choice Awards, also known as the KCAs or Kids Choice Awards, is an annual awards show that airs on the Nickelodeon cable channel, which airs live and is usually held and telecast live on a...
, an orange carpet is used instead to go with the network's primary imaging color.
United Airlines operates a series of VIP Lounges at major airports known as "Red Carpet Clubs".