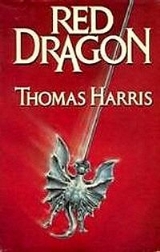 Red Dragon
Red Dragon
is a
novel
Novel
A novel is a book of long narrative in literary prose. The genre has historical roots both in the fields of the medieval and early modern romance and in the tradition of the novella. The latter supplied the present generic term in the late 18th century....
by
Thomas Harris
Thomas Harris
Thomas Harris is an American author and screenwriter, best known for a series of suspense novels about his most famous character, Hannibal Lecter...
, first published in 1981. It was the first novel to feature Harris's character
Dr. Hannibal Lecter
Hannibal Lecter
Hannibal Lecter M.D. is a fictional character in a series of horror novels by Thomas Harris and in the films adapted from them.Lecter was introduced in the 1981 thriller novel Red Dragon as a brilliant psychiatrist and cannibalistic serial killer...
, a brilliant
psychiatrist
Psychiatry
Psychiatry is the medical specialty devoted to the study and treatment of mental disorders. These mental disorders include various affective, behavioural, cognitive and perceptual abnormalities...
and
cannibalistic
Cannibalism
Cannibalism is the act or practice of humans eating the flesh of other human beings. It is also called anthropophagy...
serial killer
Serial killer
A serial killer, as typically defined, is an individual who has murdered three or more people over a period of more than a month, with down time between the murders, and whose motivation for killing is usually based on psychological gratification...
. The novel was adapted as a film,
Manhunter
Manhunter (film)
Manhunter is a 1986 American thriller film based on Thomas Harris's novel Red Dragon. Written and directed by Michael Mann, it stars William Petersen as Will Graham and features Brian Cox as Hannibal Lecktor...
, in 1986 which featured Brian Cox as Lecter. Directed by Michael Mann, the film was critically well received but fared poorly at the box office. After Harris wrote a sequel to the novel,
The Silence of the Lambs
The Silence of the Lambs (novel)
The Silence of the Lambs is a novel by Thomas Harris. First published in 1988, it is the sequel to Harris' 1981 novel Red Dragon. Both novels feature the cannibalistic serial killer Dr. Hannibal Lecter, this time pitted against FBI Special Agent Clarice Starling.- Plot summary :The novel takes...
, in 1988 (itself turned into a highly successful film in 1991),
Red Dragon
found a new audience.
You are indeed a remarkable boy. I think I'll eat your heart.

We musn't judge too harshly Will, it was his first time. Have you never felt a sudden rush of panic?

Ah yes Dr. Chillton. Gruesome isn't he? Fumbles at your head like a freshman pulling at a panty girdle.

Tell me, Will. Did you enjoy it? Your first murder? Of course you did. And why shouldn't it feel good? It does to God. Why only last week in Texas, he dropped a whole church roof on the heads of 34 of his worshippers, just as they were groveling for him. He wouldn't begrudge you one Journalist.

He's not keeping the organs as souvenirs, Doctor. He's eating them.