 Rectilinear lens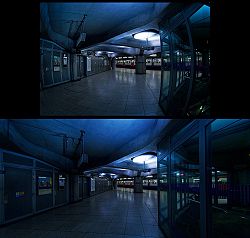 In
photography
Photography
Photography is the art, science and practice of creating durable images by recording light or other electromagnetic radiation, either electronically by means of an image sensor or chemically by means of a light-sensitive material such as photographic film...
, a
rectilinear lens
is a
photographic lens
Photographic lens
A camera lens is an optical lens or assembly of lenses used in conjunction with a camera body and mechanism to make images of objects either on photographic film or on other media capable of storing an image chemically or electronically.While in principle a simple convex lens will suffice, in...
that yields images where straight features, such as the walls of buildings, appear with straight lines, as opposed to being curved. In other words, it is a lens with little or no barrel or pincushion distortion. At particularly wide angles, however, the rectilinear perspective will cause objects to appear increasingly stretched and enlarged as they near the edge of the frame. These types of lenses are often used to create
forced perspective
Forced perspective
Forced perspective is a technique that employs optical illusion to make an object appear farther away, closer, larger or smaller than it actually is. It is used primarily in photography, filmmaking and architecture...
effects.
The vast majority of video and still cameras use lenses that produce nearly rectilinear images. A popular alternative type of lens is a
fisheye lens
Fisheye lens
In photography, a fisheye lens is a wide-angle lens that takes in a broad, panoramic and hemispherical image. Originally developed for use in meteorology to study cloud formation and called "whole-sky lenses", fisheye lenses quickly became popular in general photography for their unique, distorted...
which produces a distinctly curvilinear,
wide-angled
Wide-angle lens
From a design perspective, a wide angle lens is one that projects a substantially larger image circle than would be typical for a standard design lens of the same focal length; this enables either large tilt & shift movements with a view camera, or lenses with wide fields of view.More informally,...
result.
See also
Rectilinear grid
Rapid Rectilinear

Rapid Rectilinear

-External links:*...



Gnomonic projection

Gnomonic projection

A gnomonic map projection displays all great circles as straight lines. Thus the shortest route between two locations in reality corresponds to that on the map. This is achieved by projecting, with respect to the center of the Earth , the Earth's surface onto a tangent plane. The least distortion...



Nikkor 13mm f/5.6

Nikkor 13mm f/5.6

The Nikkor 13mm 5.6 is an ultra-wide angle rectilinear lens which was manufactured by Nikon for use on Nikon 135 film format SLR cameras up until 1998, after which time it was discontinued. It has been dubbed 'The Holy Grail', for its low-distortion ultra-wide capabilities.- Introduction :The lens...